Army wants high-energy laser weapons on Strykers by 2022
---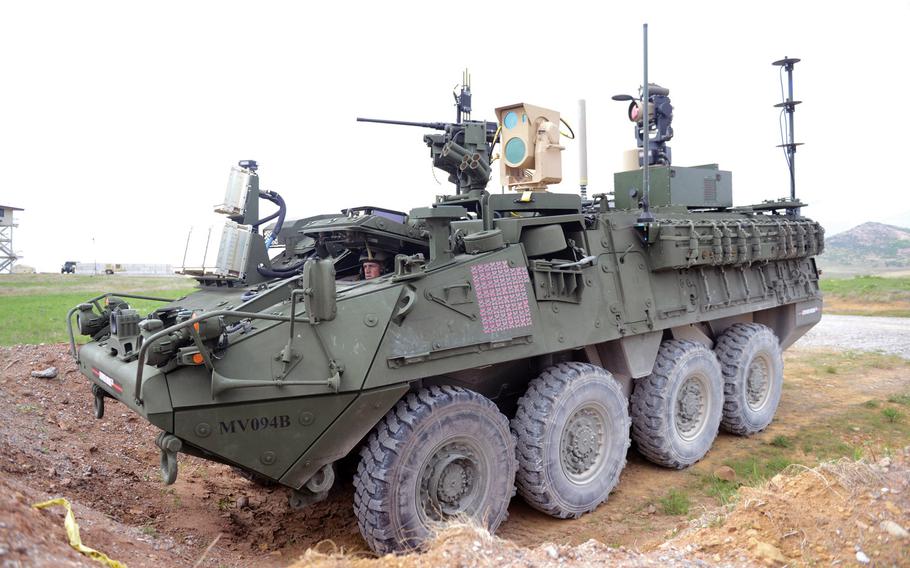 The Army is now developing 50 kilowatt lasers for its Stryker wheeled armored vehicles, with plans calling for a prototype to be fielded in 2022, the service said.
"The time is now to get directed energy weapons to the battlefield," said Lt. Gen. L. Neil Thurgood, director of hypersonics, directed energy, space, and rapid acquisition.
"This is no longer a research effort or a demonstration effort. It is a strategic combat capability, and we are on the right path to get it in soldiers' hands," he said in a statement released Thursday.
Last week, the Army awarded competing contracts to Northrop Grumman and Raytheon to build the directed energy weapons. The two companies will act as subcontractors to Kord Technologies, which signed in May a $203 million contract with the service, and will each develop a prototype laser.
The program will deliver 50 kW-class lasers mounted in 2022 on four Strykers, the statement said. They would be tasked with protecting maneuvering brigades from drones, rotary-wing aircraft, rockets, artillery and mortar rounds.
Last year, Congress allocated about $155 million to the Army budget for testing high-energy lasers on the service's Strykers and other wheeled vehicles.
The prototypes are part of the progression of the Army's Multi-Mission High Energy Laser program. General Dynamics, which builds Strykers, will be responsible for integrating the laser.
Directed-energy weapons still face significant challenges, said a Congressional Research Service report last year. For lasers, that includes generating adequate power and cooling, blockage from weather, obscurants and limited range.
An earlier vehicle-mounted laser system developed by Northrop Grumman and Israeli contractors shot down more than 30 rockets, artillery and mortar shells during operational testing in the early 2000s.
But the chemical-based laser system was deemed too large for vehicle use and the program was canceled, according to the CRS report.
Last May, the Army adopted a new plan for speeding up the development of prototypes and the fielding of several directed-energy weapons, a plan that includes mounting the 50 kW laser on Strykers.
news@stripes.com
---
---
---
---