Army surges past 7,000 coronavirus cases as military tops 21,000 positive tests
---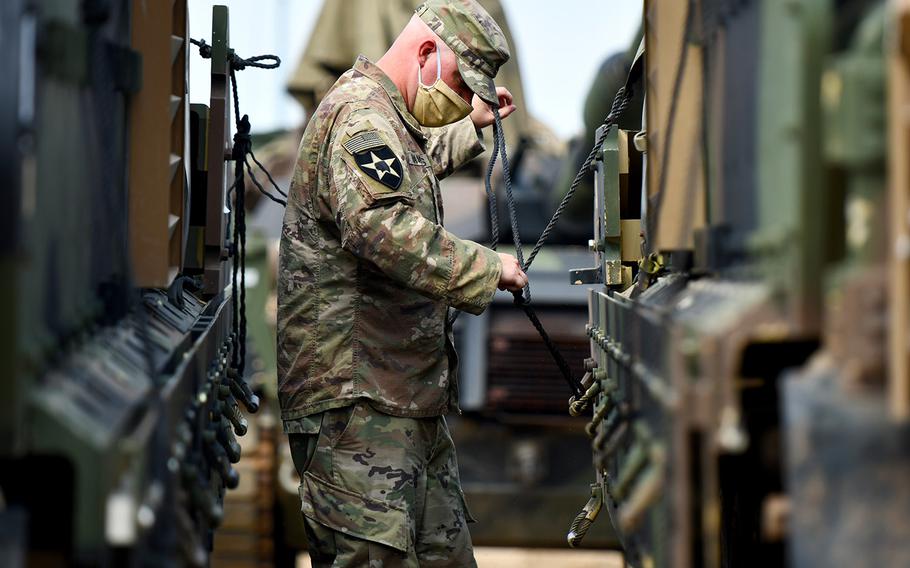 Stars and Stripes is making stories on the coronavirus pandemic available free of charge. See other free reports here. Sign up for our daily coronavirus newsletter here. Please support our journalism with a subscription.
WASHINGTON — The Army became the first military service to surpass 7,000 coronavirus cases as of Monday, less than a week after reaching 6,000 cases, according to the Pentagon.
The Army had 683 more soldiers test positive for the coronavirus since Friday, bringing the number of soldiers infected to 7,282, according to the Pentagon's cumulative coronavirus case chart.
The Army saw 1,480 more cases among its soldiers between July 13 and Monday, according to the Pentagon. If the Army were its own state, it would have had more cases than 14 states and the District of Columbia during the last 7 days, according to Centers for Disease Control and Prevention data.
The Army was not able Monday to provide information on what is causing the surge in cases.
During the past few weeks, the United States has seen a surge in cases in several states, mostly in the south and southwest regions of the country, according to the CDC. America has had 3.8 million people infected with the virus and more than 140,000 have died as of Monday, according to data from Johns Hopkins University.
The Pentagon recorded 21,909 service members have tested positive for the coronavirus as of Monday, an increase of 3,893 cases during the past week. If the U.S. military were its own state, it had more cases in the last seven days than 24 states and the District of Columbia have each documented, according to CDC data.
Gen. Mark Milley, the chairman of the Joint Chiefs of Staff, said Friday during a town hall discussion at the Pentagon that the military has "relatively low rates of infection" compared to "other parts of the society and the world."
A spokesperson for the chairman did not respond to a request Monday for the military's infection rate.
In the early weeks of the coronavirus pandemic, the Navy led the other military services in cases, in part due to the outbreaks aboard the USS Theodore Roosevelt and USS Kidd.
The service now has the second highest number of cases, with 5,629 as of Monday, an increase of 349 more sailors becoming infected since Friday.
The difference in infections between the Army and Navy is now 1,653 cases, according to the Pentagon data.
As of Monday, the Air Force has 3,263 cumulative cases, the National Guard has 3,016, and the Marine Corps has 2,470 cases.
Kenney.Caitlin@stripes.com Twitter: @caitlinmkenney
---
---
---
---