Army staff sergeant identified as IED casualty in Afghanistan
by
Chad Garland
October 5, 2016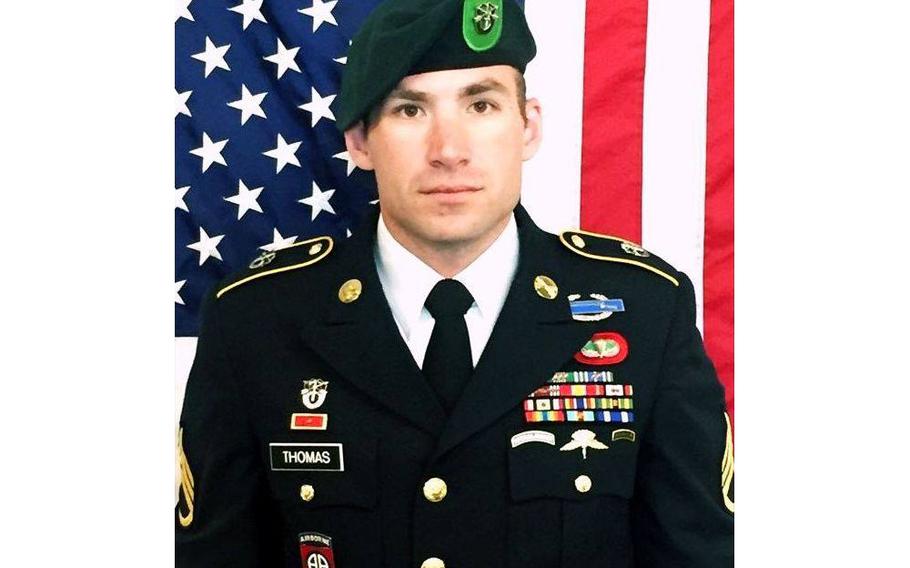 KABUL, Afghanistan — The Pentagon has identified the Special Forces soldier who died from wounds sustained from an improvised explosive device in eastern Afghanistan as Staff Sgt. Adam S. Thomas, 31.
Thomas, assigned to the 2nd Battalion, 10th Special Forces Group (Airborne) out of Fort Carson, Colo., was on a foot patrol supporting Afghan security forces in Nangarhar province, where the Islamic State has established a foothold.
He was the first U.S. combat fatality in the fight against the Islamic State in the country, said Brig. Gen. Charles Cleveland, a spokesman for the U.S. mission in Afghanistan.
The group claimed responsibility for the blast through its Amaq news agency, Reuters reported Wednesday.
The incident occurred in a "combat situation," said Pentagon press secretary Peter Cook, but he said there was no indication Thomas had been specifically targeted.
The Islamic State, estimated to have 1,200 members, mostly of Pakistani Pashtuns who switched allegiance away from the Taliban, controls some territory in Nangarhar and neighboring Kunar province, with a stronghold in Achin district where Thomas was killed.
In Nangarhar's provincial capital, Jalalabad, Attaullah Khogyani, a spokesman for the governor's office, said Afghan forces had managed to hold the Islamic State group to a few districts. But he said those efforts were threatened by a leadership vacuum caused by the assassination on Sept. 11 of the provincial police chief and the governor's resignation on Sunday.
Malik Osman, a tribal leader in the Achin and Shinwar districts of Nangarhar province, said that while the Islamic State has limited influence, the Taliban remain a dominant force in most of the province, where he said only four of 22 districts are secure.
"Insecurity is at its peak in Nangarhar," Osman said.
A native of Tacoma Park, Md., Thomas joined the Army in April 2008. He was assigned to Fort Carson in February, The Gazette in Colorado Springs, Colo., reported.
This was his third deployment. He served in Iraq in 2008-2009 and in Afghanistan in 2011-2012, The Gazette reported. He was a recipient of several awards, including a Bronze Star and Purple Heart.
"Staff Sgt. Thomas epitomized what it is to be a professional Green Beret and soldier," Col. Isaac Peltier, commander of the 10th Special Forces Group, said in a statement.
Thomas was the third U.S. servicemember to die in combat in Afghanistan this year. The others were also U.S. special operators, but they were killed in operations against the Taliban in the restive southern Helmand province, the site of some of the deadliest fighting in the 15-year war.
More than 2,200 U.S. servicemembers have died in Afghanistan since 2001, according to a Defense Department tally.
Stars and Stripes reporters Tara Copp and Wyatt Olson contributed to this report.
garland.chad@stripes.com Twitter: @chadgarland