Army secretary orders independent review panel on climate and culture at Fort Hood
by
Rose L. Thayer
July 10, 2020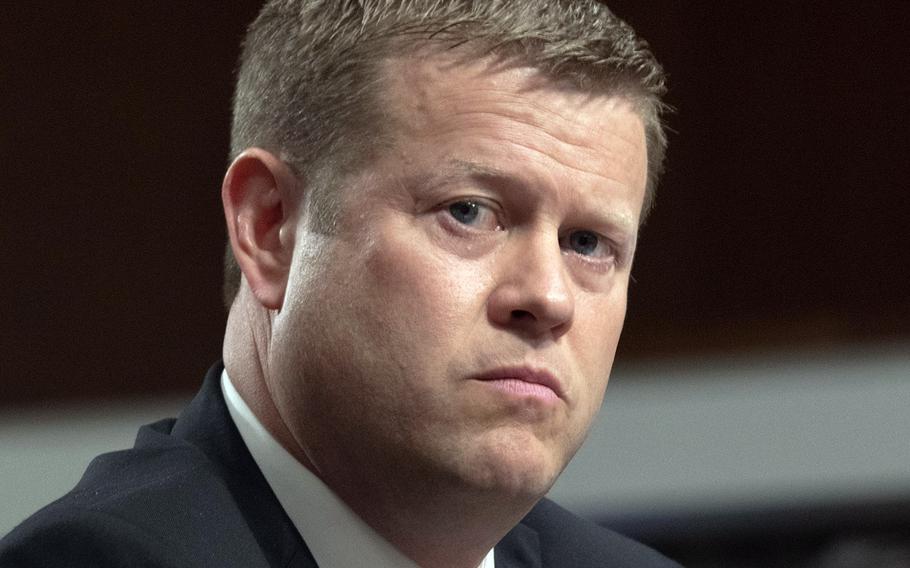 AUSTIN, Texas — An independent panel will be set up to review the command climate and culture of Fort Hood, Texas, in the wake of the killing of Spc. Vanessa Guillen, Army Secretary Ryan McCarthy announced Friday.
The announcement followed a meeting between McCarthy, Rep. Sylvia Garcia, D-Texas, and leaders from the League of United Latin American Citizens, known as LULAC. The congresswoman from Houston and LULAC have worked with the Guillen family, who also are from Houston, to raise awareness about the soldier's disappearance and death and to help communicate with the Army throughout the investigation.
"I am directing an independent [and] comprehensive review of the command climate and culture. We have to listen in order to create enduring change," McCarthy wrote on Twitter immediately following the meeting.
The purpose of this independent review is to determine whether the command climate and culture at Fort Hood, and the surrounding military community, reflects Army values, including respect, inclusiveness, and workplaces free from sexual harassment, according to a subsequent news release describing details of the independent panel.
Guillen, 20, went missing from Fort Hood on April 22 while working in an arms room with the 3rd Cavalry Regiment's Engineer Squadron. Her remains were found June 30 alongside a river about 30 miles from the base.
Spc. Aaron Robinson, another soldier in Guillen's squadron, hit and killed her with a hammer, then moved her body, according to federal court documents. A second suspect, Cecily Aguilar, is in federal custody and accused of conspiracy to tamper with evidence. Robinson shot himself dead June 30 when approached by civilian law enforcement in Killeen, the town just outside Fort Hood.
Following the confirmation that the human remains found were Guillen, members of Congress and organizations outside the federal government began sending letters to Defense Department leaders asking for various reviews or investigations into the soldier's disappearance and death, and the Army's investigation into locating her. They've also called for an investigation and overhaul of the military's program to prevent and report sexual assault and harassment in its ranks.
The independent review arose from the questions and concerns voiced by family members, Congress, and various Hispanic advocacy groups during the investigation into the disappearance and killing of Spc. Vanessa Guillen, according to the release.
"I want to express my condolences to the Guillen family," McCarthy said in a statement. "We are saddened and deeply troubled by the loss of one of our own, Spc. Vanessa Guillen."
McCarthy will recommend the Pentagon's inspector general also conduct a review to focus more on the sexual harassment program, Garcia said Friday during a news conference that she held with LULAC leaders on Capitol Hill following the meeting. She said the independent review panel is "a great step" and she was assured it would be transparent and its findings would be given to Congress.
Four civilian consultants, which the Army will hire as highly qualified experts, will form a panel and spend an estimated five to 10 days at Fort Hood, according to the news release. The members will review historical data, such as command climate surveys, inspector general reports, criminal and military justice reports, and sexual harassment and sexual assault response program statistics. They also will conduct interviews with military members and members of the Fort Hood community.
James McPherson, undersecretary of the Army, and Gen. Joseph Martin, Army vice chief of staff, will be co-chairmen of an implementation team, which will consider every recommendation from the panel and make changes as appropriate, according to the release. McPherson and Martin attended Friday's meeting as did Sergeant Major of the Army Michael Grinston. Gen. James McConville, Army chief of staff, attended remotely.
The Army is assembling the panel and working to rapidly fill the positions. An update will be provided once the panel is hired and the timeline is set.
McCarthy asked LULAC leaders during the meeting to recommend Hispanic men and women who could serve on the panel, said Domingo Garcia, national president of LULAC, America's largest and oldest Hispanic group that works to advance the economic condition, education opportunities, political influence and civil rights of Hispanic Americans. He is not related to the Texas congresswoman.
LULAC leaders also communicated concerns to McCarthy about the case of Pvt. Gregory Wedel-Morales, a soldier who went missing from Fort Hood months before Guillen, but whose remains were found in a field in Killeen on June 19. He disappeared days before he was set to separate from the Army and was listed as absent without leave, Domingo Garcia said.
"We believe that these cases have exposed a systemic problem within the Army and the military," he said. To all the people who have protested in the streets or spoken up online, "those voices have been heard here in Washington, D.C., and those voices have results in an independent commission."
Guillen's case has also brought forth questions about the efficacy of the military's approach to preventing and prosecuting sexual harassment and assault within its ranks. The Guillen family has said the soldier reported to her mother and sister that she faced sexual harassment on base but did not feel she was able to report the incidents to her chain of command.
Those allegations inspired hundreds of veterans to share their own stories of sexual assault and harassment through the #IAMVANESSAGUILLEN campaign on social media. Many of those veterans posted that nothing was done to bring justice to their complaints. LULAC leaders said they gave these stories to McCarthy during their meeting.
The Army had previously maintained it had no credible information to the Guillen family's allegations of harassment, but speaking to reporters Friday, investigators with the Army Criminal Investigation Command changed course, The Washington Post reported.
Guillen could have faced some form of harassment, not sexual in nature, before she was killed, according to the news report. That potential harassment did not come from Robinson or people of interest in the investigation, they said. Officials did not say whether the potential harassment was sexist or racial in nature.
Sylvia Garcia said she will continue to push for the inspector general review of the sexual harassment program. Army Forces Command has already begun its own inspection of Fort Hood's implementation of its sexual harassment and assault program at the request of base commanders.
thayer.rose@stripes.com Twitter: @Rose_Lori