Army reportedly withdraws cultural understanding guide after criticism
---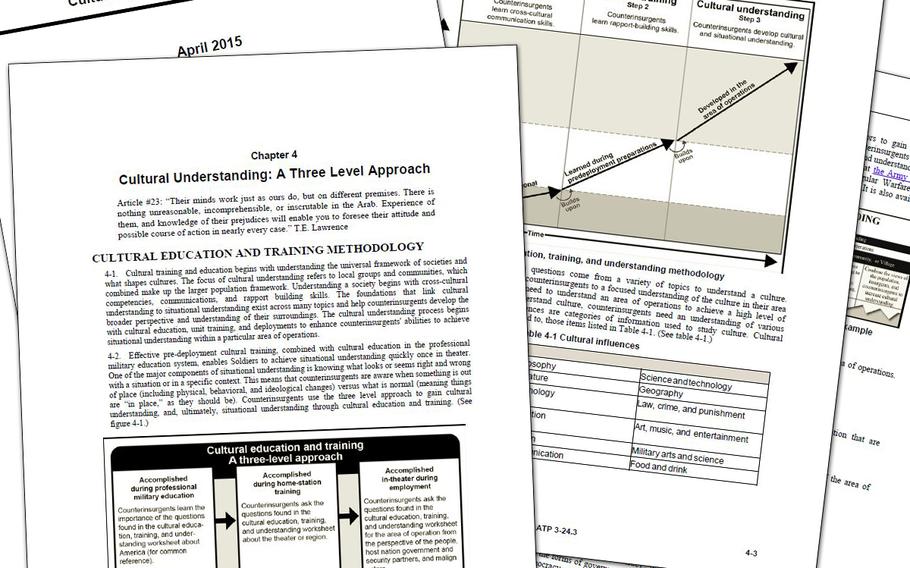 The Army has reportedly withdrawn a new cultural understanding guide that allegedly contains plagiarized material, inaccuracies and other problems.
Titled "Cultural and Situational Understanding," the guide was an add-on to the counterinsurgency field manual that for years guided military strategy in Iraq and Afghanistan.
BuzzFeed reported Tuesday that the Army withdrew the publication after anthropologists and BuzzFeed raised questions about plagiarism and the accuracy of the guide's content.
"After taking a closer look at the content in Army Techniques Publication (ATP) 3-24.3, Cultural and Situational Understanding, we pulled the ATP from circulation and it is no longer an approved doctrine publication," said Bill Ackerly, at the U.S. Army Combined Arms Center at Fort Leavenworth, in an email to Stars and Stripes.
BuzzFeed listed a number of problems with the publication. One military expert BuzzFeed cited reportedly called the guide a "jumbled mess," and an anthropologist said it plagiarized a religion book that is viewed as "hostile to Islam and homosexuals."
The Army's doctrine and training publications website shows the guide was posted there April 1, but the link to it is dead. The publication is still available through various other nonmilitary websites, including that of the Federation of American Scientists.
San Jose State University anthropology professor Roberto J. Gonzalez trashed the manual in a May 1 titled "Cutting-and-Pasting Cultural Knowledge: The US Army's Serial Plagiarists," posted on the website counterpunch.org.
Gonzalez, who earlier described the military's counterinsurgency doctrine as reading "like a manual for indirect colonial rule," wrote that "Similar critiques can be made of the new manual."
"Like its older sibling, ATP 3-24.3 looks like a dumbed-down Anthropology 101 textbook, but it includes bizarre overgeneralizations and stereotypes" such as "dubious claims regarding the way 'most people' from Asia, Latin America, Africa, or the Middle East view the world, make sense of time, or interact with other people," Gonzalez wrote.
"To call this work sophomoric would be an insult to high school sophomores."
Gonzalez charged that a section on religion was plagiarized from a 2009 Allan Wood book titled "Say No to Religion," which is critical of homosexuality and Islam. He wrote that "though the manual does not include any of Wood's hate-filled words, it is bewildering that ATP 3-24.3 — a document extolling the virtues of cultural understanding — would rely upon such a twisted source."
Gonzalez also said that a section on the perception of time showed the manuals author's tried to rework plagiarized material and bungled it, misspelling the words "monochronic" and "polychronic," which deal with time, as "monochromic" and "polychromic," which deal with color.
---
---
---
---