Army proposes restricting eligibility for burial at Arlington National Cemetery
by
Nikki Wentling
September 25, 2019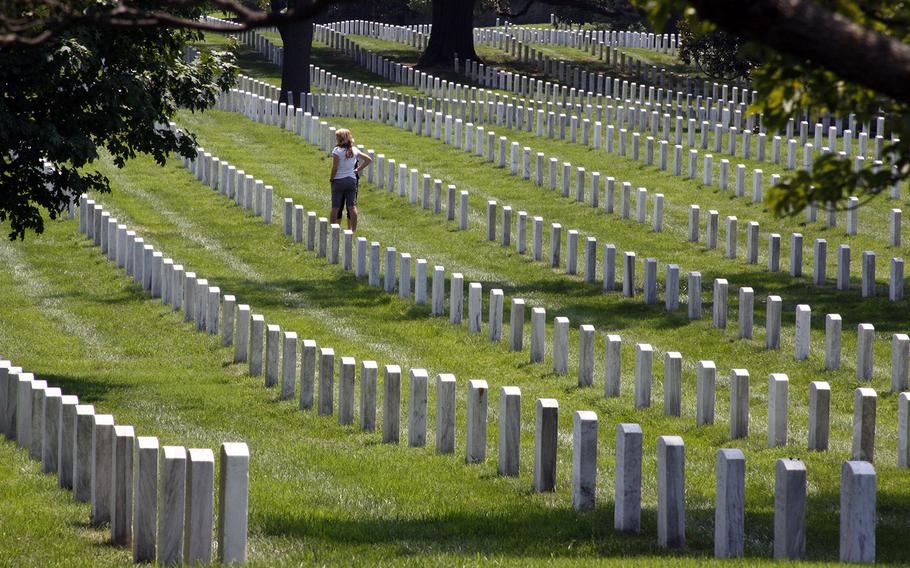 WASHINGTON — The Army is proposing to restrict eligibility criteria for burial at Arlington National Cemetery in a move to extend its use as an active cemetery well into the future, acting Secretary of the Army Ryan McCarthy announced Wednesday.
Under rules now, most veterans and military retirees are eligible for either above- or below-ground burial in Arlington. The Army will begin a monthslong rule-making process to change the criteria.
The Army proposed restricting below-ground burial to servicemembers killed in action, Purple Heart recipients, former prisoners of war, presidents and vice presidents, combat veterans who were awarded the Silver Star or above, servicemembers who had combat-related deaths and combat veterans who also served as government officials and "made significant contributions to the nation's security at the highest levels of public service."
Arlington also would reserve 1,000 burial plots for Medal of Honor recipients.
Under the proposed changes, above-ground inurnment would be available to World War II veterans, armed forces retirees, combat veterans who served at least two years on active duty and veterans without combat service who worked as government officials and contributed to national security.
A spokesman for the cemetery said the Army couldn't comment on the details of the proposed criteria until they were posted to the Federal Register. The rule-making process is expected to take at least nine months.
"The hard reality is we are running out of space," said Karen Durham-Aguilera, director of the cemetery. "To keep Arlington National Cemetery open and active well into the future means we have to make some tough decisions that restrict the eligibility."
Last September, the cemetery opened a 27-acre expansion, which had been in the works since the 1990s. Another project, the Southern Expansion, is in the planning stages and would add 37 acres of burial space to the cemetery.
Even with the extra acres, Arlington National Cemetery is expected to reach capacity in the mid-2050s.
The National Defense Authorization Act approved by Congress for fiscal year 2019 ordered the secretary of the Army to develop new criteria for burial at Arlington — restrictions that would allow it to remain an active cemetery for the next 150 years.
The Federal Advisory Committee on Arlington National Cemetery, which includes a Medal of Honor recipient, military retirees, military families and former members of Congress, began discussing new eligibility criteria years ago.
The rule-making process will include a period of public comment, during which the Army will collect more feedback.
"This is a lengthy process, but it's another opportunity to have a say in what the future of Arlington National Cemetery should be for our nation," Durham-Aguilera said in a statement.
wentling.nikki@stripes.com Twitter: @nikkiwentling