Army officer under fire for inflammatory social media posts
By
Meredith Tibbetts Dianna Cahn
September 29, 2017
---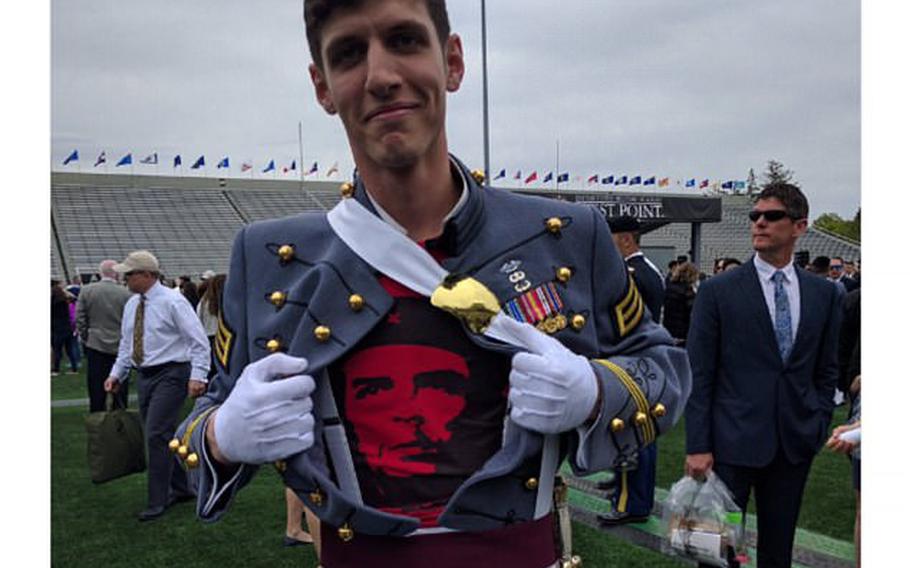 WASHINGTON — A West Point graduate who just completed infantry officer training school at Fort Benning, Ga., is being investigated after he posted images of himself on his social media accounts in full uniform with blatant Communist propaganda. The posts went up within days of his arrival at the Tenth Mountain Division at Fort Drum, N.Y., for his first assignment as an officer.
Second Lt. Spenser Rapone, who deployed to Afghanistan as an enlisted soldier before becoming an officer, arrived at his new unit in the 2nd Brigade Combat Team one month ago, Brigade spokesman Capt. Michael Mahar said.
In a tweet Sunday from @punkproletarian, Rapone posted a photograph of himself in his West Point cadet uniform with the words "Communism will win" written inside his hat.
The tweet bore the hashtag #VeteransForKaepernick referring to former San Francisco 49ers quarterback Colin Kaepernick whose refusal to stand for the national anthem last year in protest of police mistreatment of minorities sparked controversy that mushroomed this week into a standoff between President Donald Trump and NFL players.
Rapone's tweet went viral on social media, sparking outrage. "This man is in my unit. He is a traitor of the United States and at the same time a commissioned officer," one soldier wrote on Facebook.
"Watch your 6 with that (expletive) around," said one response, using military jargon for "be careful."
On Monday, Rapone posted another photo of himself in uniform, pulling open his jacket to expose an image of Cuban revolutionary Che Guevara. He tweeted the words: "In case there was any lingering doubt, hasta la victoria siempre," a favorite saying of Guevara's that means "To victory, always!"
The tweets were the latest in a long stream of political social media posts that were public on his Twitter and Facebook accounts until Thursday, when they were turned private. In the posts, he used expletives and insults against President Donald Trump, Defense Secretary Jim Mattis and Republican Senate Armed Services committee leader, Sen. John McCain.
Mahar said Rapone has been in the field all week with his battalion, where he is an assistant operations officer helping to facilitate live fire exercises. Those conclude Friday, he said.
Rapone was being scrutinized under Department of Defense directive 1344.10, Mahar said, which states that "a member of the Armed Forces on active duty may register, vote and express a personal opinion on political candidates and issues, but not as a representative of the Armed Forces."
The 2nd Brigade Combat Team issued a statement saying, "Both the Department of Defense and the Army have longstanding policies encouraging soldiers to participate in the democratic process. However, the Army has strict rules regarding the wear and appearance of Army uniforms. The 2nd Brigade Combat Team, Tenth Mountain Division chain of command is aware of 2nd Lt. Rapone's alleged actions and is looking into the matter."
Rapone did not respond to an attempt to reach out to him through his Twitter account.
Though Rapone graduated from West Point on May 27, 2016, the institution issued a statement, saying Rapone's actions "in no way reflect the values of the U.S. Military Academy or the U.S. Army."
"As figures of public trust, members of the military must exhibit exemplary conduct, and are prohibited from engaging in certain expressions of political speech in uniform," the statement said. Francis Demaro, a spokesman for the academy, said it issued the statement after receiving media queries. Asked whether the photos were from Rapone's graduation from West Point in 2016, Demaro said, "It seems to be."
Among the more controversial social media posts, Rapone wrote on his Facebook page – under the name of the Italian politician who took on the Mafia, Giuseppe Impastato – that Attorney General Jeff Sessions is a "racist piece of (expletive) who has caused nothing but pain and suffering."
In June, he tweeted that Mattis was "the most vile, evil [expletive]" in the administration. And in July he tweeted that he would "happily dance" on McCain's grave.
In August, Rapone posted an article online that he wrote taking aim at the "Confederate iconography" found at West Point, including a statue and painting of Confederate Gen. Robert E. Lee. His purpose, he wrote, "is for these vile displays of racial oppression to be cast into the dustbin of history once and for all."
Rapone wrote that he and others had confronted the administration of West Point for a number of years but they "continue to drag their feet."
"Enough is enough," he wrote. "Whether you are a soldier, cadet or civilian, the judgment of history is upon us."
After posting a link to the article on Reddit as SRap1, Rapone expressed his admiration for Chelsea Manning, a transgender intelligence analyst who, in 2009, leaked classified military documents and was convicted under the Espionage Act.
Earlier, while Manning's prison release was pending, Rapone posted on Facebook that she set "the example of what integrity and strength of conviction truly entails."
cahn.dianna@stripes.com Twitter: @starsandstripes
---
---
---
---