Army, Navy identify two servicemembers killed in separate incidents
by
Christian Lopez
September 30, 2019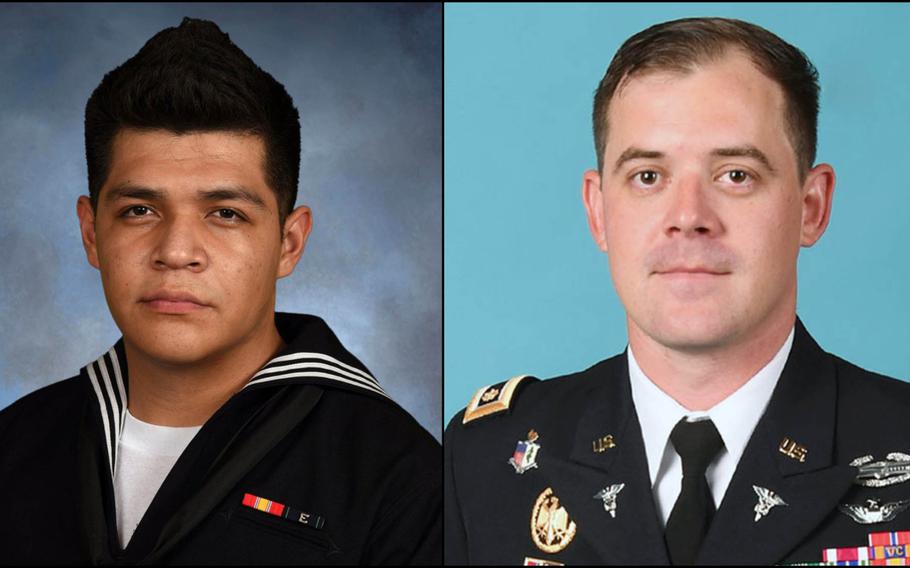 The Army and Navy have identified two servicemembers who died in separate incidents last week in in Fort Polk, La., and San Diego.
Seaman Juan Jose Garcia-Herrera, a 21-year-old logistics specialist, died Saturday morning after falling Friday night from the aircraft elevator aboard the aircraft carrier USS Nimitz at Naval Air Station North Island, Calif., according to a tweet Monday by U.S. Naval Air Forces.
The Army identified Maj. Trevor Joseph, a pilot and medevac company commander with 1st Battalion, 5th Aviation Regiment, as the soldier killed in a UH-60 Black Hawk helicopter crash at Fort Polk, according to the base Facebook page on Saturday.
The Black Hawk with a four-person crew was en route to pick up a soldier with minor injuries at the base Joint Readiness Training Center when it crashed just after midnight, said Kim Reischling, a spokeswoman for Fort Polk, on Thursday.
The three other soldiers were injured in the crash and are in stable condition. The cause is under investigation, according to the Fort Polk statement.
Joseph, a Collierville, Tenn., native, is survived by his wife, Erin Joseph, according to the statement.
He joined the Army as a medical officer in 2008 and served two combat deployments to Afghanistan in 2010 and 2017. Among his awards and decorations are the Bronze Star, Meritorious Service Medal, Air Medal with valor, two Army Commendation Medals and the Army Achievement Medal, according to the base public affairs office.
The sailor, Garcia-Herrera, enlisted in the Navy on Jan. 23, 2017, and reported to the Nimitz following his logistics training, according to Navy Times, which cited his military records.
About 9 p.m. Friday, he fell several stories onto the pier from the ship's aircraft elevator, which had been lowered and connected to a walkway used to board and exit the ship.
Paramedics took him to a nearby hospital, but he died from his injuries about 2 a.m. Saturday, the Seattle Times reported Sunday.
That type of accident is not common for the ship, Bill Petkovski, deputy public affairs officer for the USS Nimitz, told the Seattle Times.
The aircraft carrier's home port is in Bremerton, Wash. It was at North Island for routine training operations, Petkovski said.
The cause of Garcia-Herrera's fall is under investigation, according to the Navy statement on Twitter. A memorial service aboard the Nimitz is being planned.
lopez.christian@stripes.com Twitter: @clopez_stripes