Army meets recruiting goal for 2019 after revamping how it attracts prospective soldiers
by
Corey Dickstein
September 17, 2019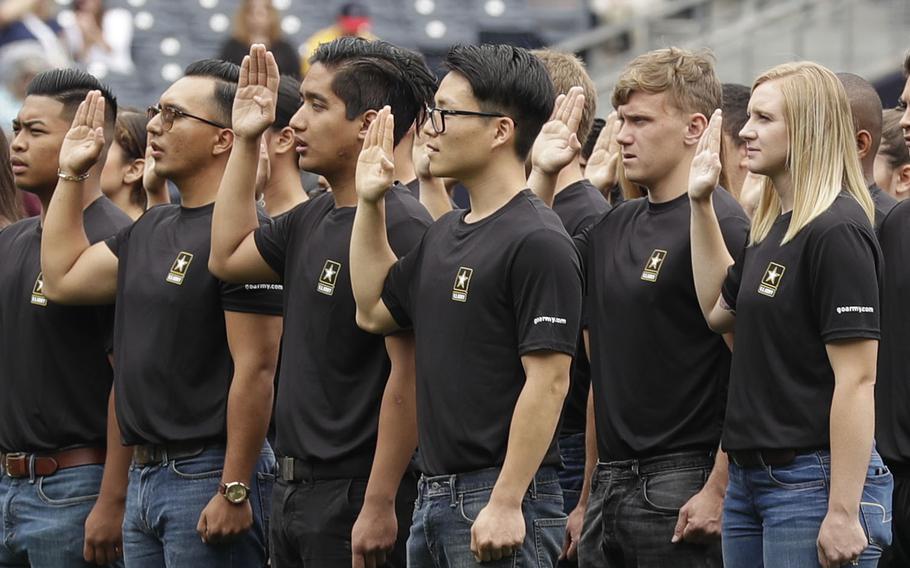 WASHINGTON – The Army has met its fiscal year 2019 recruiting goal, service officials said Tuesday, crediting a retooled effort focused largely on attracting young men and women through internet applications and in large cities the military had long ignored.
The Army will surpass the 68,000 active-duty enlistees that it aimed to bring into the service this fiscal year, which ends Sept. 30, said Gen. James McConville, the service's chief of staff. His announcement comes just one year after the Army fell about 6,500 enlistees short of its fiscal year 2018 goal – its first recruiting failure since 2005 – kicking off a service-wide review of its efforts to attract young people into its uniform.
"The Army had to do some soul-searching," acting Army Secretary Ryan McCarthy told reporters at the Pentagon. "We had to look at our entire strategy in how we went to market, and we made some pretty dramatic changes in this process."
After a short review aimed at modernizing recruitment, which operated in 2018 much as it did in the 1990s, Army leaders bulked up their recruiting force by 700 soldiers, trained them to find prospective recruits online, and shifted their marketing strategy from long-running television advertisements to running targeted ads on the social media platforms popular among people in their late teens and early 20s.
The service also identified 22 cities where it had historically struggled to attract people into the service and boosted its recruiting efforts there, often dispatching its top leaders to engage with civic leaders and pitch the benefits the Army could provide their young people. Those cities on average saw a 15 percent increase in enlistment numbers boosted by improvement in places such as New York, Chicago, Boston and Los Angeles, according to the service. But not all of the cities saw increased recruiting numbers. Orlando and Seattle, for example, did not see improvement, though McCarthy vowed to continue increased recruiting efforts in those locations.
Service officials also acknowledged Tuesday that the goal that they reached in 2019 actually saw fewer soldiers enter the service than in 2018, when they failed to meet their goal. McConville said the Army had a smaller overall force strength growth goal in 2019.
The general said the Army actually will be larger at the end of the fiscal year than it had planned because retention was better than projected. The service had planned to grow by about 2,000 active-duty soldiers this year to about 478,000, but will instead grow to some 481,000 to 483,000 soldiers, he said.
"The intent is to get quality over quantity," McConville said. "That allows us to do the other things we need to do in the Army – modernize the Army, made sure we are ready [for combat] and make sure we can increase the quality of life."
Fiscal year 2019 also saw the service issue 3.4% fewer waivers, including the lowest number of waivers for past misbehavior than in the last 20 years, said Maj. Gen. Frank Muth, the chief of the Army's Recruiting Command. Less than 9% of fiscal year 2019 recruits needed such a waiver, which is used for recruits with past legal issues, typically including arrests for misdemeanors such as marijuana possession or drunken driving.
Muth said the Army saw the biggest improvements in recruiting after most of the planned changes were implemented in about January, but the service is still studying data to determine exactly what impact the new strategies made. He said he expects to see continued improvement in fiscal year 2020.
Recruiters already have a head-start on reaching Army goals for next year with 13,000 recruits contracted to enter the service after Oct. 1, which count toward their efforts for fiscal year 2020. Muth said he expects his recruiting force to bring in larger numbers of high-qualified candidates as the service continues to better understand the young men and women it needs to enlist.
"We're moving from an industrial age Army to an information age Army," McConville said of the revamped recruiting initiatives. "We've got to be agile enough and take advantage of technology to keep pace. Things have changed."
dickstein.corey@stripes.com Twitter: @CDicksteinDC