Army, local police investigating senior enlisted soldier's death in Virginia
by
Corey Dickstein
June 19, 2020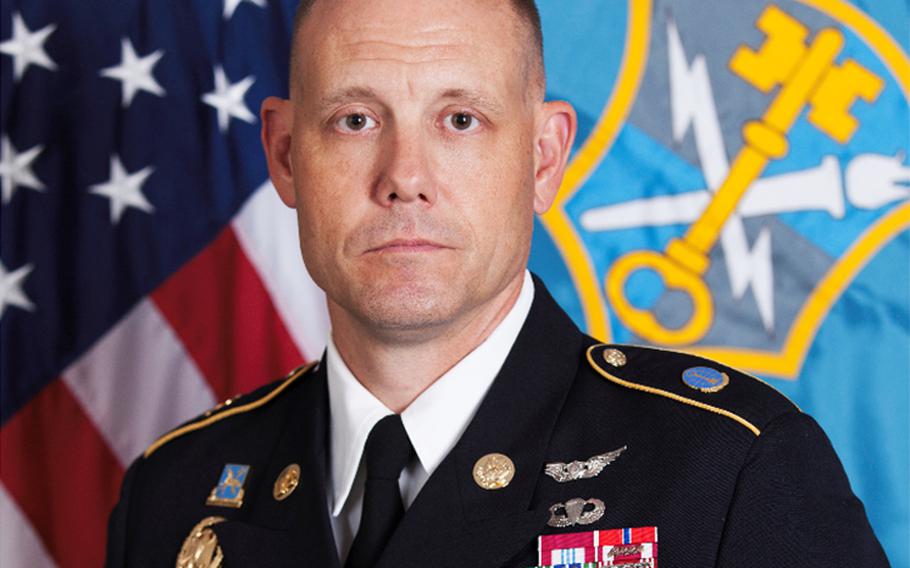 WASHINGTON — Army investigators and local police in Virginia are probing the sudden death Tuesday of a Fort Belvoir-based senior enlisted soldier, military officials said Friday.
Fairfax County police and the Army's Criminal Investigation Command are investigating the cause of Command Sgt. Maj. Eric M. Schmitz's death, Army officials said in a statement. Schmitz was the top enlisted soldier for the Army's Intelligence and Security Command, known as INSCOM, a position he had held since 2017.
Army officials declined to provide additional information about those investigations, including what was suspicious about his death.
Schmitz served 28 years in the Army, primarily in intelligence positions, according to his service biography. He was an Iraq War veteran who also served assignments in Germany, South Korea, the United Kingdom and at posts across the United States. He spent time early in his career as a chemical specialist before transitioning into the intelligence field. He also worked as a drill sergeant, was a master fitness trainer and an Army combatives instructor, according to the biography.
He was a 2005 inductee into the Sgt. Audie Murphy Club, an honor for the Army's top noncommissioned officers, selected by their peers. Schmitz's awards included the Legion of Merit, a Bronze Star, the Defense Meritorious Service Medal, five Meritorious Service Medals and three Army Commendation Medals, according to his biography.
Before he became the top enlisted soldier for INSCOM in September 2017, Schmitz served as the top enlisted soldier in Army Forces Command's G-2 intelligence shop.
"Schmitz was a great soldier," Maj. Gen. Gary W. Johnston, INSCOM commander, said in a statement. "Eric was a tireless partner leading INSCOM's 17,500 soldiers, Army civilians and contractors, and we owe him and his family a debt of gratitude. Please keep the family in your thoughts and prayers, as well as our units as they work through this difficult time."
In addition to his Army duties, Schmitz was also the president of Operation Enduring Warrior, a nonprofit focused on empowering and motivating wounded military veterans and law enforcement officers, largely through physical actives including athletic competition, scuba diving and skydiving, according to the organization's website.
The nonprofit first announced Schmitz's death in a Facebook post Wednesday, drawing hundreds of comments and offers of condolences.
"Our thoughts are with his family, his soldiers, and his loved ones," the OEW Facebook post read. "Eric cared deeply for the OEW mission and lived it every day. He was a strong teammate, a powerful motivator for all of us, and above all else, a great friend. Every single one of us will miss him deeply."
dickstein.corey@stripes.com Twitter: @CDicksteinDC