Army launches $3 million program to research off-road drones
---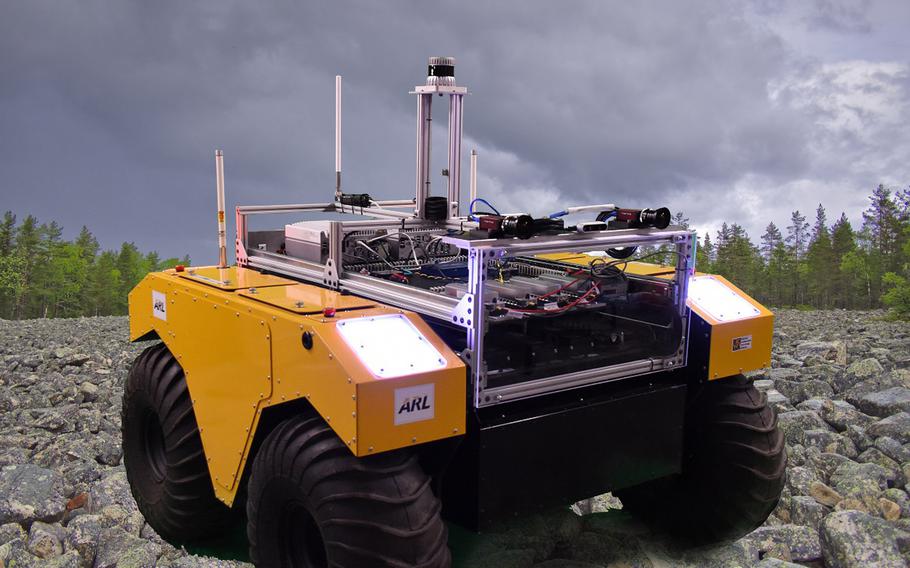 A nearly $3 million military-funded program aims to find out whether robots can drive through tomorrow's battlefields without human input.
A group of seven universities and one company received funding in May to research off-road movement by unmanned vehicles, as part of an effort launched by the Army Research Laboratory, researchers said Monday.
Army researchers said autonomous planes and trucks are part of the future of war, and after a decade of research have developed a prototype "brain" for unmanned vehicles, dubbed the ARL Autonomy Stack.
Over the next year, civilian researchers will have access to the prototype brain and will be asked to improve it, said Eric Spero, manager of the Scalable, Adaptive and Resilient Autonomy program.
"With this $3 million in funding, we've reached out to industry and academia and asked, 'who can contribute to this Autonomy Stack?'" Spero said in a phone interview.
The program aims to improve both air and ground unmanned vehicles, but most of the research this year will focus on autonomous driving.
Future Army unmanned vehicles need to be able to enter unfamiliar areas, without GPS or satellite, and make sense of the environment before moving quickly and safely, Spero said.
But current autonomous vehicles tend to move too slowly in rugged environments, said Brett Piekarski, chief scientist of the lab's vehicle technology directorate.
Their brains need to process what they're seeing, build a map of where they are and decide where to go quickly, he said.
"We're trying to make these things operate much faster, but they have to operate on unstructured environments, so that makes it challenging," Piekarski said.
The researchers given funding to improve off-road mobility are from the Colorado School of Mines; Florida Institute for Human and Machine Cognition; GE Research; Indiana University; University of California, Berkeley; University of Delaware; University of Rochester and the University of Washington.
Researchers will spend the next year working on improving the ARL Autonomy Stack. Their code will be tested in a Warthog, a civilian unmanned ground vehicle about the size of an ATV that's been adapted to use the Army's prototype brain.
Experiments for the vehicle could include finding safe paths through dense vegetation, climbing rough inclines and traversing rubble fields.
Researchers at the end of the year will then assess what worked, with any advancements contributing to future robotics software for larger Army vehicles.
Army researchers also hope to build unmanned vehicles that make better decisions and can work almost like teammates with soldiers on the battlefield, Piekarski said.
"We want robots to be able to solve problems," Piekarski said. "Let's say a drone lost signal: it should be able to understand the intent of the mission, the context of the environment, the conditions of the battlefield and still continue on with its mission."
lawrence.jp@stripes.com Twitter: @jplawrence3
---
---
---
---