Army field hospital is expected to be caring for patients in NYC by Monday
---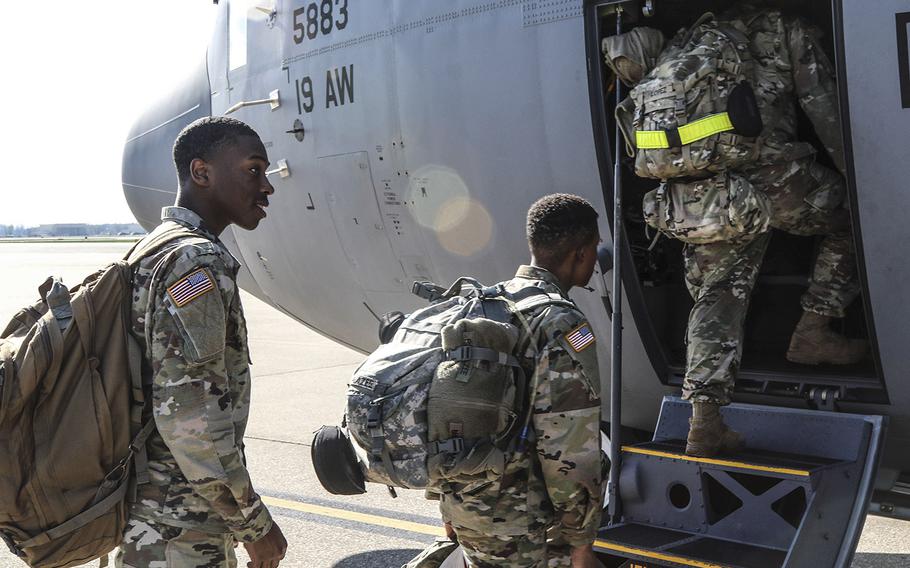 Stars and Stripes is making stories on the coronavirus pandemic available free of charge. See other free reports here. Sign up for our daily coronavirus newsletter here. Please support our journalism with a subscription.
WASHINGTON — More than 600 medical soldiers from Fort Campbell, Ky., and Fort Hood, Texas, are expected to begin caring for patients on Monday in New York City, where hospitals have become overwhelmed by the coronavirus crisis, Army officials said.
The soldiers will operate a field hospital alongside Federal Emergency Management Agency personnel out of the Jacob K. Javits Convention Center in Manhattan, treating non-coronavirus patients to lighten the burden on local hospitals that must free up bed space for people suffering from the new virus, said Gen. James McConville, the Army chief of staff. The soldiers from Fort Campbell's 531st Hospital Center and Fort Hood's 9th Hospital Center will bring with them 284 hospital beds, but will likely be responsible for even more beds provided by other government agencies, he said.
Lt. Gen. Charlie Flynn, the Army's chief for operations, plans and training, said the short-notice deployments of medical personnel showed the military commitment to helping the U.S. civilian community in desperate times.
"They are taking pressure off the local and state health care systems — moving patients into that facility so we can help those patients — people with broken legs, car accidents, everything else that needs care," Flynn said during a Pentagon news briefing.
New York has been the hardest hit of any U.S. state, with the nation's outbreak epicenter now in New York City, according to federal health officials.
New York Gov. Andrew Cuomo said Thursday that the crisis was deepening. The number of New Yorkers hospitalized by the coronavirus shot up 40% since Wednesday, Cuomo said during a news conference. The state reported 37,258 confirmed cases of the virus in the state as of Thursday morning, and 5,327 of those people were hospitalized. Cuomo said 385 people had died in New York of the virus, including 100 between Wednesday and Thursday morning.
Soldiers with the hospital units deploying to New York began arriving Wednesday at Joint Base McGuire-Dix-Lakehurst in central New Jersey, and they will begin moving into New York City throughout the weekend.
Meanwhile, soldiers with a third hospital unit, the 627th Hospital Center from Fort Carson, Colo., began deploying this week to Seattle, and were in the process Thursday of finding a location to place a field hospital, McConville said. Unlike the units heading to New York, the more than 300 soldiers from the 627th will likely build a hospital out of tents.
Washington state, especially the Seattle area, is another area of the United States hit hard by the fast-spreading disease, which has caused crises across much of the globe. Health officials in Washington reported 2,580 coronavirus cases as of Wednesday evening, including 132 deaths.
Top Pentagon leaders have said they were poised to send more medical help to communities in need, if they were deemed necessary. The Navy's two hospital ships are set to perform missions similar to the deploying Army field hospitals. The USNS Mercy deployed this week from San Diego en route to Los Angeles, where the ship's some 1,000 medical personnel will treat non-coronavirus patients. The USNS Comfort will deploy this weekend from its homeport in Norfolk, Va., to New York, Navy officials said.
But the Army leaders on Thursday said none of its three remaining active-duty hospital center units had been ordered to prepare to deploy. The Army has 15 more field hospital units in its reserves, which could potentially be activated, Flynn said.
Defense Secretary Mark Esper is weary of deploying those reserve units, which could potentially pull medical professionals from local communities where they are likely already battling the disease.
The Army additionally has to ensure it can treat its own people. McConville said, as of Thursday, 100 soldiers had tested positive for the coronavirus worldwide. The general did not provide specific locations that have been especially impacted by the virus, but he said data did not show any clusters of the virus so far.
On Wednesday, the service reached out to retired soldiers who previously served on active-duty in a medical field to gauge interest in temporarily rejoining the force to aid in efforts to slow the pandemic.
The service is seeking retired officers and noncommissioned officers who served as critical care officers, anesthesiologists, nurse anesthetists, critical care nurses, nurse practitioners, emergency room nurses, respiratory specialists and medics, McConville said. Those individuals would likely be placed at Army hospitals to fill in gaps for medical troops sent elsewhere during the coronavirus response, the general said.
McConville said it was too early to determine how many individuals would volunteer for such an assignment, but he added "so far the initial responses have been very, very positive."
dickstein.corey@stripes.com Twitter: @CDicksteinDC
---
---
---
---