Army chief: Service must grow to fill expanding train-and-assist missions
by
Corey Dickstein
October 9, 2017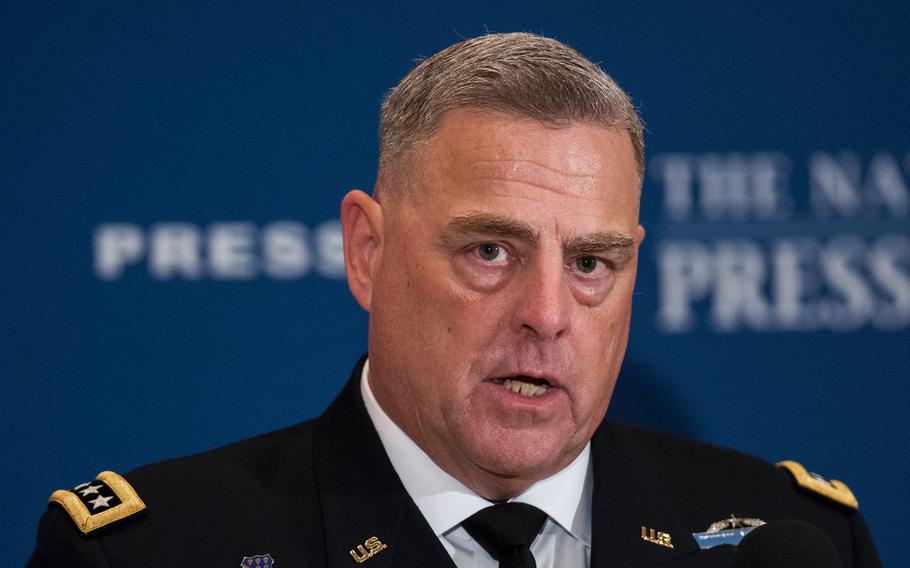 WASHINGTON — The U.S. Army intends to grow for a second consecutive year as it anticipates increasing need for soldiers to train and assist indigenous forces to fight global terrorism, the top general said Monday.
"Our fundamental strategic approach to deal with terrorism and terrorists is to work by, with and through host nations, partner nations, friends and allies — their indigenous security forces — in order to provide for a stable environment for their own country," Gen. Mark Milley, the Army's chief of staff, said Monday at the Association of the U.S. Army's annual meeting in Washington. "By doing that, we'll meet U.S. objectives."
Milley said that mission is not expected to shrink in the near future.
In fiscal year 2018, the Army aims to add 17,000 soldiers to the 16,000 active-duty troops added last year — the first year of growth after repeated downsizing amid budget constraints. Those soldiers will help the Army offset losses to combat formations as it moves experienced soldiers into new, specialized units being built to train partner forces, Milley said.
Currently, the U.S. Army has about 180,000 troops forward deployed in about 140 countries. A large percentage are focused on training, advising and assisting forces, including in areas outside declared war zones such as Afghanistan, Iraq and Syria, he said.
The extent to which American troops are advising local forces in other areas was thrust into focus last week when the Army announced that four of its soldiers — two Green Berets and two conventional soldiers assigned to 3rd Special Forces Group at Fort Bragg, N.C. — were killed in an ambush in Niger on Oct. 4 during a partnered mission to meet with local community leaders in the West African nation.
While Special Forces units are largely responsible for training commando units of partner forces, Milley said the conventional Army is equally responsible for the mission to train, advise and assist.
That's why the Army is developing new units called Security Force Assistance Brigades, or SFABs, made up of mid- to senior-level officers and noncommissioned officers tasked with deploying to train, advise and assist indigenous fighters.
The first unit of 500 to 600 soldiers is being formed at Fort Benning in Georgia. Milley said the Army aims to develop five SFABs in the regular Army and a sixth in the National Guard.
The new brigades will be structured like the 75th Ranger Regiment, and soldiers assigned to the units — the Army hopes to fill the brigades with volunteers — will face similarly stringent physical standards, Milley said.
By deploying the SFABs to train, advise and assist, Milley aims to increase dwell time for brigade combat teams so they have more time to train at home and at combat training centers for high-intensity conflict likely to occur in a war with a near-peer competitor, such as Russia, Iran or North Korea.
"We are likely to be involved in train, advise and assist operations across the world for many years to come," Milley said Monday. "We think it's about time we recognize that fact with force structure specifically designed to train, man and equip organizations that can go forward for those operations."
dickstein.corey@stripes.com Twitter: @CDicksteinDC