Army budget chooses combat readiness over modernization
by
Corey Dickstein
February 10, 2016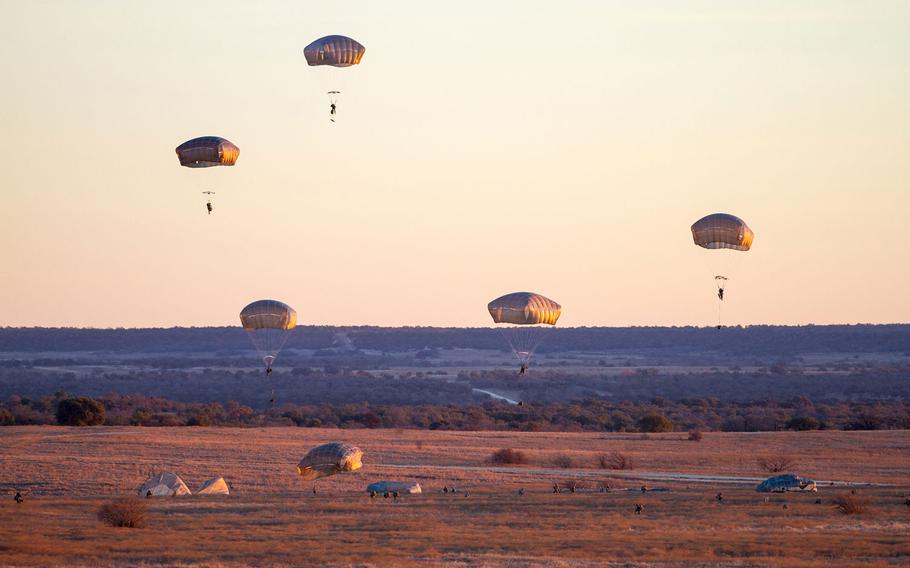 WASHINGTON — The Army's proposed 2017 budget unveiled Tuesday makes preparing units a priority over modernizing forces, underscoring the wide scope of operations around the world that involve soldiers.
Overall spending for the Army in the proposed Defense Department budget would be $148 billion, the same as 2016. But its base budget for 2017 would be $2 billion less than in 2016, while its Overseas Contingency Operations, or OCO, fund would gain $2 billion, increasing it to $23 billion.
Budget constraints forced Army leaders to make "difficult" funding decisions, said Maj. Gen. Thomas Horlander, the service's budget director. Increasing readiness to conduct wide-ranging operations, possibly including preparing to fight a near-peer enemy in the immediate future, is a priority, he said.
If enacted, the 2017 budget would end the Army's recent tiered approach to building readiness, as it strives to ensure 2/3 of its active-duty force is deployment-ready. Only about 1/3 of Army units have been deployment-ready in recent years.
"As we built this budget and sought to strike the best-possible balance within our topline funding level, we assured that our absolute No. 1 priority remained readiness," Horlander said Tuesday during a budget briefing at the Pentagon.
The Army builds readiness primarily through the operations and maintenance portion of its base budget, Horlander said. That $45.2 billion portion is the only part of the base budget that grew from the 2016 budget, he added. Among other operations, the budget proposes funding 19 combat training center rotations for brigade combat teams.
Those rotations will help prepare an increasingly busy Army.
The service now has about 190,000 soldiers deployed – about 50,000 more than in February 2015 -- from the regular Army, the Army National Guard and the Army Reserves to 140 countries in each of the regional combatant commands. Soldiers are deployed in eastern Europe to reassure NATO allies and deter Russian aggression. Soldiers also continue their advise and assist missions in Iraq and Afghanistan and remain increasingly committed to working hand-in-hand with partner nations throughout Asia to promote regional stability there.
The Army plans to use much of its increase in OCO spending in Europe, where it allocated $2.8 billion toward providing an increased presence and more equipment for its European Reassurance Initiative. That plan calls for an armored brigade combat team to be deployed onto the continent at all times. Increased readiness came largely at the expense of new vehicle and weapons systems procurement.
The Army proposes to spend $15.1 billion largely on several updated helicopters and upgrades to several of its ground vehicle systems. It represents a $1.3 billion cut from 2016.
It also intends to purchase 2,020 Joint Light Tactical Vehicles, intended to replace the Army and Marine Corps workhorse Humvee, and 48 Paladin Integrated Management self-propelled howitzers. It also proposes spending $480 million to upgrade 60 M1 Abrams tanks with new armor packages and $590 million to upgrade 123 Stryker armored vehicles.
The budget proposes spending $2.1 billion less on aviation improvements than in its 2016 spending plan. The Army proposed purchasing 52 remanufactured AH-64E Apache attack helicopters, down from 64 last year. It proposes purchasing 36 UH-60M Black Hawks, down from 107 the prior year. It also proposes buying 22 remanufactured CH-47F Chinooks, down from 39 in 2016.
Meanwhile, the Army will continue to drawdown its force size. The proposed 2017 budget would cut 10,000 troops from the active-duty force, leaving it with 460,000 soldiers. The Army National Guard would shrink from 342,000 soldiers to 335,000, and the Army Reserve would be cut from 198,000 to 195,000.
The proposed budget also includes a 1.6 percent increase to military basic pay and civilian pay in fiscal year 2017.
dickstein.corey@stripes.com Twitter: @CDicksteinDC