Anti-Islamic State coalition meets to plan battles for Mosul, Raqqa
by
Corey Dickstein
July 20, 2016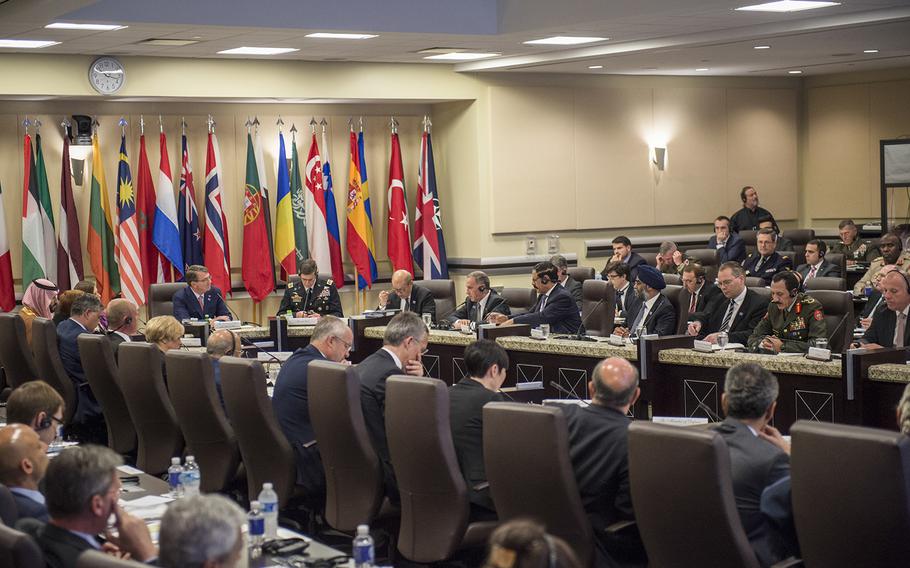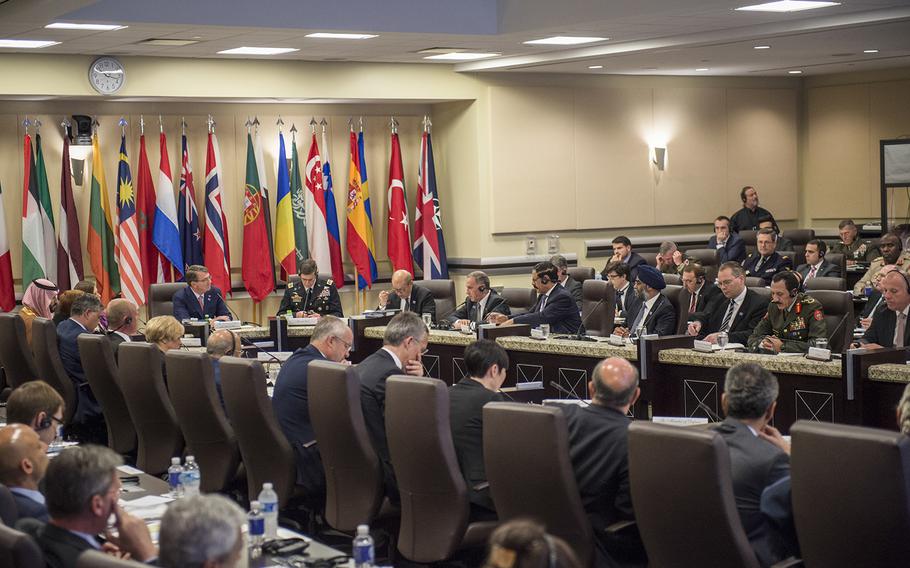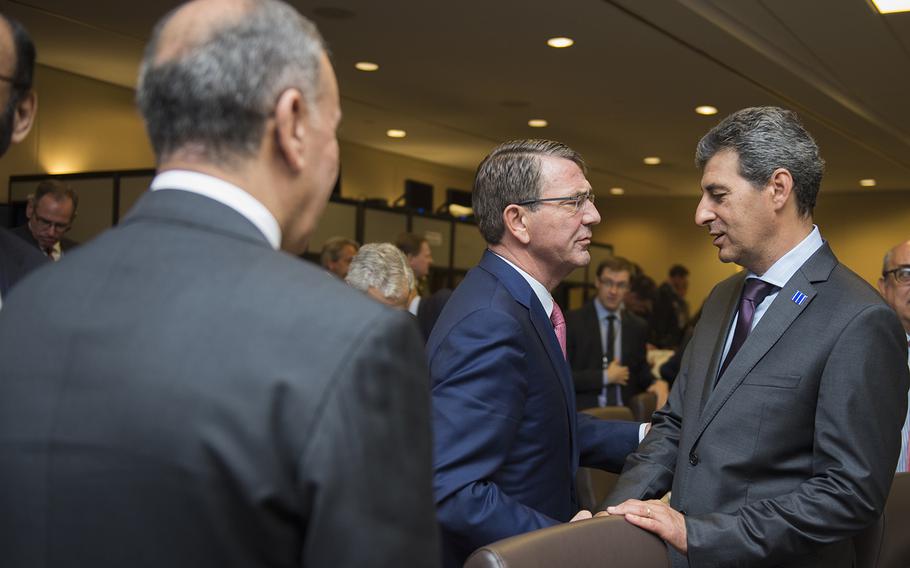 WASHINGTON — Defense Secretary Ash Carter on Wednesday asked his counterparts from more than 30 nations partnered in the anti-Islamic State coalition to commit to do more to help local forces in Iraq and Syria fighting the terrorist group.
Carter and the defense chiefs from the other nations gathered at Joint Base Andrews in Maryland to map out the next steps that the U.S.-led coalition should take to build on recent momentum as the indigenous ground forces inch closer to Mosul in Iraq and Raqqa in Syria, two key cities still held by the Islamic State group.
"We're all going to need to do more," Carter said after meeting with his counterparts. "We now have momentum in this fight and clear results on the ground, and today we made the plans and commitments to deliver (the Islamic State group) a lasting defeat."
Several coalition partners committed to increasing their share of the workload in the campaign, Carter said, but he declined to provide specific examples.
The battle for Mosul, which has been controlled by the Islamic State group for more than two years, appears likely to happen before the attack on Raqqa. Iraqi officials have said they aim to retake Mosul by the end of 2016, and Carter said he anticipated the initial stages of the siege would begin in the coming months.
He cautioned against predicting when the city would fall.
The Mosul operation will be among "the most complex" efforts the Iraqi military has faced to date, said Brett McGurk, President Barack Obama's special envoy to the anti-Islamic State coalition.
"We have it in sight, but we have to do it right," McGurk told reporters ahead of the Wednesday meeting. "Militarily, it has to be very well planned."
It will require 15,000 Iraqi soldiers, police and local tribal fighters, McGurk said. The recent capture by Iraqi forces of a key airfield about 40 miles south of Mosul, al-Qayyarah West Airfield, provided them a springboard to propel troops and airpower forward for the attack of Mosul, Iraq's second largest city.
The Iraqis will push north toward the city from al-Qayyarah West Airfield and another staging base to its east at Makhmour. From the north, Kurdish peshmerga fighters will launch a simultaneous attack on the city.
The complexity of orchestrating such a massive maneuver on a city that remains inhabited by about one million civilians will likely require even more coalition help, said Army Gen. Joseph Votel, the commander of U.S. Central Command, which oversees that Operation Inherent Resolve fight.
The United States has already committed to do more in the fight, as have some partner countries.
Last week, Carter announced the United States would send another 560 troops to Iraq, the majority who will deploy to al-Qayyarah West Airfield in the near future. They will help rebuild the airfield and provide logistics, communications and security capabilities.
Votel did not rule out sending even more American troops into Iraq in the future if they are deemed necessary to accomplish the goals that the coalition set Wednesday.
"What we have tried to do is link our request for additional capabilities to specific objectives we're trying to achieve," he said. "I think as we move forward … we will look to add additional capabilities that are necessary to accomplish our objectives."
To this point, Obama has authorized up to 4,657 U.S. troops to the fight.
Other partners, including Australia, France, the United Kingdom and NATO, recently committed to do more in the campaign.
Australia announced Tuesday it would expand its counterterrorism training for federal police in Iraq. France will deploy its aircraft carrier, the Charles de Gaulle, to support coalition air operations and increase its army and intelligence assets in the country. The United Kingdom will deploy more military trainers and engineers. NATO on July 9 committed to moving its training program for Iraqi security forces into Baghdad. It have previously trained them in Jordan. NATO also committed during its two-day summit in Warsaw, Poland to provide surveillance aircraft in the fall.
During the last year, the Islamic State group has surrendered about 50 percent of the territory that it once held in Iraq and Syria and has suffered dramatic reductions in its ability to recruit foreign fighters into those countries, U.S. officials have said.
But as the Islamic State has lost land in Iraq and Syria, the group has gained influence in other areas of the world — namely in Afghanistan, Libya and Egypt — and launched and inspired terrorist attacks in Western countries. Carter said discussions Wednesday included steps to curb the group's influence and prevent it from terrorizing the world.
However, he said it starts with clearing the Islamic State group from Iraq and Syria, where it rose to prominence.
"We need to destroy the fact and the idea of their state in Iraq and Syria," Carter said. "That's not the entirety of the campaign… it's necessary, but that's not sufficient."
Even after the group is defeated, challenges will remain for the coalition, McGurk said.
What will happen on the reclaimed land? Will security forces be able to hold it and keep it from becoming a breeding ground for terrorism? Other concerns include sectarian issues and the massive reconstruction efforts that will be needed to rebuild cities and towns.
Those issues are among topics expected to be discussed Thursday when Secretary of State John Kerry and Carter host the coalition's foreign and defense ministers at the State Department. The department hopes to raise commitments of more than $2 billion to help fund rebuilding and humanitarian efforts during the meetings.
"This is an enormous challenge that will be with us for years to come," McGurk said. "We've set the foundation and ... we are succeeding on the ground in Iraq and Syria."
dickstein.corey@stripes.com Twitter: @CDicksteinDC
---
---
---