'An arduous and tough situation' for military medical personnel deployed to front lines of virus fight
---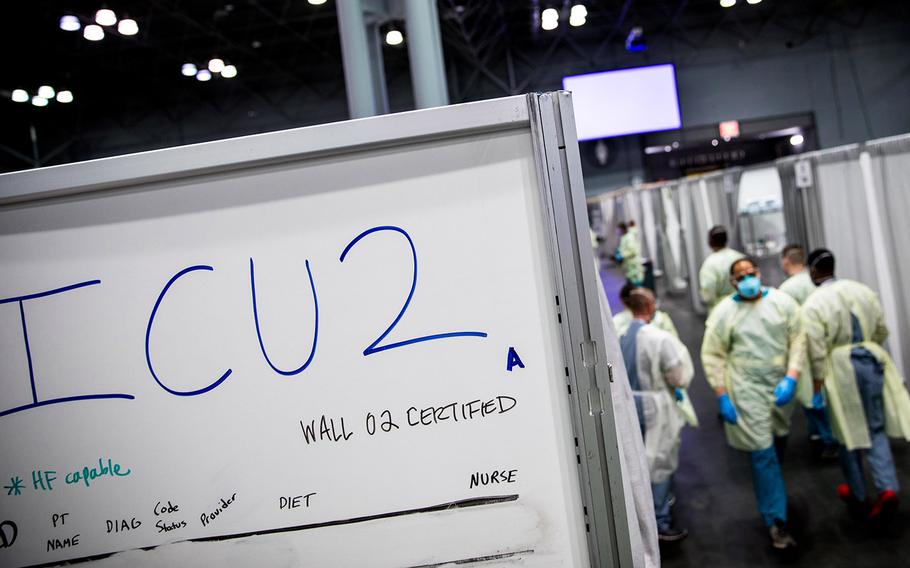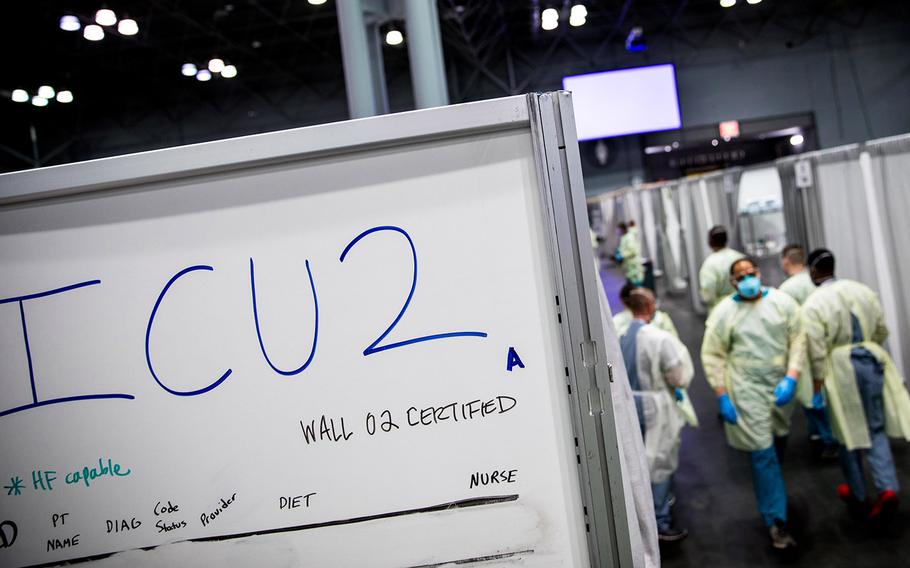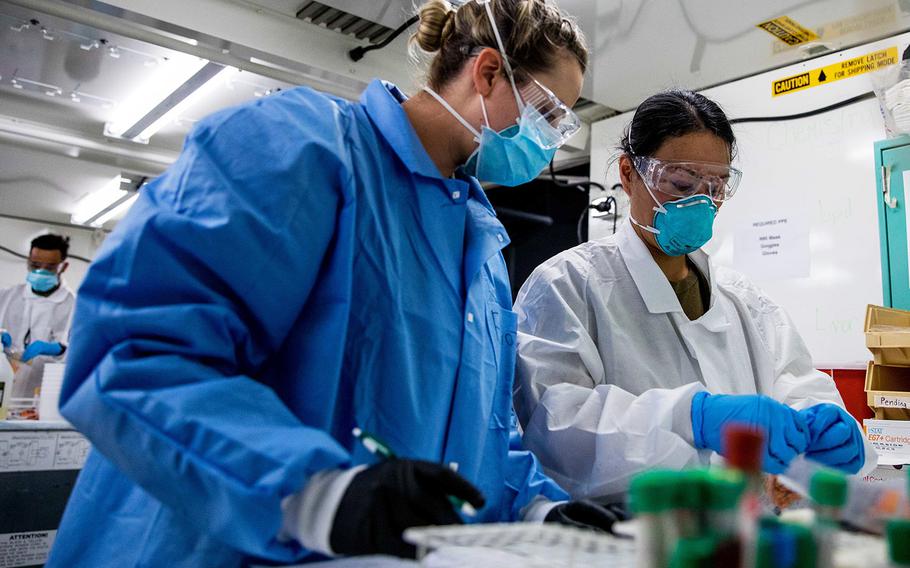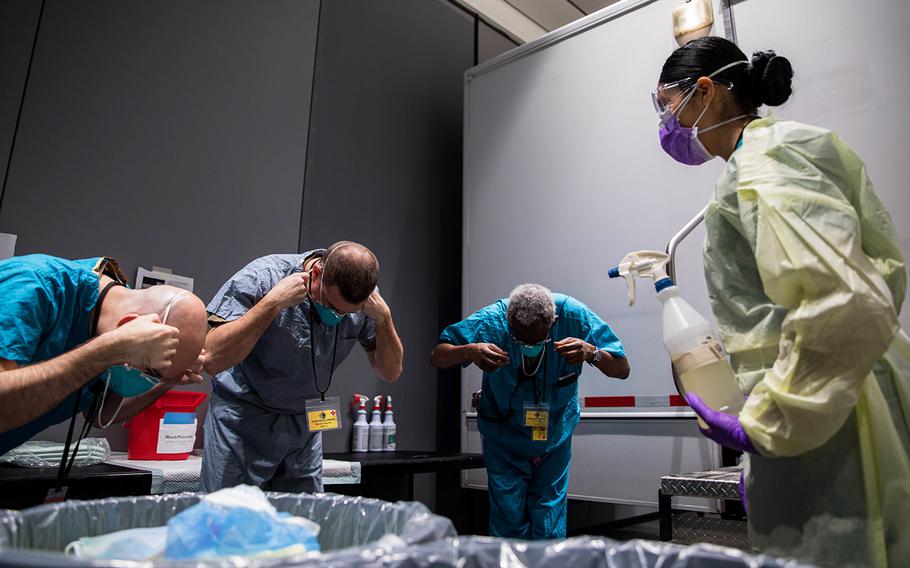 Stars and Stripes is making stories on the coronavirus pandemic available free of charge. See other free reports here. Sign up for our daily coronavirus newsletter here. Please support our journalism with a subscription.
Workdays for the military medical personnel overseeing the Jacob Javits Convention Center in Manhattan begin at about 5 a.m., where about 200 military and civilian nurses prepare for a 12-hour shift caring for coronavirus patients, said Army Lt. Col. Leslie Curtis, chief nursing officer of the 9th Field Hospital, which is deployed to New York City from Fort Hood, Texas.
"We have very strict protocol … to protect every single person," Curtis said Tuesday. "We are extremely busy."
The center averages about 325 coronavirus patients a day in the 2,500-bed facility. The staff — a joint force of Army, Navy, Air Force and civilian personnel — sees about 125 new patients each day and about 40 to 50 discharges.
Military personnel have been in New York City for about two weeks in response to the coronavirus outbreak. The city has been the U.S. epicenter of the pandemic with more than 106,800 coronavirus cases as of Tuesday. Nationwide, there are more than 584,000 cases, according to the Johns Hopkins Coronavirus Resource Center. The virus has killed more than 25,000 Americans.
The pooling of forces at the Javits Center is unique, Curtis said.
"This is an extraordinary time in history to come together with all services providing care in an arduous and tough situation," she said.
New medical personnel is routinely joining the effort at the center — about 20 to 30 a day — who must be processed and credentialed, Curtis said. Many of them watch for a day before they are added to the facility's work schedule. In two weeks, the nursing staff has expanded from 12 teams to 27 teams working shifts around the clock.
U.S. Northern Command is overseeing more than 13,200 active-duty and Reserve service members deployed in at least seven states in response to the coronavirus pandemic. More people are added every day. On Friday, the Army Reserve announced eight medical task forces to deploy to New York, New Jersey and Connecticut. As of Tuesday, three more units were announced to support efforts in Michigan and Massachusetts.
The troops are in addition to the more than 30,000 National Guard members working in communities in all U.S. states and territories, according to the National Guard Bureau.
Other cities receiving relief efforts include Edison and Newark, N.J., Stamford, Conn., Boston and Detroit. Each of those cities received at least one 85-member Army Reserve Urban Augmentation Medical Task Force consisting of respiratory specialists, infectious disease specialists, doctors, nurses, medics and behavioral health specialists, according to Army North officials.
One team deployed to Detroit on Friday and began seeing patients Sunday at a 1,000-bed alternate care facility built by the Federal Emergency Management Agency inside the TCF Center.
Detroit is considered a potential future hotspot for the coronavirus and so far, it has more than 6,700 confirmed cases of the virus. The state has more than 25,600, according to the governor's office.
The alternate care site opened Friday, according to Michigan Gov. Gretchen Whitmer, and expects to have about 250 patients transferred to the facility by the end of the week.
Meanwhile, the majority of military personnel are concentrated in New York City.
More than 400 military personnel are working inside 11 New York hospitals, some of them functioning as their own teams within intensive care units while others are filling in personnel gaps among civilian providers as needed, said Navy Capt. Joe Kochan, executive officer for the Operational Health Support Unit Portsmouth, a Navy Reserve unit based at Naval Medical Center Portsmouth, Va. Kochan deployed to New York City, working primarily in Elmhurst Hospital.
Military support varies in each hospital based on whatever the facility needs to relieve their own personnel who've been in this fight against the virus for about 35 to 45 days, he said.
Air Force Col. Jennifer Ratcliff, commander of the 927th Aerospace Medical Squadron from MacDill Air Force Base, Fla., said once her personnel received credentials, military teams quickly integrated themselves into New York's hospitals.
"We're a fresh face. We've got the energy and enthusiasm to really help these people who are tired and have been working very long days and weeks," she said.
New York Gov. Andrew Cuomo said Tuesday that there are some good signs that coronavirus cases are beginning to plateau in the state and hospitalizations are beginning to level.
As the state and local government respond to the changing curve of the virus, Curtis said the military personnel at the Javits Center will evolve to meet the needs of the community. Staffers are prepared to meet any need.
"They have the [personal protective equipment] they need. They have everything we can think of to make it easier to do the job they are doing," she said.
thayer.rose@stripes.com Twitter: @Rose_Lori
---
---
---
---