Amid apologies, Japan's Abe touts new era of US partnership
by
Travis J. Tritten
April 29, 2015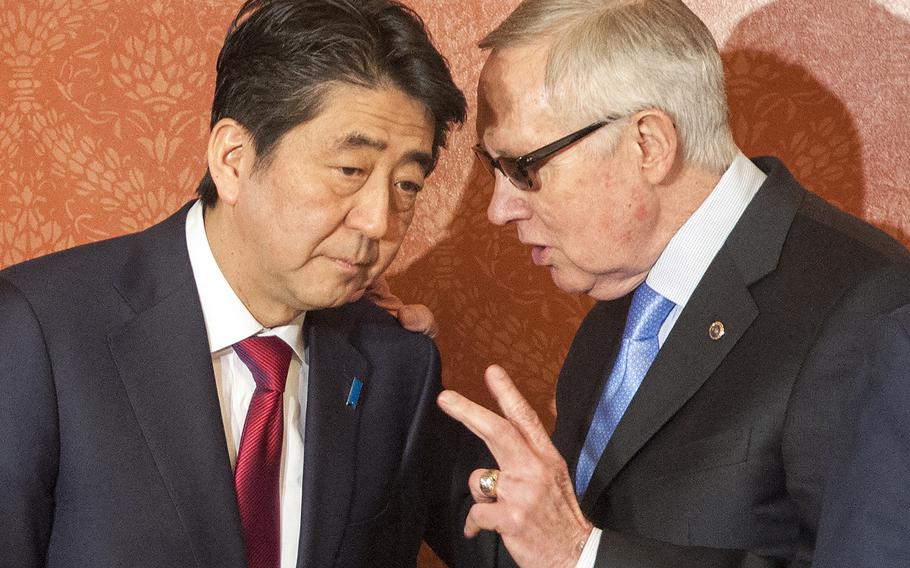 WASHINGTON — Prime Minister Shinzo Abe on Wednesday apologized for Japan's World War II aggression and touted a new bilateral defense agreement with the United States during a historic speech to Congress.
The prime minister told lawmakers he is personally repentant for Americans killed in the war and that Japan brought suffering to other Asian nations. But he said Japan and the U.S. have forged a bond and are increasing security and peace in the region with updated defense guidelines unveiled earlier this week.
It was the first time a Japan prime minister has addressed the House and Senate. It caps a meeting with President Barack Obama on Tuesday, and talks between Defense Secretary Ash Carter and Secretary of State John Kerry and their Japanese counterparts on a more active security role for the U.S.'s top ally in the Asia-Pacific region.
Abe spoke about his experience visiting the National World War II Memorial earlier in the day.
"History is harsh. What is done cannot be undone. With deep repentance in my heart, I stood there [at the memorial] in silent prayers for some time," he said. "My dear friends, on behalf of Japan and the Japanese people, I offer with profound respect my eternal condolences to the souls of all American people that were lost during World War II."
Japan has long drawn criticism from South Korea – another key ally in Asia -- for not fully acknowledging actions during the war, especially the forced prostitution of Korean "comfort women," and the issue has hindered U.S. alliances in the region.
Despite public apologies from Japan leaders that began in the 1990s, some members of Congress were calling on Abe this week for more substantial amends that could ease tensions with South Korea.
"Our actions brought suffering to the peoples in Asian countries. We must not avert our eyes from that," Abe said. "I will uphold the views expressed by the previous prime ministers in this regard."
The prime minister went slightly further with his language than past apologies on Japan's WWII aggression, saying he was repentant not just remorseful, said Michael Green, senior vice president for Asia and the Japan chair at the Center for Strategic and International Studies.
His speech is likely to be hotly debated by the South Korea media, Green said.
"I think most people who follow this think the prime minister went pretty far … my sense is this is about as much as the [Obama] administration expected," he said.
Much of Abe's speech focused on the security and economic future of the Asia-Pacific region, where the U.S. military is attempting a historic buildup of forces.
The U.S. and Japan announced new mutual defense guidelines on Monday that call for Japan to be a much more active military partner, following a decision in Tokyo that its post-war pacifist constitution does not preclude such activity.
"We must make the vast seas stretching from the Pacific to the Indian oceans seas of peace and freedom where we all follow the rule of law," Abe said. "For that very reason, we must fortify the U.S.-Japan alliance."
Carter met with Japan Minister Gen Nakatani to discuss the details of the new defense guidelines, part of a bilateral defense treaty that has not been updated since 1997.
Abe said Wednesday that the Japan parliament must finalize the agreement this summer.
Under the guidelines, the Japan self-defense forces will work much more closely with the U.S. military and Japan will be called on if there is an attack on U.S. property or personnel. The renewed agreement also covers cooperation on a wide range of new threats in space and cyberwarfare.
"What Japan will not be able to do is engage in offensive operations or attack other nations at the point of the spear," Green said. "It is a huge relief for the U.S. to have that support, which we've needed for a long time, and it is welcomed everywhere in Asia besides China and North Korea."
tritten.travis@stripes.com Twitter: @Travis_Tritten
---
---
---