ANALYSIS
Allegations against Jackson sank his VA secretary nomination – next, his career?
---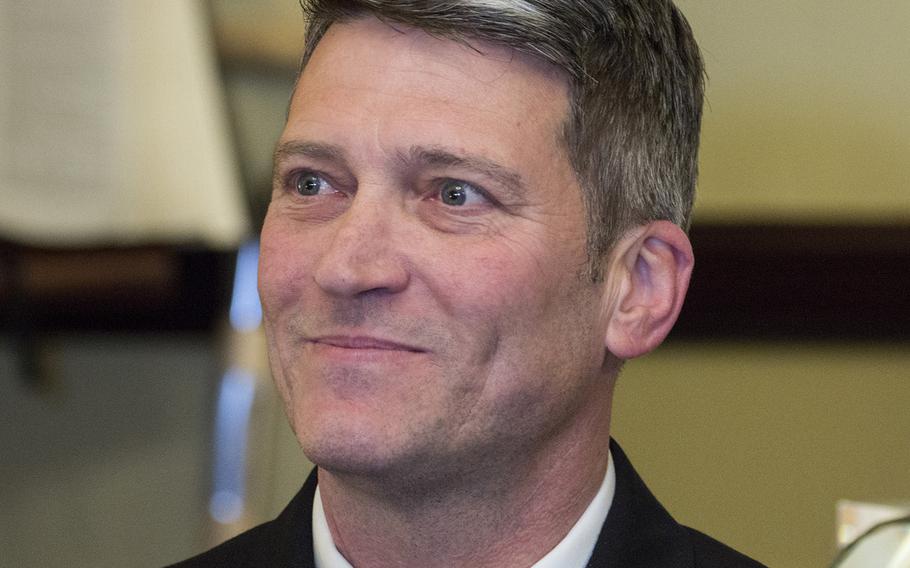 WASHINGTON – Rear Adm. Ronny Jackson, the top White House physician, is up for promotion to a two-star admiral – a step in his decorated military career that could be blocked because of the same allegations that sank his chances to be the next secretary of the Department of Veterans Affairs.
Democrats on the Senate Veterans' Affairs Committee released this week some of the accusations made against Jackson by 23 of his current and former coworkers in the White House Medical Unit. They portrayed Jackson as an unstable and power-hungry leader who drank on duty and freely handed out prescription medications.
Jackson denied the allegations, which have yet to be substantiated, but withdrew from consideration as VA secretary on Thursday. White House officials said he would return to the White House Medical Unit.
Now at least two lawmakers on the Senate Armed Services Committee – responsible for approving promotions of senior military officers – are calling for the Defense Department to look into the allegations before they'll consider Jackson's promotion.
"The information that was brought to the attention of the Veterans Affairs Committee must be reviewed and addressed by the Department of Defense before the Armed Services Committee can consider the nomination," said Chip Unruh, spokesman for Sen. Jack Reed, D-R.I., the ranking Democrat on the Armed Services committee.
Sen. Richard Blumenthal, D-Conn., a member of the Armed Services and Veterans' Affairs committees, called for an inspector general investigation, multiple news outlets reported. He reportedly said the allegations "cannot be allowed to fester unaddressed."
House Speaker Paul Ryan, R-Wisc., also told reporters there should be an inspector general review.
"We should find out if there's merit to these allegations," he said.
Retired Lt. Col. Rachel VanLandingham, a former Air Force judge advocate and a law professor at Southwestern Law School in Los Angeles, said the allegations of toxic leadership alone are enough to trigger an investigation by the Defense Department Inspector General.
Jackson's coworkers, all active-duty or retired military, described him as "intolerable" as he gained power in the White House Medical Unit. In the summary of the allegations, his coworkers are quoted as saying he was "abusive," "explosive," "dishonest" and "vindictive." He allegedly had "screaming fits" or "tantrums."
"There's more than enough here to easily clear the threshold of credible allegations," VanLandingham said.
If the IG substantiates the allegations against Jackson, it would still be up to the Navy to decide any disciplinary measures, VanLandingham said.
However, if Congress rejects his promotion based on any findings, Jackson would be forced to retire earlier because of the military's "up or out" promotion system, she said. At the time of his retirement, the Navy could convene a grade-determination board to identify at what military grade Jackson last served honorably. He would retire at that grade level, potentially affecting his retirement pay.
"Does he deserve to retire in the rank he's holding? That's what they should be looking at if any kind of investigative report substantiates misconduct," VanLandingham said. "That should trigger a grade-determination board. Given the fact there's a lot of public interest in this, you would think the Navy would do it. That would be accountability."
One of the allegations against Jackson is that he got drunk at a Secret Service going-away party and wrecked a government vehicle. Jackson denied the accusation, stating, "I never wrecked a car."
If the allegation is true, it should've sparked an immediate investigation into the destruction of government property, VanLandingham said.
Jackson faces other accusations of dispensing medications, including Percocet, without the proper paperwork. In one case, missing Percocet threw the medical unit "into a panic," according to the summary of allegations.
Questions swirled this week about why the allegations – if true – weren't revealed sooner. Jackson has been part of the White House Medical Unit since 2006 and worked as physician to the president since 2013, serving under President Donald Trump and former President Barack Obama.
In an attempt to vindicate Jackson this week, the White House released his evaluations going back to 2013. Obama wrote glowing praises of Jackson, including one from 2016 that said, "Ronny's positive impact cannot be overstated. He is a tremendous asset to the entire White House team."
VanLandingham isn't sure about this specific case but said there's been a "longstanding, atrocious tradition" in the military of flag officers receiving differential treatment.
"I would bet Ronny Jackson has been treated differently because of his rank and his position in the White House, and that's just absolutely wrong on many levels," she said. "It shouldn't have taken the fact he was nominated to be VA secretary to launch this type of investigation."
A Navy officer Friday refused to say whether an investigation had been launched, and who might be conducting it.
wentling.nikki@stripes.com Twitter: @nikkiwentling
---
---
---
---