Alcohol limit dropped for driving on US bases in Japan
---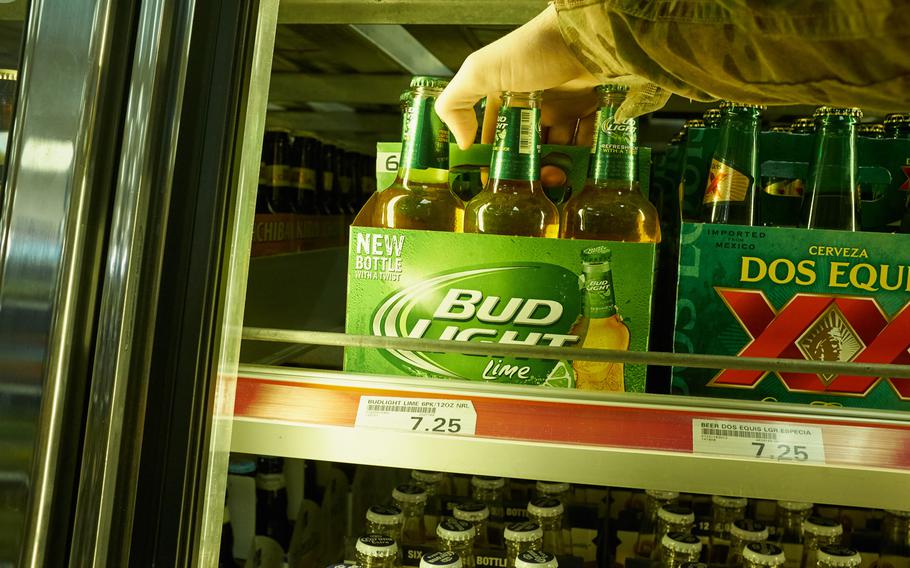 YOKOTA AIR BASE, Japan — The U.S. military is dropping the limit for drinking and driving on base to match Japan's ultra-low standard. U.S. Forces Japan said Monday that the move is not related to recent alcohol-related incidents involving servicemembers.
Starting April 4, the on-base driving limit for blood alcohol concentration will match the 0.03 percent that applies off-base, USFJ spokesman Lt. Col. Ken Hoffman said by email.
"Currently, there are varying policies on-base that range from a blood alcohol concentration (BAC) of .03 -.05, which creates confusion for servicemembers stationed in Japan," Hoffman said. "Setting a standard policy across Japan for all servicemembers will eliminate any confusion."
BAC limits in the states are typically about 0.08 percent, allowing people to legally operate vehicles after consuming a couple of standard-size alcoholic beverages.
The new policy means that people who are caught with a BAC between 0.03 and 0.079 face a mandatory 60-day suspension of driving privileges, and commanders have the discretion to impose additional penalties. Military drivers who are caught with a BAC at or above 0.08 are subject to action under the Uniform Code of Military Justice, Hoffman said.
Punishment for driving off-base in Japan after imbibing as little as a single alcoholic drink – depending on body weight – can be much more severe: a jail sentence and/or thousands of dollars in fines.
Hoffman said the policy change is not a response to the alleged rape of an Okinawa woman by a U.S. sailor or the alleged assault of a Japanese woman on a Tokyo-bound flight by a Navy officer this month. Alcohol was a factor in both incidents, according to Japanese police.
U.S. personnel in Japan are already subject to a curfew that was imposed following the rape of an Okinawa woman by two U.S. sailors in 2012.
The drink-driving policy change has been under review for several months, Hoffman said.
"There is no relation to recent incidents," he said.
The change is being made to avoid confusion among U.S. personnel about drink drive limits on various bases, he said.
On Yokota Air Base, the USFJ headquarters, for example, people have been permitted to drive with a BAC below .05, according to the base website.
USFJ was unable to provide data on rates of drink driving or accidents caused by impaired drivers on its bases. However, Hoffman said the number of alcohol-related driving incidents on U.S. installations is very small and that the new policy will probably not result in much change.
"The point… is to standardize the policy across Japan and to bring it in-line with our host nation," he said.
Customers at a Yokota shopette said they didn't have an issue with the new limit.
"I drink but I stay at home and drink and don't drive," said Air Force spouse Hazel Alde, 29, who was gassing up her Subaru Forester.
Kevin Sorenson, a civilian manager at the Tama Hills Recreation Area for U.S. personnel in Tokyo, said the policy change sounded like a good idea to him, since it means less confusion about the rules.
"Otherwise people will think they can drive on-base and then they will be breaking the law when they get off-base," he said.
Army Staff Sgt. Anthony Powell, a nondrinker, questioned the timing of the policy change.
"From a political standpoint, we have to have a positive relationship with the Japanese and any incidents cause problems," he said.
The stricter limit should mean fewer off-base incidents but on-base shuttle services should run longer to help people cope with it, Powell said.
Hoffman said people will have to reevaluate how and when they drink and what strategies they use to get home safely.
"Servicemembers and their families will need to develop plans, just as they would for off-base driving. We expect everybody to behave responsibly whether they are on or off-base. If you drink, don't drive. If you drive, don't drink. It's that simple," he said.
Any type of alcohol-related driving incident, from a mere violation up to a major accident involving serious injuries or death, results in consequences much more serious than an inconvenience, Hoffman added.
There are no plans to provide additional transport options for people living on-base once the new policy is in place. Various installations have programs to provide safe on-base transport for personnel, he said.
On Yokota, for example, people can call 225-RIDE for free on-base transport by volunteer drivers, he said.
Twitter: @SethRobson1
---
---
---
---