Alaska Air Force exercise incorporates Global Hawk drone for first time
by
Wyatt Olson
August 24, 2018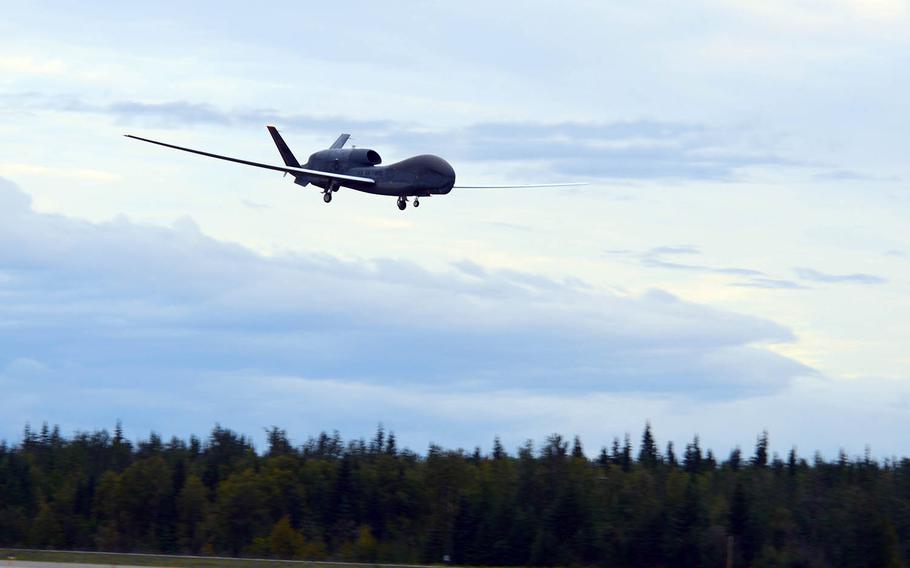 The Air Force's Red Flag-Alaska exercise — a two-week event that brought an RQ-4 Global Hawk drone to Alaska for combat training for the first time — wraps up Friday.
The Global Hawk, assigned to Beale Air Force Base, Calif., landed at Eielson Air Force Base on Aug. 16.
The 12th Reconnaissance Squadron from Beale sent a team of pilots to Red Flag-Alaska to better incorporate the Global Hawk's reconnaissance-gathering capabilities into simulated warfighting, the Air Force said in a statement.
This was the first time a Global Hawk had landed in Alaska during a simulated combat training exercise.
The Global Hawk was operated by pilots from mission control at Beale; the team of pilots sent to Alaska coordinated mission planning and acted as liaison officers, relaying information to the pilots at Beale.
Red Flag-Alaska is a Pacific Air Forces-directed international training exercise that focuses on improving combat readiness and providing training for units preparing for air expeditionary force missions. About 100 aircraft assemble for the exercise.
Among the participants are airmen from Alaska, Cannon Air Force Base in New Mexico, Kadena Air Base in Japan, Fresno Air National Guard Base in California, Great Britain's Royal Air Force, Royal Canadian Air Force and the Royal Australian Air Force.
"Most of this training prepares us for high-intensity warfare, integrating with coalition forces, and ensures we are ready to go when the call comes in and be able to work in such a complex and dense environment," Royal Australian Air Force Squadron Leader Samuel Thorpe, No. 2 Squadron executive officer and E-7A mission commander, said in the Air Force statement.
"Working with the F-22 Raptors on a daily basis here is an experience we can't get in Australia right now," he said. "It's really working out well for us."
Red Flag missions offer unique training because they are flown over the vast Joint Pacific Alaska Range Complex, a 67,000-square-mile airspace that provides pilots and crew members a realistic and complex setting.
"The JPARC airspace is significantly larger than most airspaces around the world," Thorpe said. "It's probably one of the biggest airspaces available for use in such a sparse countryside, which allows significant presentations to be trained against. It's some of the best training in the world."
Alaska's 14,000-foot mountains are roughly twice as high as the tallest found in Australia and Great Britain.
olson.wyatt@stripes.com Twitter: @WyattWOlson