Air Force women's fly-in event aims to provide mentorship, networking for future leaders
by
James Bolinger
September 26, 2019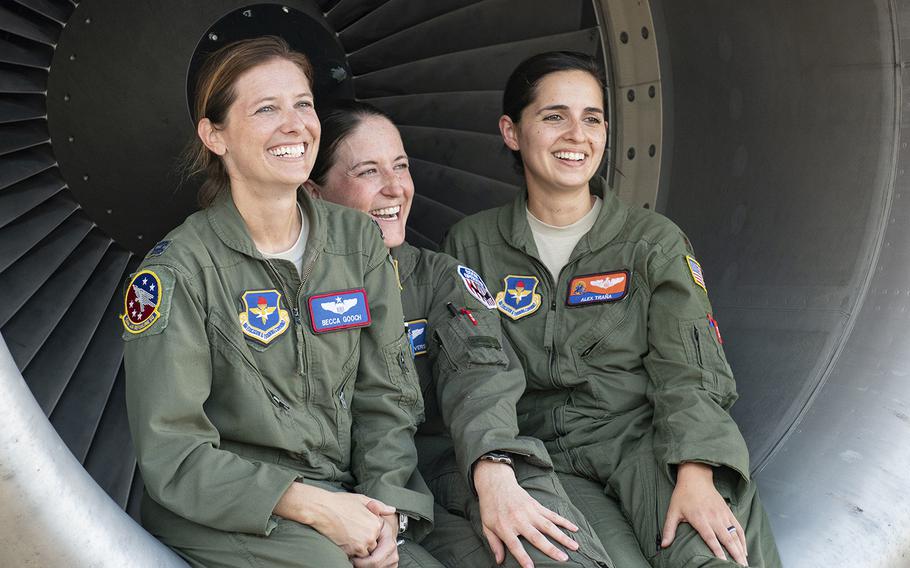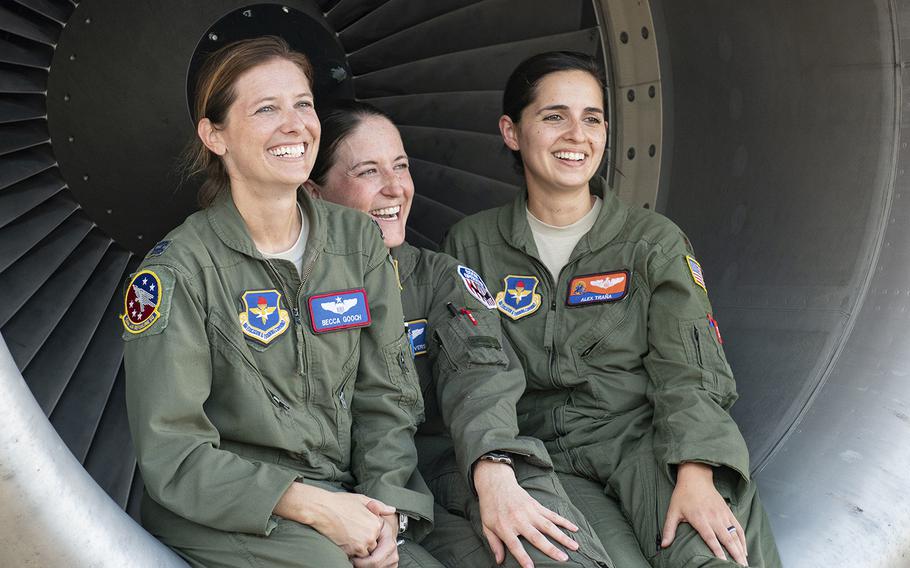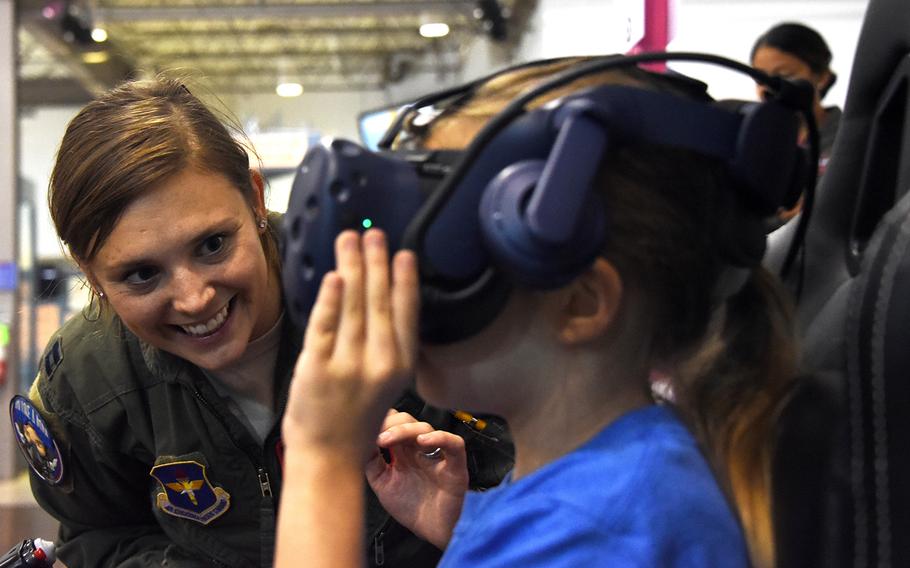 The Air Force's third annual Women in Aviation Fly-In drew female aviators from around the world Sept. 18-21 to Sheppard Air Force Base, Texas, for networking and mentorship opportunities within the officer and enlisted ranks.
This year the four-day event was opened Air Force-wide to women in aviation-related career fields like aircrew, loadmasters, pilots, navigators and weapons officers, said Maj. Afton Brown, a C-17 Globemaster and T-1 Jayhawk instructor pilot who helped organize this year's fly-in. More than 110 women attended.
"When I went through pilot training there were few female instructors or pilots. I never flew with a female pilot," Brown said via phone Sept. 20. "My friends and I brought a concept to creating this event of what we would have liked to have had as student pilots, which was more female interaction and mentorship."
The original event started out as a place for women within Air Education and Training Command, which is responsible for training all Air Force recruits, to get mentorship from and build camaraderie with other female aviators, Brown said. There was so much interest from other major commands and even the Air Force Academy that the event was opened to the entire Air Force.
Several guests — including Maj. Gen. Jeannie Leavitt, commander of the Air Force Recruiting Service, and Maj. Gen. Craig Willis, commander of 19th Air Force at Joint Base San Antonio in Texas — gave speeches centered on building diversity within the Air Force.
"It's really amazing to walk into a room full of women and hear everyone's stories," Brown said. "The mentoring and relationships happening here could change someone's career, and people are making friends for life."
Brown said that while events like this provide women in the Air Force with opportunities to meet new mentors, the service was lucky to have a strong female leader in former Air Force secretary Heather Wilson, who resigned in May to become president of the University of Texas at El Paso.
"Just being in her presence and seeing how strong she is fires me up to be a better leader," Brown said. "I appreciate her specific leadership style and how poised she was. When we have women in these kinds of positions it helps people like me see what the possibilities are."
Brown said that the fly-in will likely be opened to women in all career fields in the future as interest increases.
This year's event was held in conjunction with the fifth annual Girls in Aviation Day hosted by the North Texas Chapter of Women in Aviation International in Dallas Sept. 21.
Forty female airmen, including Maj. Gen. Leavitt, spoke to more than 3,000 girls between ages 8 and 16 in hopes of sparking interest in aviation career fields, which are often male dominated.
For example, of the more than 12,360 pilots in the Air Force today, 775 of them are women, according to a service fact sheet published in July.
"In the big scheme of things, it's about inspiring the next generation," Leavitt told Stars and Stripes via telephone Sept. 20. "We will have the opportunities to engage with (these girls) and tell them about opportunities within the Air Force. We can counter misconceptions they may have with facts and reality."
Leavitt, who has flown the F-15E, T-38A, AT-38B and T-37, said she hopes her story about becoming a pilot resonates with girls who may be interested in flying but might be afraid that they don't have the skills or background required to succeed.
"I did not fly in a commercial plane until I was 18," she said. "I was studying aerospace engineering at the University of Texas and I met a young second lieutenant who was waiting for a slot at undergraduate pilot training."
Leavitt said the lieutenant talked to her about becoming a pilot in the Air Force, and she immediately began looking into the service.
"My first time in the cockpit was during an incentive ride in a T-37 Tweet, and I realized that I loved flying planes more than designing them," she said. "You don't have to be someone who has a lot of flying hours or a lot of experience."
A final highlight of the fly-in was a set of incentive rides aboard a KC-135 Stratotanker and a C-130 Hercules for Junior Reserve Officer Training Corps, ROTC and Air Force Academy cadets, Brown said.
The fly-in combined with the Girls in Aviation Day was a great professional development opportunity, Brown said. Recruiting and retention are closely tied together, and professional development is important for retention.
bolinger.james@stripes.com Twitter: @bolingerj2004