Air Force security forces get a new 9-mm pistol for the first time in 35 years
by
Wyatt Olson
June 22, 2020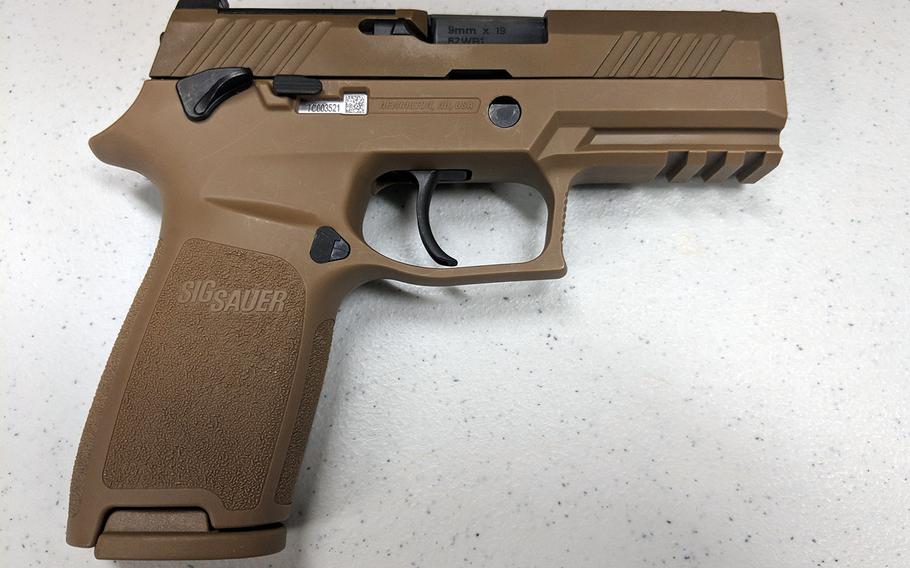 The Air Force has begun fielding the new Sig Sauer 9-mm handgun to security forces units as it begins replacing a pistol model used for the past 35 years.
The Air Force Life Cycle Management Center's Small Arms Program Office made an initial purchase of about 125,000 Sig Sauer M18 pistols for $22.1 million, the Air Force said in a statement issued Monday.
The sales price included test ammunition and engineering services, the Air Force said.
The handguns will be made available to all Air Force organizations that have a handgun requirement, the service said.
"The Air Force bought the M9s back in the 1980s, and the design has not really changed since then," said Merrill Adkison, senior logistics manager at the Small Arms Program Office.
The M18s are made of polymer, making it much lighter than the all-metal M9 handguns, Adkison said. The new pistol offers a more consistent trigger pull and adjustable grips to fit any size hand, he said.
It had become increasingly difficult for the Air Force to sustain the older technology of the M9s, he said.
In 2017, the Army chose the Sig Sauer M17 and M18 pistols as replacements for its M9 9-mm pistol, which it had adopted in 1985.
In making its choice of a new handgun, the Army had adopted a modular handgun system first developed by the Air Force Security Forces Center, the Air Force said in the statement.
"The USAF Small Arms Program Office has worked with the Army to get these new weapons on contract and in the hands of the warfighters," said Brian Lautzenheiser, lead program manager in the small arms office. "We are a small team with a lot going on as we work to procure and sustain all small arms from pistols to .50 caliber ground-mounted machine guns."
The delivery of M18s to all airmen is expected to be complete by August 2022, the Air Force said.
olson.wyatt@stripes.com Twitter: @WyattWOlson