Air Force mulls fitness assessment changes to reduce risks from rapid weight loss
by
Jennifer H. Svan
September 19, 2019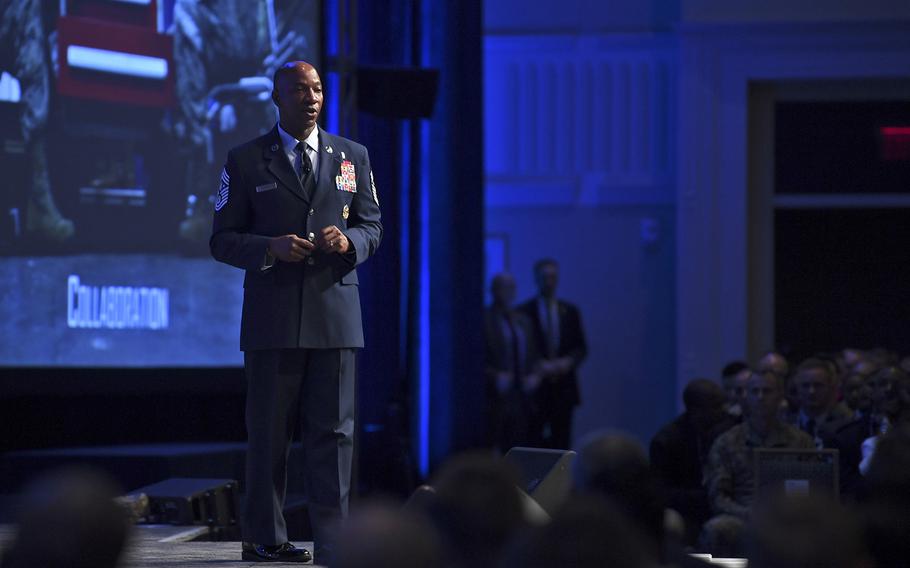 The Air Force is considering changes to the way it conducts fitness assessments to prevent airmen from over-taxing their bodies to try to meet test standards, the service's top enlisted leader said.
On the heels of three deaths earlier this year that occurred after physical training, Chief Master Sergeant of the Air Force Kaleth O. Wright said the service may follow the Army and separate, by a week or more, the abdominal circumference measurement portion of the test from the physically challenging component, which includes timed pushups, sit-ups and a run.
The idea would be to avoid testing airmen when they may not be at peak performance levels — or worse, in a weakened state after trying to lose weight quickly to reduce their waist size and lose weight ahead of the test.
"We have airmen who go to great lengths to get a good score on the abdominal circumference," Wright said. "So, they take certain things, they starve themselves, they go out of their way (to pass) because it counts for 20% of the test. And then they try to run or do the other components."
An airman's waist measurement is used to calculate a body composition score. The timed run is worth up to 60% of the score and one-minute counts of push-ups and sit-ups each make up 10%. Airmen must meet minimums in each category and achieve a combined score of at least 75 points to pass.
"We've had airmen that have lost their lives, we've had airmen that have become injured," Wright said.
Three airmen died in the hospital shortly after completing their physical fitness assessments this year. The most recent death occurred last month at Eglin Air Force Base, Fla., where Capt. Tranay Tanner, 29, died less than 24 hours after completing her fitness test.
Officials at Shaw Air Force Base, S.C., briefly suspended fitness testing in June after Amalia Joseph and Aaron Hall, both senior airmen from the same squadron, died within days of finishing their fitness assessments. Results from investigations into the three deaths have not been made public.
The Air Force is currently looking at implementing a policy like the Army's, which encourages commanders and supervisors to allow a minimum of seven days between the two components of the fitness test, Wright said.
"Some soldiers ... may attempt to lose weight quickly in the days leading up to a weigh-in," Army regulations state. "This practice may result in the soldier being unable to perform his or her best on the [Army Physical Fitness Test], if the two events are scheduled close together."
Other fitness program changes being considered, Wright said, include a trial test, where airmen could attempt the assessment within their testing window. "If you pass, good, if you don't, no harm, no foul," Wright said.
Another change being mulled is measuring an airman's VO2 max – or how efficiently the body uses oxygen – using something other than the current 1.5-mile run.
"Not everybody's a runner," Wright said. "We want to be able to measure VO2 max by rowing, by swimming and by cycling."
All four services have been battling expanding waistlines and increasing numbers of heat injuries during training in recent years.
Earlier this year, the Navy issued guidance calling for closer monitoring of its fitness tests and created a "bad day" do-over option after four sailors died in fitness-related incidents in the previous 12 months.
svan.jennifer@stripes.com Twitter: @stripesktown