Air Force Materiel Command to offer 'mock' fitness assessments that would count as the real thing if airmen pass
by
Brian Ferguson
January 13, 2020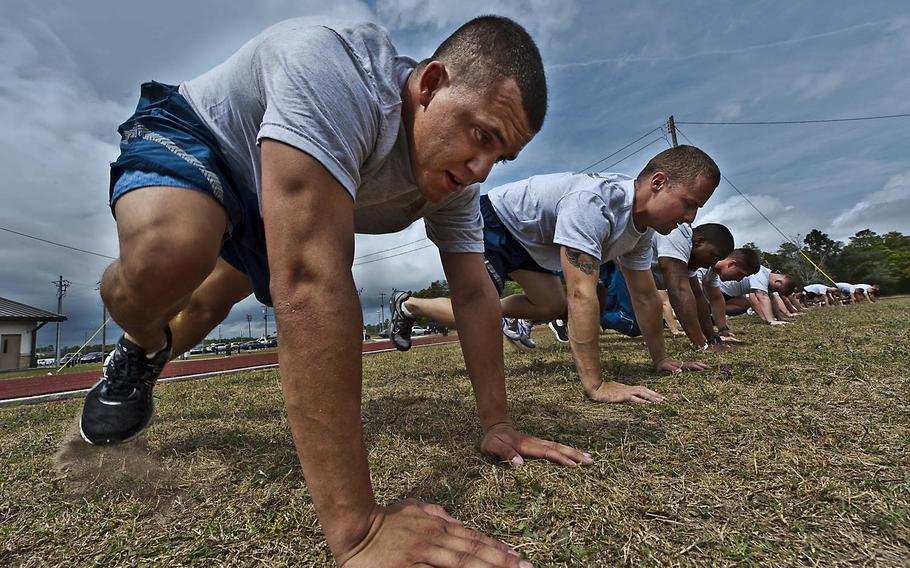 The Air Force Materiel Command will this month start offering no-risk "mock" fitness assessments to airmen to reduce the stress of testing and promote year-round fitness, it said in a statement.
"The practice tests aim to both motivate Airmen to maintain a year-round exercise and fitness program while reducing the stress many face during testing," AFMC Military Personnel and Programs branch chief Lt. Col. Rachel Marazita said Friday on the command's website.
"Fear of failed physical training tests and the potential of career-ending disciplinary action is a major stressor that we are looking to eliminate through a sound testing protocol coupled with an organizational culture of fitness," Marazita added.
Under the new rule, which takes effect Jan. 20, airmen who are current on their fitness assessments may attempt up to three of the mock tests, which the AFMC calls diagnostic assessments, starting as early as 45 days before their official assessment month and up to 15 days before their PT test due date, officials said.
If an airman completes and passes the practice test, they can elect to have the assessment count as their official test.
The fitness assessment includes pushups, situps, a body composition assessment and a 1.5-mile run.
The idea of allowing airmen to take a no-fail, trial-run fitness assessment before the real thing was first floated in August by Chief Master Sergeant of the Air Force Kaleth Wright. The Air Force has not yet announced changes to PT tests.
"As the Air Force continues to review the overall current fitness assessment guidance for Airmen, AFMC has elected to implement diagnostic testing as a potential part of the policy change," the AFMC statement said.
There are currently no Air Force regulations governing diagnostic testing. The AFMC policy allowing practice PT tests will remain in place until a new Air Force policy is published, the statement said.
All AFMC airmen will be eligible to take the diagnostic test, regardless of where they are based, it added.
AFMC is one of the service's major commands and includes 80,000 military and civilian workers, its website says. It manages and maintains the service's weapons systems and its components include the Air Force Research Laboratory, the Nuclear Weapons Center, and the Installation and Mission Support Center.
ferguson.brian@stripes.com Twitter: @BrianFerg57