Air Force, Marine Corps warn of critical readiness concerns without supplemental disaster funding
by
Caitlin M. Kenney
April 30, 2019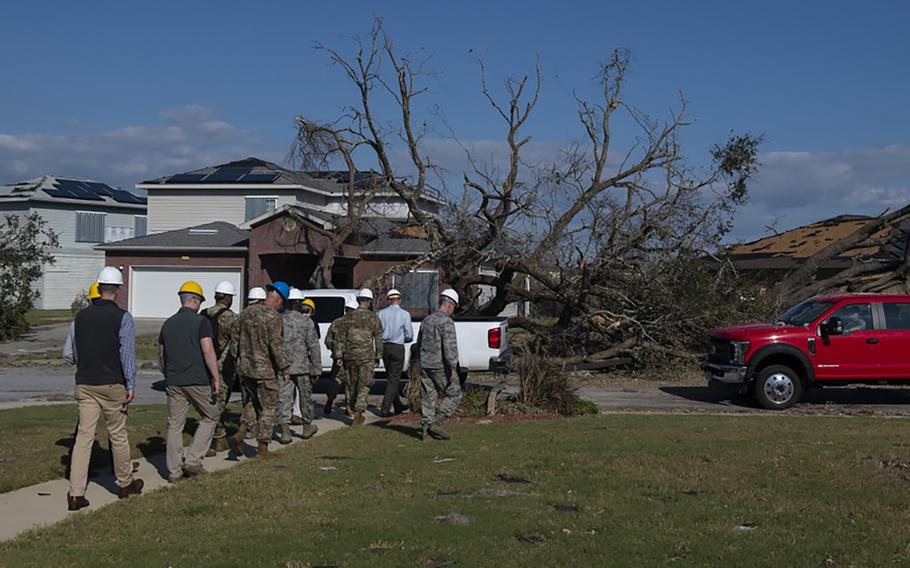 WASHINGTON — The Marine Corps and the Air Force are raising alarms about their financial predicament after two hurricanes that devastated several bases in 2018 forced the services to redirect millions of dollars toward recovery efforts.
They now need additional supplemental funding from Congress — and soon — to pay for new recovery and rebuilding projects at the bases; otherwise, the services contend, their readiness will be impacted as they continue to redirect their funds away from other areas such as flight line repairs or aircraft maintenance.
Lawmakers returned to Congress this week to face the Marine Corps, which needs additional funding immediately, and the Air Force, which declared no new construction projects at Tyndall Air Force Base will happen if the service does not receive supplemental funding by May 1, affecting the progress of their recovery efforts.
Marines recovering from FlorenceWhen Hurricane Florence hit North Carolina in September 2018, it not only devastated Camp Lejeune, one of the largest Marine Corps bases in the country, but also two nearby Marine bases: Air Station New River and Air Station Cherry Point.
Thousands of personnel and families were impacted by the storm, which damaged hundreds of buildings, infrastructure including roads and flight lines, and privatized military housing. About 3,000 Marines were displaced from their offices as roofs leaked or collapsed.
In the aftermath of the storms, the Marines spent $250 million on rebuilding Camp Lejeune and the surrounding bases after the hurricane, according to Nat Fahy, a spokesman at Marine Corps Installations East.
The funds were spent on work projects that span from immediately after the storm — such as initial damage assessments, restoring power and debris removal and cleanup — to the initial recovery efforts of drying out facilities, putting tarps onto buildings, and repairing damage to roads, flight lines and railroads.
The $250 million came from Marine Corps Installations Command, causing delays in "other planned facilities sustainment, restoration, and modernization projects across the Marine Corps," Fahy said. One hurricane, in essence, impacted the entire Marine Corps, not just the three East Coast bases.
"Pretty much, the way we're financing this is I took all the money from — that I could — from all the regions and, you know, pushed it to [Camp] Lejeune," said Maj. Gen. Vincent Coglianese, commander of the Marine Corps installations command.
Coglianese said he has heard how the redirected money has impacted the Marine Corps, including during a recent trip to Marine Corps Recruit Depot San Diego in California, where they train recruits.
"They're basically saying, 'Sir, we need money. We can't fix things,' … recruit training use obstacle courses and stuff like that that are damaged that they cannot fix because they're out of money because we move it all to [Camp] Lejeune to do the right thing," he said.
The devastation left by the hurricane and the impact of the unexpected costs to the Marine Corps were so concerning to Gen. Robert Neller, the service's commandant, that he penned an internal memo to the Navy secretary requesting assistance in receiving more funding.
"As you know, the Marine Corps faces fiscal challenges without precedent. The inability to reprogram money and the lack of a supplemental for Hurricane Florence damage is negatively impacting Marine Corps readiness," Neller wrote in the March 18 memo, which was reported first by the Los Angeles Times.
The lack of additional funding forced the Marine Corps to reduce or cancel participation in several exercises and to reduce maintenance expenditures for combat equipment in April in order to save $6 million in operating costs, according to the memo.
At Camp Lejeune now, some Marines are working in trailers while their buildings are repaired. However, they still need an additional 140 trailers, Fahy said, because they have "personnel working in degraded facilities or sharing workspaces."
The Marine Corps has identified 30 military construction projects for Camp Lejeune that will replace 137 buildings and infrastructure that are not economical to repair with 43 buildings, a bridge and two railroad trestles, "greatly reducing our footprint with more purpose-built structures," Fahy said.
Congress authorized $600 million in reprogrammed Defense Department funds for disaster recovery in early April. The Marine Corps was authorized $400 million and the Air Force was authorized $200 million.
The Marine's reprogrammed funds are dedicated to Camp Lejeune, said Coglianese, and will not refund the Installation Command accounts. Fahy said it will take three months to "execute the money and award contracts so these repairs can continue," but after June, they do not know where additional funding will come from for repairs and rebuilding.
The reprogrammed funding was just a stopgap, Coglianese said, and they need an additional $400 million, at minimum, this fiscal year to continue repairs and to address other critical projects within the Marine Corps. He said he has testified before Congress and has met with different congressional delegations about their needs.
"We've told our story. And the commandant has basically testified the same. And so we're hoping that there's a supplemental coming," Coglianese said.
Marine Corps Installations East has hosted 20 visits from military and government leaders since the hurricane to show the impact to the area, Fahy said, and why they need more than $3 billion to restore the bases.
Rep. Austin Scott, R-Ga., asked Neller in early April during his testimony before the House Armed Services Committee whether things would continue to degrade at Camp Lejeune without additional supplemental disaster funding.
"Yes they will; otherwise, we're going to have to figure out how we're going to self-fund this," the commandant said. "We don't have insurance. The Congress is our insurance."
Neller also said that after the $400 million in reprogrammed funds, they anticipate still needing about $3.1 billion in funding in the next three to four years to fix the base "so that we don't have to go through this again."
With lawmakers back on Capitol Hill this week, Coglianese is hoping that they can come together to get a supplemental passed. His message to Congress: "Need help now."
"This is affecting operations, it's affecting families, it's affecting quality of life," he said. "Just very, very, very frustrating seven months of doing everything everybody asked us to do, do our due diligence, not asking for more than we need and yet still, you know, very little action other than the recent $400 million, which we do appreciate. But that's, you know, we were drowning in the water and they threw us a life raft."
If the Marine Corps doesn't get the supplemental funding, the service might be forced to put off critical repairs and maintenance in order to fund Camp Lejeune's recovery. Though Coglianese said he doesn't anticipate a problem, putting off repairs and maintenance can be dangerous. He hopes something doesn't happen in which someone gets hurt.
"But if there's an accident because a runway [foreign object debris] issue or something, something goes in an aircraft, or if there was a safety issue, something's not fixed — like the gas lines, everybody's going to say well, how could this happen? And we're going to go, 'Well, it happened because we ran out of money,' " he said.
Air Force faces deadlineThe Air Force also is facing funding shortfalls due to impacts from severe natural disasters.
In March, the Air Force secretary released a document that laid out the impacts that the Air Force will face if they do not receive supplemental funding from Congress. They already have had to delay awarding funding for 61 projects across 18 states in order to save money, further impacting the overall state of the service's infrastructure and readiness.
Their next deadline regarding impacts to the service is May 1, when the "Air Force will be unable to move forward with awarding new contracts for facility repair or the planning and design work necessary to begin rebuilding Tyndall," according to Capt. Hope Cronin, an Air Force spokeswoman. "This 1 May action would cause risk, since we aren't able to repair water-damaged facilities, allowing them to mold and decay."
Tyndall Air Force Base, Fla., took a direct hit from Hurricane Michael, a Category 5 storm, and its winds and rain impacted most of the base's buildings as well as infrastructure. Due to the hurricane damage to the 95th Fighter Squadron's area, they had to disperse their F-22 aircraft and personnel to three other bases: Joint Base Langley-Eustis, Va., Joint Base Elmendorf-Richardson, Alaska, and Joint Base Pearl Harbor-Hickam, Hawaii.
Projects underway to restore Tyndall include mold remediation, replacing or repairing roofs, demolishing structures that cannot be repaired and preparations for rebuilding the base, according to the Air Force.
Tyndall's deadline is just the next on a "risk timeline" highlighted in the secretary's natural disaster supplemental document that extends into September, affecting aircraft repairs, flying operations and also the recovery of Offutt Air Force Base, Neb., after it experienced severe flooding in March.
"Without the depot maintenance, five bombers will be grounded as early as Sept. 19," Cronin said about the aircraft repairs that would be impacted in the future without funding, and are highlighted in the document.
Already, more than $400 million has been spent on repair and remediation projects at Tyndall by using funding from operations and maintenance accounts, according to the Air Force.
"It was just never in the Air Force budget to recover from something like this. We just don't have that type of flexibility in the budget," said John Henderson, assistant secretary of the Air Force for Installations, Environment, and Energy.
The Air Force said it needs $1.2 billion in supplemental funding for fiscal year 2019 for rebuilding and recovering of Tyndall and Offutt. The money will go toward repaying the accounts that they used to pay for the bases' recovery efforts and will allow them to continue with their plans for rebuilding projects and design planning.
The $200 million in reprogrammed Defense Department funds that the service recently was authorized is also going toward refunding the operations and maintenance funds. The Air Force has said it will need $3 billion in a span of five years to rebuild Tyndall.
Tyndall also has been proposed as a potential site for placing up to three F-35 squadrons and will need funding to transform the base into a 21st century installation to accommodate those aircraft. This also could be impacted if the Air Force does not receive supplemental funding.
The Air Force is committed to rebuilding and keeping Tyndall a fighter base, said Henderson, but "the greatest source of uncertainty right now is whether we get the funding or not." They need to make certain the rebuilding effort is done right, he said, because it could lead to inefficacies and not being able to operate effectively, and creates risk to the mission.
"All those things concern me if adequate funding is not available to do the full recovery right," Henderson said.
Since the storm hit early in the fiscal year, which ends Sept. 30, the Air Force has been spending operations and maintenance money to help with the recovery efforts, but they have now reached a point where there is no more money available to them, according to Henderson. Work will continue on projects that have already been funded, however no new work would start.
"It would just be irresponsible for us to do that," he said. "The Air Force still has a lot of operations and maintenance bills that it has to pay … for the rest of the year."
The day after the May 1st deadline, Tyndall will host their second industry day, during which industry leaders will be presented with the Air Force's plans for the future of Tyndall. Henderson said they're still having the industry day because they intend to stay on track with planning the rebuild of Tyndall. They are working on funding the planned rebuilding in the budget requests for fiscal years 2020 and 2021 with military construction money.
Henderson said he feels the Air Force has a duty to continue to help Congress, the Defense Department and the White House understand what is required to rebuild Tyndall in order for them to make informed decisions.
"We're just at the point to where we're in the realm of unfavorable alternatives here," he said. "Without supplemental funding, we're really in uncharted territory and we really have to rethink our previous decisions on this and rethink our way forward … that keeps me up at night."
kenney.caitlin@stripes.com Twitter: @caitlinmkenney