Air Force blames faulty navigational device for 2017 Global Hawk crash
by
James Bolinger
September 28, 2018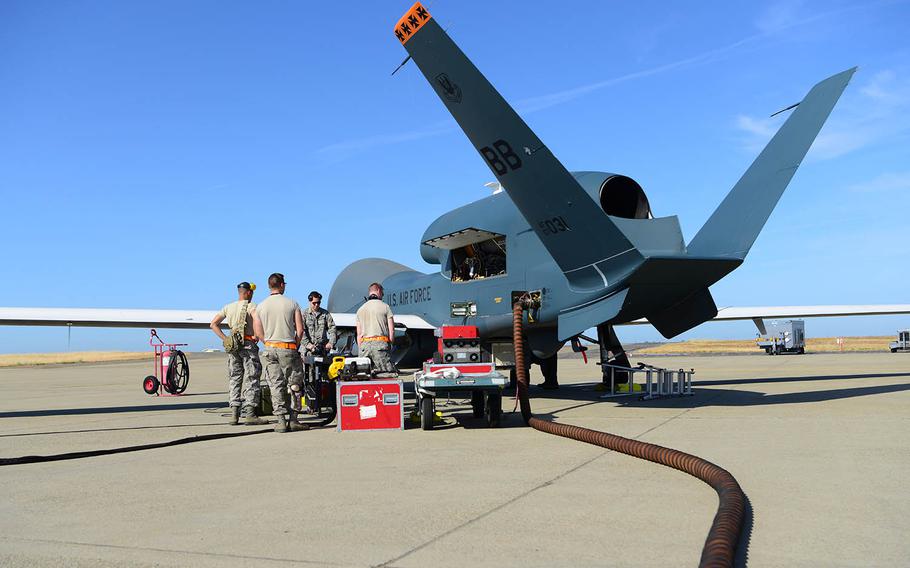 A faulty navigational device caused the June 2017 crash of a $79 million RQ-4B Global Hawk near Lone Pine, Calif., the Air Force said in a statement Thursday.
Because of incorrect data provided by the malfunctioning unit, the unmanned surveillance aircraft from the 9th Reconnaissance Wing at Beale Air Force Base rolled into a nearly inverted position and entered a dive, the Air Combat Command Accident Investigation Board said.
The RQ-4B has four on-board navigational devices, and it is standard practice to shut two off after take-off, the statement added.
"Shortly after takeoff, two of the navigators were disabled in accordance with standard procedure," the statement said. "The aircraft climbed and flew to planned waypoints uneventfully until one of the enabled navigators began producing erroneous navigational data."
The error was not detected by the other devices, according to the accident board's findings.
The drone — which was on a ferry flight to Beale from Edwards Air Force Base at the time of the crash — was being operated by Northrop Grumman contractors, the statement said.
The debris field included portions of Inyo National Forest, but initial environmental assessments found no significant damage to the forest or wildlife, the statement said.
Portions of the wreckage have been recovered, and the Air Force has been working with the U.S. Forest Service to clean up remaining pieces of the drone, the statement said.
bolinger.james@stripes.com Twitter: @bolingerj2004