Admiral fires head of Navy medicine training center in Florida
by
Carlos M. Vazquez II
August 15, 2019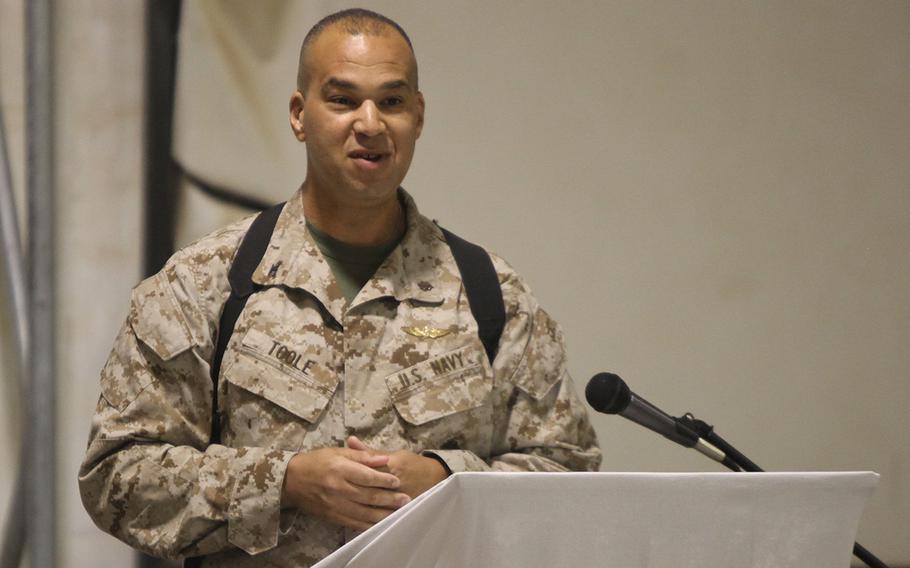 The Navy's head of Naval Medicine Operational Training Center, headquartered in Pensacola, Fla., has been relieved of his duties as commanding officer.
Capt. Theron Toole was removed by Rear Adm. Tina Davidson, commanding officer of Navy Medicine Education, Training and Logistics Command, on Tuesday "due to a loss of confidence in his ability to command," the U.S. Navy Bureau of Medicine and Surgery spokesperson Angela Steadman told Stars and Stripes via email Thursday.
The center trains approximately 18,000 personnel annually in operational medical and aviation survival training, with six detachments on the U.S. east and west coasts — including 16 training sites, according to the center's website.
The command oversees the medical training of Navy and Marine Corps special operation forces, expeditionary units, submarine forces and aviation units operating throughout the world, according to its website.
Toole will be reassigned to a position within Navy Medicine Education, Training and Logistics Command and will be replaced by the center's deputy commander, Capt. Timothy Richardson, who will "serve as interim commanding officer until a permanent commanding officer is identified," Steadman said.
Richardson became deputy commander of the center in April 2019, according to his online biography.
No additional details surrounding the relief were released as of Thursday.
Toole, of Chicago, was commissioned a lieutenant in the Navy Reserve in 1989, two years after receiving his medical degree from Meharry Medical College in Nashville, Tenn., according to his biography on the center's website.
He completed training in cardiovascular medicine and interventional cardiology fellowship at the University of Texas Health Science Center in 1993 and 1994, and was recalled to active duty in August 2004.
He has served deployments as the senior medical officer aboard the aircraft carrier USS Ronald Reagan and as a wing surgeon for 3rd Marine Aircraft Wing in Afghanistan.
vazquez.carlos@stripes.com Twitter: @StripesCarlos