Accused deserter Bergdahl defers entering plea at Fort Bragg
by
Corey Dickstein
December 22, 2015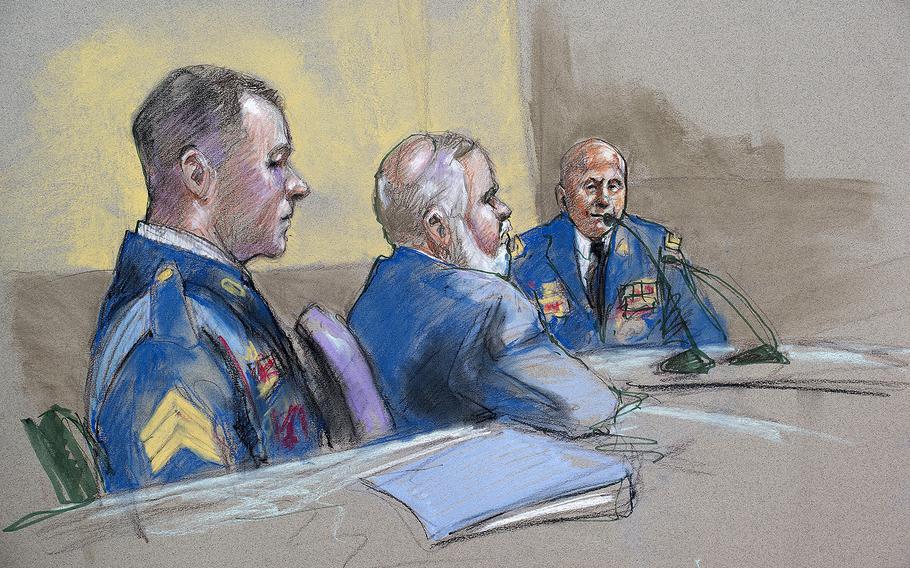 FORT BRAGG, N.C. — Sgt. Bowe Bergdahl sat stiff and upright Tuesday morning as he made his first appearance before a military judge, declining to enter a plea to charges of desertion and misbehavior before the enemy in Afghanistan that could send him to prison for life.
Dressed in a pressed blue Army service uniform with sergeant stripes on each arm, the former Taliban captive stared straight forward throughout most of the hearing, which lasted less than 15 minutes. He stood only to address the judge, Army Col. Christopher T. Fredrikson.
"Yes, sir. I do," Bergdahl replied several times to Fredrikson's inquires, confirming he understood the charges against him and the future court-martial process.
The 29-year-old Bergdahl also chose not to state whether he would face a jury of his peers or leave his fate to an Army judge. He'll next appear in court at Fort Bragg on Jan. 12 before Col. Jeffery R. Nance, the judge assigned to proceed over Bergdahl's case.
The Army announced Dec. 14 that Bergdahl would face a general court-martial, with the possibility he could be imprisoned for the remainder of his life if convicted of the more serious charge of "misbehavior before the enemy by endangering the safety of a command, unit or place." The second offense, "desertion with intent to shirk important or hazardous duty," carries a maximum penalty of five years in prison.
Bergdahl spent five years as a Taliban captive after leaving a small outpost in eastern Afghanistan in 2009 and could face health problems for the remainder of his life as a result, according to his defense. Bergdahl has not spoken publicly since his release from the Taliban in May 2014 in a controversial exchange for the release of five senior-level Taliban detainees from Guantanamo Bay in Cuba. Portions of an interview he gave with a Hollywood screenwriter have been aired on popular podcast "Serial," in which Bergdahl admits leaving Observation Post Mest in order to create a crisis. He believed it was the only way he, then a private first class, could gain an audience with a general officer to warn of issues in his chain of command that he saw as troubling.
Bergdahl will be represented by his civilian attorney, Eugene Fidell, during the court-martial. Army Lt. Col. Franklin Rosenblatt represented him Tuesday. Neither he nor his attorney spoke to reporters at Fort Bragg on Tuesday.
Fidell, who was not present at the arraignment, previously criticized the decision by Gen. Robert Abrams, commander of Army Forces Command at Fort Bragg, to send his client to a general court-martial.
Abrams' decision went against the advice of the Army office who oversaw Bergdahl's Article 32 probable-cause hearing in September. In October, Lt. Col. Mark Visger recommended Bergdahl should be tried at a special court-martial on charges of desertion and misconduct. Penalties for convictions at those trials, on charges typically similar to misdemeanors, are capped at one year in prison and a bad-conduct discharge.
Currently stationed at Joint Base San Antonio-Fort Sam Houston, Texas, Bergdahl is assigned a clerical job with U.S. Army North.
On Tuesday, he wore his hair closely shaven revealing a large scar on the back of his head. He wore a blue infantry chord around his right shoulder and a Combat Infantry Badge on his left chest. Notably, the awards that he wore did not include the Prisoner of War ribbon.
dickstein.corey@stripes.com Twitter: @CDicksteinDC