90-year-old Korean War veteran receives long-lost Bronze Star
by
Corey Dickstein
July 20, 2020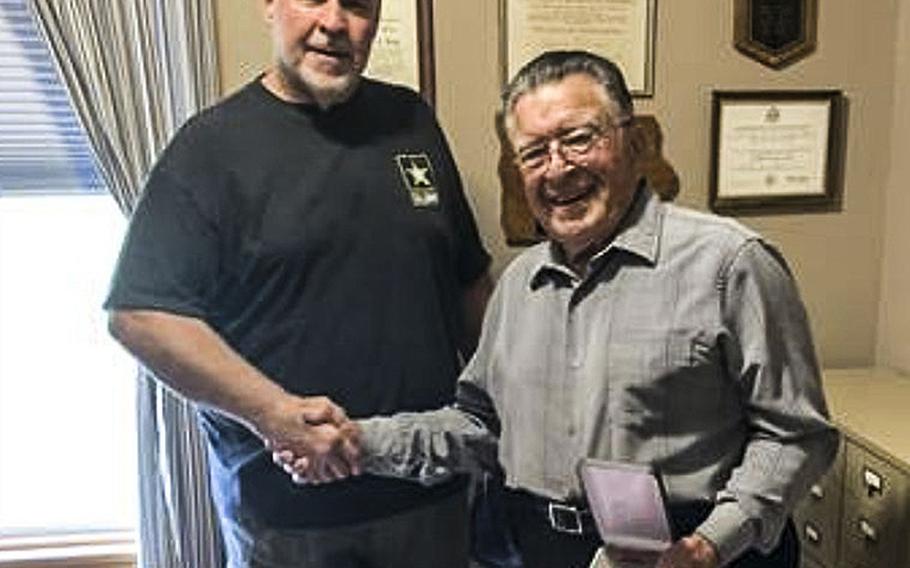 WASHINGTON – It took 67 years, but Korean War veteran Donald L. Roy received the Bronze Star medal last week that he was awarded decades ago for service as an Army medic.
The 90-year-old Roy, who was supposed to receive the Bronze Star in 1953, was presented the medal Friday at his home in Standish, Maine, Rep. Chellie Pingree, D-Maine, announced in a statement. Roy's initial medal was mailed to him after he'd returned home from fighting in the Korean War, but the tube containing the award and documentation confirming that he'd earned it was damaged. The certification was inside, but his medal was not.
"It feels good to still be alive when I finally got it," Roy told the WCSH News Center Maine television station. "There's not many years left."
The veteran told the station that he initially made one attempt to report his medal missing, but he never actually spoke to anyone with the Army about it. He never made any further attempts to replace his Bronze Star, he said.
Nearly seven decades later, Pingree saw to it that Roy received the long-lost commendation.
"Mr. Roy served his country with honor and valor, tending to the wounds of his fellow soldiers," she said in a prepared statement. "In his citation for meritorious service, [Sgt.] Roy was said to have displayed exceptional skill and knowledge in caring for his fellow soldiers while he supervised the immunization program and oversaw the first aid program."
Pingree was unable to present the medal herself because she could not leave Washington, D.C., but she sent representatives from her office, her staff said. The Bronze Star was presented by Bryan McManus, the commander of the Kenison-Hooper American Legion Post 128 in Standish.
In a message on the Post's Facebook page, McManus wrote he was honored to present the overdue medal to Roy, a past commander of the post.
"What strikes me most is that [Roy] was lauded for his cooperative spirit and devotion to duty — that attitude is what makes a lifelong leader," Pingree said in her statement. "I was so honored that my office could be a part of this special day — I know Mr. Roy has looked forward to it for many years."
dickstein.corey@stripes.com Twitter: @CDicksteinDC