Senate approves bill to help veterans exposed to burn pits and other toxins
By
Stars and Stripes
August 3, 2022
---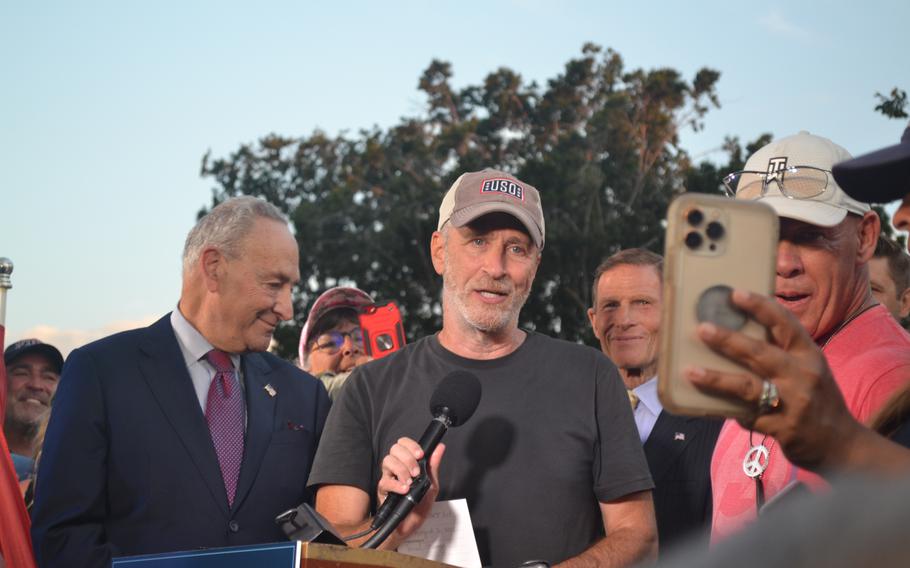 WASHINGTON — Veterans and advocates who watched and waited on the steps of the U.S. Capitol building through heat and rain since Thursday can now stand down after the Senate passed legislation that will expand eligibility for health care and benefits for veterans exposed to burn pits and other toxins.
The Sergeant First Class Heath Robinson Honoring Our Promise to Address Comprehensive Toxics Act of 2022, or PACT Act, passed Tuesday night by a vote of 86 to 11, ending a stalemate over the legislation that angered advocates and veterans and pushed some to stand watch outside the Capitol. Approval of the bill followed three proposed amendments that were voted down. 
"For hundreds of thousands of veterans, generations of our all-volunteer military and their families, this bill is putting us on a path to finally recognizing the toxic wounds of war," said Sen. Jon Tester, D-Mont., chairman of the Senate Veterans' Affairs Committee. "This bill was a long time coming to right the wrongs to our toxic-exposed veterans — and it's the bill our veterans and their families deserve, are counting on, and cannot wait any longer for. Our men and women in uniform held up their end of the bargain, and I'm proud we're finally holding up ours."
The bill now goes to President Joe Biden's desk to be signed into law.
"Thirteen years ago, my husband and I rolled our luggage down Capitol Hill," Rosie Torres, co-founder and executive director of the advocacy group Burn Pits 360, said of their efforts to lobby for the legislation. "We had no idea what we were doing. We just knew that God had put something in our hearts to carry out. We came here with the hopes that we could have faith in our congressional leadership, and that's what I saw today."
Torres said her husband, Army Reserve veteran LeRoy Torres, deployed to Camp Anaconda in Iraq and returned with terminal lung disease, toxic brain injury and autoimmune issues.
"I talked to LeRoy four years ago in my office," comedian Jon Stewart said at a news conference after the PACT Act vote. "I made a promise to him. I said, 'I'm not going to let you go, my brother. We're going get this done.' Guess what? We got it done."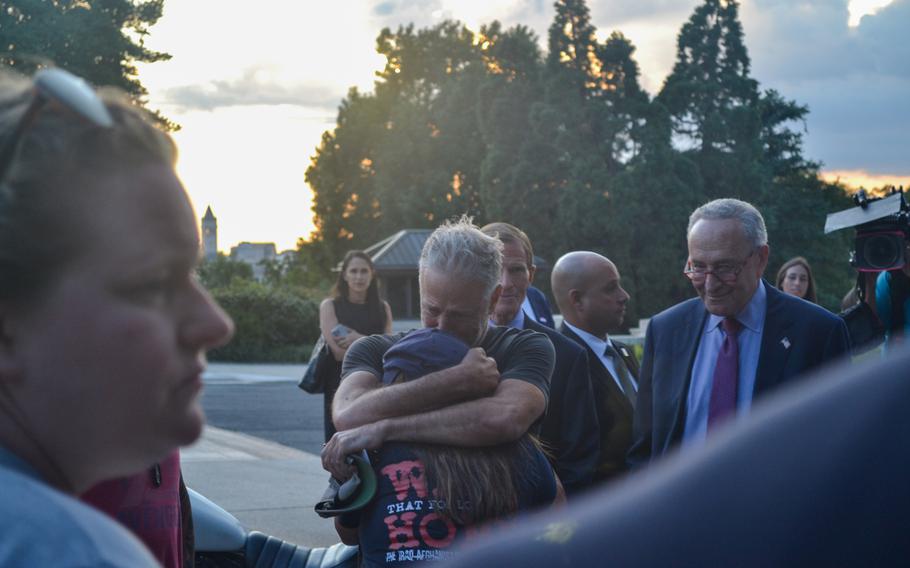 The Senate had approved an earlier version of the PACT Act by a vote of 84-14 in June. But the Senate needed to vote again last week because the House made changes to the bill before the lower chamber passed it by a 342-88 vote on July 13.
But the revised legislation drew 55 votes in the Senate — short of the 60 needed to end debate on the bill and overcome a filibuster. Twenty-five Republicans who previously supported versions of the bill voted against it on the procedural vote.
Sen. Pat Toomey, R-Pa., one of the 25 senators who voted against the bill last week, had said the PACT Act included more than $300 billion to be spent in the next 10 years unrelated to veterans and it concerned him and other senators. Their stance stalled the legislation for several days.
In May, Tester and Sen. Jerry Moran of Kansas, the ranking Republican on the Senate Veterans' Affairs Committee, introduced the PACT Act. The senators have called the legislation historic and long overdue.
The bill seeks to provide an easier path to health care and benefits for veterans who served near open-air burn pits, which were used throughout the 1990s and the post-9/11 wars to burn garbage, jet fuel and other materials. Veterans diagnosed with cancer, respiratory issues and lung disease at young ages have blamed exposure to the toxic fumes from these pits, but the Department of Veterans Affairs contended for years that there wasn't sufficient evidence to support their claims.
The bill also would improve the VA's workforce and claims processing to speed up efforts to meet the needs of veterans and establish 31 new VA health care facilities in 19 states. Additionally, the bill would expand health care eligibility to post-9/11 combat veterans and add 23 conditions related to burn pits and other toxic exposures to the VA's list of service presumptions. It will also expand the list of presumptions related to Agent Orange exposure to include Thailand, Cambodia, Laos, Guam, American Samoa and Johnston Atoll, strengthen federal research on toxic exposure, and improve the VA's resources and training. The Congressional Budget Office reported in June that the PACT Act's cost estimate would be more than $600 billion.
"Thousands of veterans who answered the call to serve after the terrorist attacks on 9/11 suffer the health consequences of exposure to open burn pits," Moran said. "Many of these veterans are simultaneously experiencing a battle with the VA to gain access to the health care and benefits they desperately need. This legislation will provide comprehensive relief for all generations of veterans, from Agent Orange to the 3.5 million post-9/11 veterans exposed to burn pits during their deployments. Our nation's veterans and their families will no longer have to fear being turned away from the VA for illnesses related to toxic exposures."
The bill is named for Sgt. 1st Class Heath Robinson, who was diagnosed with a rare autoimmune disorder and lung cancer after serving with the Army National Guard in Kosovo and Iraq, where he experienced prolonged exposure to burn pits. He died in 2020.
Robinson's mother-in-law, Susan Zeier, said she began wearing Robinson's old Army jacket after Rosie Torres told her that family members of the 9/11 first responders gained momentum pushing for legislation to help them after they began wearing firefighter and police jackets.
"Now, I get to retire it for good," she said.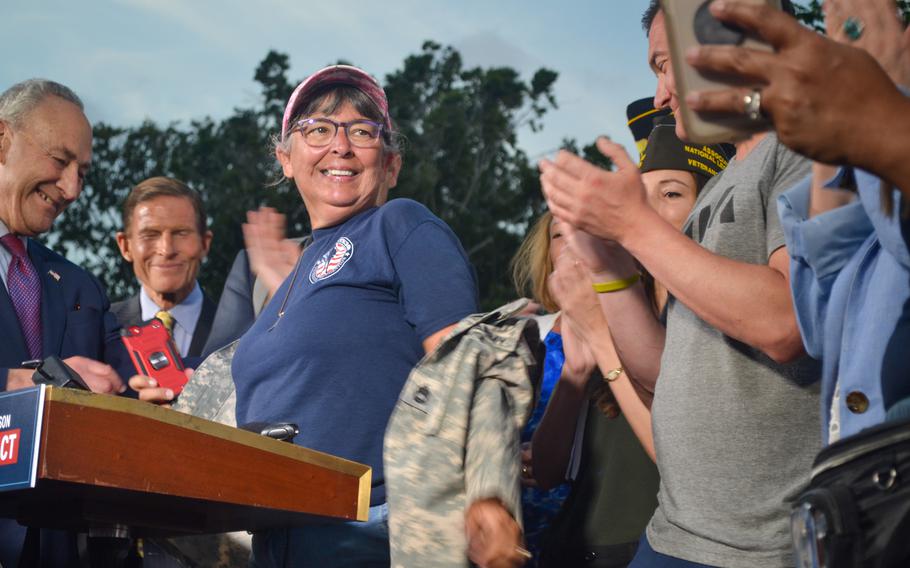 VA Secretary Denis McDonough said veterans, their families, caregivers and survivors can apply for PACT Act benefits by filing a claim at the VA. Veterans and their families can learn more about the PACT Act at VA.gov/PACT or by calling 1-800-MyVA411.
"Veterans who were exposed to toxic fumes while fighting for our country are American heroes, and they deserve world-class care and benefits for their selfless service," McDonough said. "The bipartisan PACT Act will help VA deliver for those veterans — and their survivors — by empowering us to presumptively provide care and benefits to vets suffering from more than 20 toxic exposure-related conditions."
---
---
---
---