'Enough is enough': Lawmakers, advocates voice anger over delayed bill that would help vets exposed to toxic burn pits
By
Stars and Stripes
July 28, 2022
---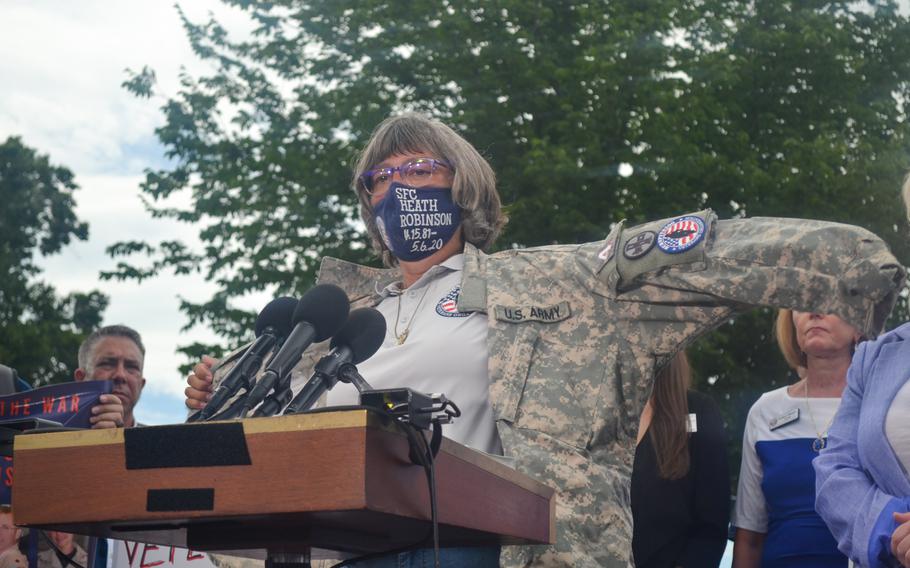 WASHINGTON — Comedian Jon Stewart joined lawmakers and veteran advocates at a Capitol Hill rally on Thursday to voice their anger after legislation was blocked in the Senate that would expand eligibility for health care and benefits for veterans exposed to burn pits and other toxins.
"Enough is enough," said Shane Liermann, national deputy legislative director for Disabled American Veterans. "How many more delays? How many more deaths? How many more suffering veterans, just to be able to wake up in the morning and not hurt, to be able to actually sleep at night, to be able to breathe without suffering? Enough is enough. Stop the delays."
Originally set to be a final push for the bill's approval, the rally instead turned into a display of anger and frustration over the delay with the Senate set to go on recess in August, leaving the bill with an uncertain future.
"Obviously, I'm not a military expert... But from what I understand, you're not allowed to just leave your post when the mission isn't completed," Stewart said. "You take an oath, you swear an oath, and you can't leave. But these folks can leave because they're on Senate time. …This is an embarrassment to the Senate, to the country, to the founders, and all that they profess to hold dear."
An earlier version of the Sergeant First Class Heath Robinson Honoring Our Promise to Address Comprehensive Toxics Act of 2022, or PACT Act, was approved by the Senate by a vote of 84-14 in June. But the Senate needed to vote again Wednesday because the House made changes to the bill before the lower chamber passed it by a 342-88 vote on July 13.
The revised legislation drew 55 votes in the Senate — short of the 60 needed to overcome a filibuster. Twenty-five Republicans who previously supported versions of the bill voted against it on the procedural vote, according to a report by The Washington Post.
Sen. Pat Toomey, R-Pa., was one of the senators who voted against the bill Wednesday. He said the PACT Act included more than $300 billion to be spent in the next 10 years unrelated to veterans and it was a concern for him and his colleagues.
Sen. Jon Tester, D-Mont., chairman of the Senate Veterans' Affairs Committee, said he had never seen anything in his 25 years in politics like what happened Wednesday on the Senate floor.
"What compounds it and what makes it that much more difficult is we, in essence, yesterday took benefits away from the people who have been impacted by war, that we sent off the war, and we turn our backs and say, 'No, we're going to find an excuse to vote against our veterans while we wave the flag, talking about how great our fighting men and women are,'" Tester said Thursday at the rally. "We've got some work to do, and we've got to do it very soon."
In May, Tester and Sen. Jerry Moran of Kansas, the ranking Republican on the Senate Veterans' Affairs Committee, introduced the PACT Act. The senators have called the legislation historic and long overdue.
The PACT Act seeks to provide an easier path to health care and benefits for veterans who served near open-air burn pits, which were used throughout the 1990s and the post-9/11 wars to burn garbage, jet fuel and other materials. Veterans diagnosed with cancer, respiratory issues and lung disease at young ages have blamed exposure to the toxic fumes from these pits, but the Department of Veterans Affairs contended for years that there wasn't sufficient evidence to support their claims.
The bill also would improve the VA's workforce and claims processing to speed up efforts to meet the needs of veterans and establish 31 new VA health care facilities in 19 states. Additionally, the bill would expand health care eligibility to post-9/11 combat veterans and add 23 conditions related to burn pits and other toxic exposures to the VA's list of service presumptions. It will also expand the list of presumptions related to Agent Orange exposure to include Thailand, Cambodia, Laos, Guam, American Samoa and Johnston Atoll, strengthen federal research on toxic exposure, and improve the VA's resources and training. The Congressional Budget Office reported on June 6 that the PACT Act's cost estimate would be more than $600 billion.
The bill is named for Sgt. 1st Class Heath Robinson, who was diagnosed with a rare autoimmune disorder and lung cancer after serving with the Army National Guard in Kosovo and Iraq, where he experienced prolonged exposure to burn pits. He died in 2020.
In June, Robinson's mother-in-law, Susan Zeier, said she began wearing Robinson's Army jacket after Rosie Torres, co-founder of the advocacy group Burn Pits 360, said family members of the 9/11 first responders gained momentum pushing for legislation to help them after they began wearing firefighter and police jackets.
"I've been wearing this since about summer 2018 and… with this bill passing the Senate, I think it's time to retire it," Zeier said in June.
On Thursday, Zeier carried Robinson's Army jacket at the rally and put it back on.
"They voted against my family," she said. "They voted for all of us to suffer. They are endorsing our suffering."
Zeier said caring for Robinson became an around-the-clock effort, and she moved in with her daughter Danielle, Robinson's wife, to help. She said Robinson begged them to give him an overdose of medication to put an end to their suffering.
"He felt guilty because he caused us to suffer and he didn't want to do it anymore," Zeier said. "He begged us for two months to do this. That meant neither she nor I could ever leave him alone for one minute."
She said any senator who voted against the PACT Act does not support veterans.
"I'm done," Zeier said. "And the next time I come back here, it better be to sign the damn bill at the White House."
---
---
---
---