Austin vows to maintain military's access to abortion despite end of Roe
By
Stars and Stripes
June 24, 2022
---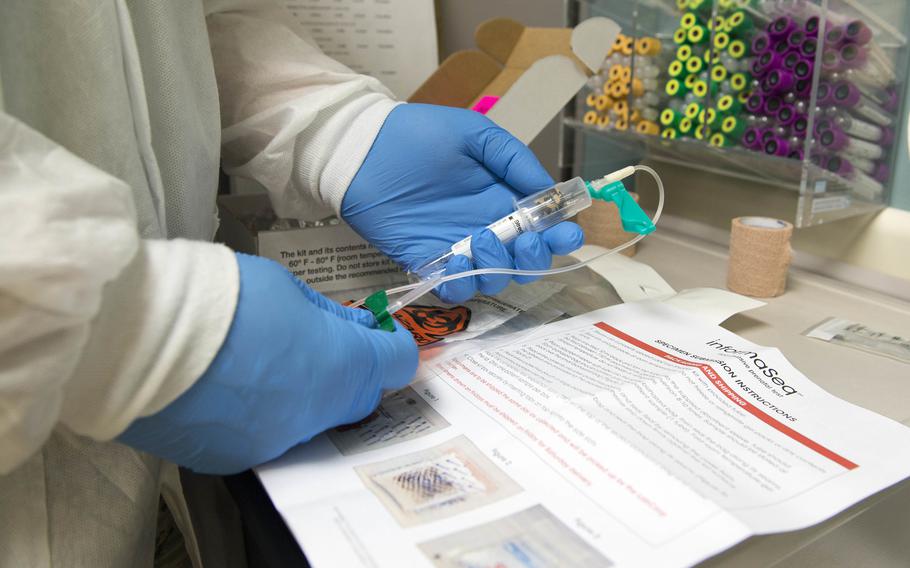 The Defense Department will ensure that service members, their families and civilian employees have access to reproductive health care in the wake of a Supreme Court decision Friday to end the constitutional protection for abortion, the Pentagon said.
"The Department is examining this decision closely and evaluating our policies to ensure we continue to provide seamless access to reproductive health care as permitted by federal law," Defense Secretary Lloyd Austin said in a statement Friday.
"I am committed to taking care of our people and ensuring the readiness and resilience of our Force," Austin said.
For those who have long sought Roe's reversal, ending abortion takes priority over other considerations.
"Today the Supreme Court, in line with modern science and overwhelming public consensus, recognized the truth in every mother's heart and that pro-life advocates have argued all along: unborn children are human beings, deserving of protection," Marjorie Dannenfelser, president of Susan B. Anthony Pro-Life America, said in a news release Friday.
But another observer says the decision will weaken the nation's security.
"By overturning Roe v. Wade, the Supreme Court has not only taken a wrecking ball to reproductive rights – it has taken a wrecking ball to military readiness," Janessa Goldbeck, a Marine Corps veteran and veterans' advocate, said in a news release Friday.
"America will be less secure as a result," she said.
The court's decision allows political bodies, such as legislatures or Congress, to enact laws protecting, restricting or banning abortions.
Fourteen states, mostly in the South and Midwest, have already enacted so-called "trigger" laws that would ban abortion in the event the Supreme Court overturned the constitutional right established in 1973 in the Roe vs. Wade decision.
A handful of other states have already enacted bans on abortions after six weeks of pregnancy, before many women even know they are pregnant.
Friday's decision means women seeking abortions in restrictive states will need to travel to locations where it remains legal. That could be particularly burdensome to military personnel in states — or even large regions of the country — where abortions are banned.
The decision exacerbates the existing obstacles military personnel and their families face in obtaining abortions, argues Goldbeck, CEO of the Vet Voice Foundation, a nonpartisan organization that advocates a greater role for veterans in civic leadership.
Federal law allows military medical facilities to provide abortions only in cases of rape, incest or when a woman's life is in danger. Tricare, the military's health program for service members and their families, covers abortions only for those same circumstances.
"Service members and their families who require abortion care for any other reason must go off-base and pay out of pocket for these services," Goldbeck said in the news release.
"But as of today's ruling, tens of thousands of military troops and their families are now stationed in states where abortion is banned and criminalized," she said.
"Service members who need abortion care for any other reason will have to travel through multiple states on their own dime just to get to a state where abortion is legal.
"This inflicts a significant cost – not only to the service member but to overall military readiness – by forcing troops to take significant leave from their post."
Because of the time and travel involved in seeking a legal abortion, service members will likely need to request leave from their superiors.
"[T]heir fate will be determined by those same superiors who may have their own personal views on the issue of abortion," Goldbeck said. "This means that a member of the United States military may be forced to carry a pregnancy to term simply because her commanding officer will not approve her leave request."
However, in the past year the Army and Air Force removed commanders' powers to deny leave to service members seeking abortions. In addition, soldiers and airmen now need to tell commanders only that they're taking leave for a medical procedure.
Goldbeck urged the Defense Department to "institute and enforce clear directives that allow troops and their families to access abortion care, no matter where they are stationed, in a way that maintains their privacy."
Correction
Story updated to clarify that in the past year the Army and Air Force removed commanders' powers to deny leave to service members seeking abortions.
---
---
---
---