Pentagon disputes claims by lawmakers that US military aid to Ukraine is moving slowly
By
Stars and Stripes
March 31, 2022
---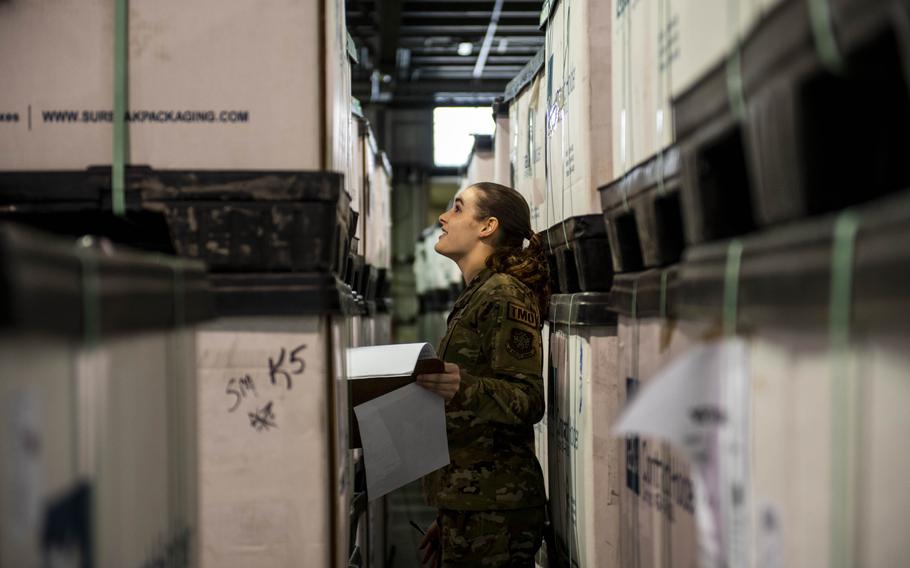 WASHINGTON — The United States is delivering military aid to Ukraine at record rates despite criticism from some congressional lawmakers that supplies are moving too slowly, a senior U.S. defense official said Thursday.
All of the equipment and supplies included in an $800 million military aid package approved by President Joe Biden on March 16 will be in Ukrainian hands in roughly two weeks, the official told reporters at the Pentagon.
"The first delivery arrived on the 20th — four days after the president signed [the order]," the official said. "That's fast for any measure by which we are doing that."
The aid package, which includes nearly 17,000 weapons such as anti-aircraft, anti-armor and anti-tank systems, tactical drones and small arms, makes up almost half of the $2 billion in security assistance that the U.S. has sent Ukraine since January 2021, according to the White House.
"We expect that we'll be able to finish the delivery of the $800 million by the middle of April," the defense official said. "I don't know how anyone can describe that as anything other than expeditious and aggressive."
The comments follow those by Rep. Rob Wittman, R-Va., who said Wednesday during a House Armed Services Committee hearing that deliveries to Ukraine should be made faster as the country enters its fifth week defending against a Russian invasion.
"The issue that has come up is a delay in providing the equipment to the people of Ukraine," Wittman told Air Force Gen. Tod Wolters, commander of U.S. European Command, and Celeste Wallander, assistant defense secretary for international security affairs. "We need both of you with the positions you have to act quickly."
At the same hearing, Rep. Joe Wilson, R-S.C., questioned the officials about "the timeliness of getting these munitions and supplies to the Ukrainians."
"We know that's particularly important as we are working to get those 1,000s of stinger missiles and javelins to the forces there," he said. "There is, I think, sometimes a lack of clarity about how that's being accomplished and what the urgency is with that."
Wilson said delivery speed is especially critical now as some Russian troops begin to regroup after weeks of failing to achieve progress toward Ukraine's capital Kyiv.
"The Russians right now are limited in their maneuver[ability,] which is a big advantage for the Ukrainians," he said. "The problem is that we're at one of those tipping points that [if] we really don't go all in to help them, then they won't have a chance to defeat the Russians."
Chief Pentagon spokesman John Kirby said Thursday that the Defense Department "would not agree that [shipments have] been slowed," noting the military has delivered six shipments of military material in about 11 days.
"I will tell you that things aren't sitting long at these intermediate staging shipment sites before they're getting picked up by convoys and taken into Ukraine," he said.
The Defense Department is breaking delivery time records when it comes to Ukraine shipments. For example, a $350 million military aid package approved Feb. 26 was delivered in three weeks, "which is unheard of," Kirby said.
Still, he acknowledged reports that some Ukrainian lawmakers have asked their U.S. counterparts in Congress to hasten the U.S. military's deliveries.
"We appreciate and respect that the Ukrainians want this stuff, and they want it like yesterday," Kirby said. "We know time is not on their side — we don't think it's on our side either, which is why we're working really, really hard."
The full aid package includes 800 Stinger anti-aircraft systems, 2,000 Javelin anti-tank missiles, 1,000 light anti-armor weapons, 6,000 AT-4 anti-armor systems, 100 tactical drones, 100 grenade launchers, 5,000 rifles, 1,000 pistols, 400 machine guns, 400 shotguns, more than 20 million small arms ammunitions and mortar rounds and 25,000 sets of body armor and helmets, the White House has said.
"We're going to get these materials in as fast as we can," Kirby said. "It's happening as you and I are actually talking right now."
---
---
---
---