NC lands manufacturing plant for supersonic jet maker
By
Zachery Eanes and Lars Dolder
The News & Observer
January 26, 2022
---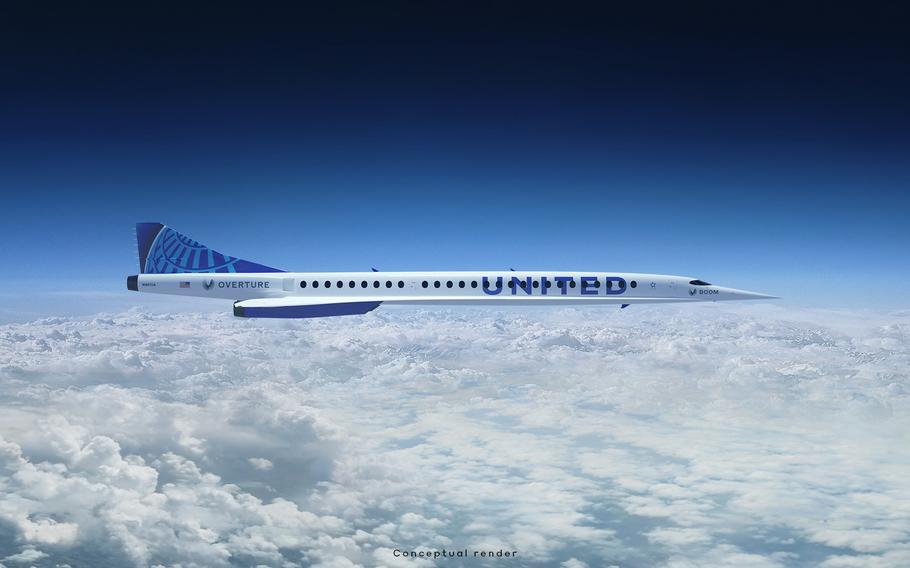 GREENSBORO, N.C. (Tribune News Service) — Boom Supersonic, a fledgling aviation startup with plans to revive supersonic passenger travel, will build a $500 million "flagship" production facility at Greensboro's Piedmont Triad International Airport, after the company received an incentive package worth $121.5 million from the state of North Carolina and Guilford County.
The facility will employ up to 1,761 workers earning an average salary of $68,792 per year, according to the state's Commerce Department, which approved the incentives for the company Wednesday morning.
As first reported by The News & Observer, North Carolina's recruitment of Denver-based Boom began months ago, and was made possible by money appropriated to PTI in House Bill 334, which set aside $106.75 million for the airport to prepare up to 1,000 acres for a manufacturing plant that is expected to bring at least a $500 million investment and create at least 1,750 jobs. The state government referred to its courting of the unnamed manufacturer as "Project Thunderbird."
The state's Commerce Department said that Boom was also considering sites in Jacksonville, Fla., and Greenville, S.C., for its expansion, with both locations also offering incentives.
Founded in 2014, Boom has plans to build what it calls the Overture jet. The 205-foot passenger plane is supposed to be able to travel at more than 1,300 mph — faster than the speed of sound and twice the speed of today's fastest airliners. The company says the plane will carry 65 to 88 passengers and fly as far as 4,888 miles at a cruising altitude of 60,000 feet.
Boom claims the Overture will be a "green" jet. The Concorde was notorious for guzzling fuel. The Overture is designed to run on 100% sustainable aviation fuels — SAF — and will be net-zero carbon, the company says. SAF are not traditional petroleum byproducts. Instead, they are produced from biological waste oils, agricultural residues and non-fossil sources.
"We are leveraging more than fifty years of advancements in aerodynamics, materials, and propulsion to build economically and environmentally viable supersonic airplanes," Boom says on its website.
The company already has lined up high-profile customers, including United Airlines, Japan Airlines and the United States Air Force. United Airlines has contracted with Boom to secure up to 50 Overture jets and says it plans to begin supersonic passenger travel by 2029.
Boom's ambitions were inspired by earlier attempts to break the sound barrier in commercial travel. The Concorde, a defunct British Airways- and Air France-operated jet notorious for its ear-splitting noise and astronomical ticket prices, discontinued passenger flights in 2003. Boom believes its modernized aircraft will limit disruptive noise production and foster an economic model that permits reasonable fares.
"Here is the future I believe in," Boom founder and CEO Blake Scholl says in a video on the company's website. "A future in which you can get anywhere on the planet in four hours for just a hundred bucks — a world in which the fastest flight is also the cheapest and there's no reason ever to board a slow plane."
For the past year, Boom has been searching for a site to build its Overture jet, as it gets closer to flying them commercially.
Boom Supersonic will join several aerospace companies already operating at PTI, including HondaJet, HAECO, Cessna and FedEx.
This story was produced with financial support from a coalition of partners led by Innovate Raleigh as part of an independent journalism fellowship program. The N&O maintains full editorial control of the work.
(c)2022 The News & Observer (Raleigh, N.C.)
Visit The News & Observer (Raleigh, N.C.) at www.newsobserver.com
Distributed by Tribune Content Agency, LLC.
---
---
---
---