For Afghan refugee living in Massachusetts, hope endures through tragedy
by
Jim Kinney
masslive.com
December 20, 2021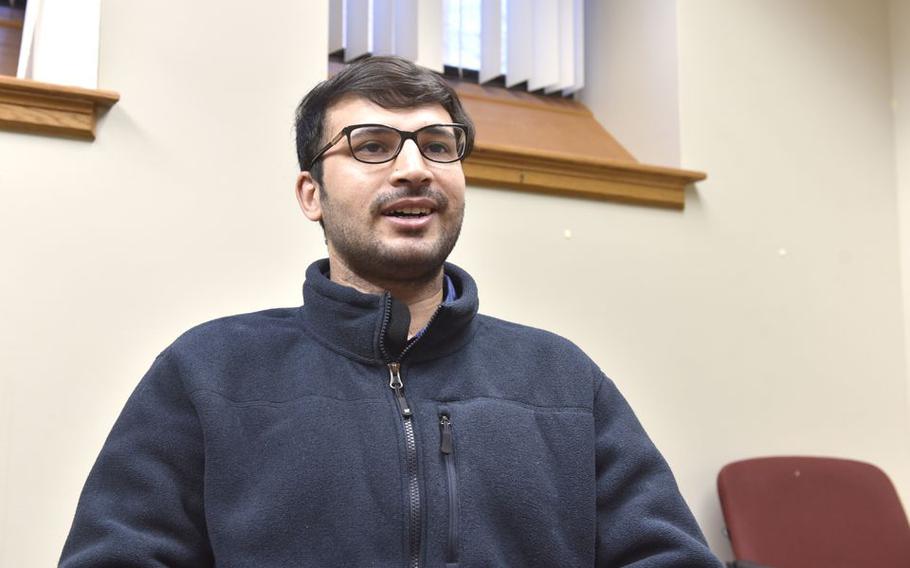 NORTHAMPTON, Mass. (Tribune News Service) — Muhammad Fahim Salimi is safe, but everyone he loves is 6,600 miles away in Afghanistan living under Taliban rule.
"My only hope right now is my family," he said.
Salimi, 27, is waiting for his wife, a women's right activist, and relatives, including two former high-ranking military officials, to get out of Afghanistan. He hopes to see them begin their journey along the path he followed here to Western Massachusetts, where he's determined to build a new life.
He's living with two other Afghan evacuees in a spartan, third-floor apartment in downtown Northampton, having arrived Dec. 2. He fills his time with paperwork, exploring the city and attending mosque.
He's also taking English lessons. Although he used to teach the language at a high school in Kabul, he is brushing up on using it conversationally.
Salimi is one of 68 Afghan evacuees resettled here by the Catholic Charities Agency of the Roman Catholic Diocese of Springfield, said executive director Kathryn Buckley-Brawner.
Another agency, Ascentria Care Alliance, has committed to accepting around 300 refugees here and 140 in Worcester. Jewish Family Service of Western Massachusetts is reaching its capacity of 150 Afghans.
Salimi worked for a company that provided services in the U.S. embassy.
His wife, Heela Gharani Sabit, is safe, but still living in Afghanistan. The couple does not have children. Also safe but still in the country are Salimi's father and his father-in-law, both former high-ranking military officers in the deposed government.
"Every story from an Afghan evacuee is unique," Salimi said. "But there is a thread that runs through every story. And that is tragedy. It is a tragedy to leave your home country."
And it's not the first time he's had to flee. As a child he lived in Iran because his father was engaged in the fight against the Taliban.
Salimi is an engaging man, pleasant and cheerful — even while discussing the tragedy that has befallen him, his country and the anguished uncertainty surrounding his family.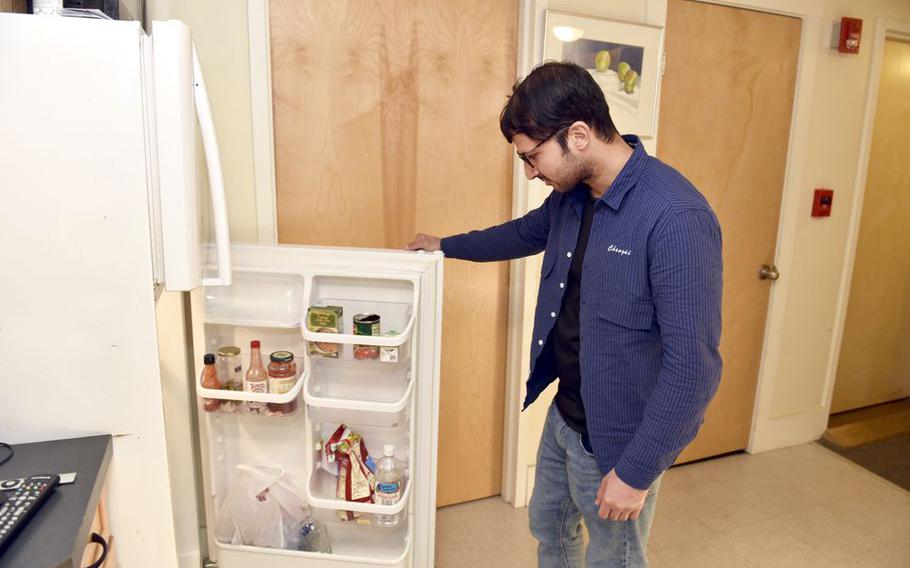 "Once the Taliban took over, they had access to every (government) ministry. All the records," he said. "(The family) had to change their address."
But his face lights up when he recalls running into young Afghan men he had taught English in high school after they'd all been evacuated to the Fort Pickett Army base in Blackstone, Virginia.
"What are you doing here?" he said they all exclaimed to one another.
He also keeps in touch with former students who are still in Afghanistan.
Salimi smiled as he diplomatically described American food as "different."
He thoughtfully compared this Christmas season in the United States to the eids — the word means "festivals" — that mark important holidays of the Muslim calendar. Tradition at the eids is to see family, he said.
Salimi was one of the throng crowding the Kabul airport in August, desperately trying to escape a country falling to the Taliban.
There he was separated from his wife and from the phone he used to keep in contact with her. But somehow he found himself pushed through the gates, where he eventually made his way onto a plane to the nation of Qatar.
At first, he described the scene at the airport as "much mismanagement." As the story goes on, he goes into detail. There was a 10-year-old boy shot in the face. He saw people fall from airplanes as they taxied down the runway.
"I've seen things no one should have ever seen," Salimi said.
In Qatar he was in a facility he'd been told was built for COVID-19 patients. It was crowded. It was hot. He and his fellow evacuees were locked in a hallway for about 40 days. The doors opened when it was time to bring in food.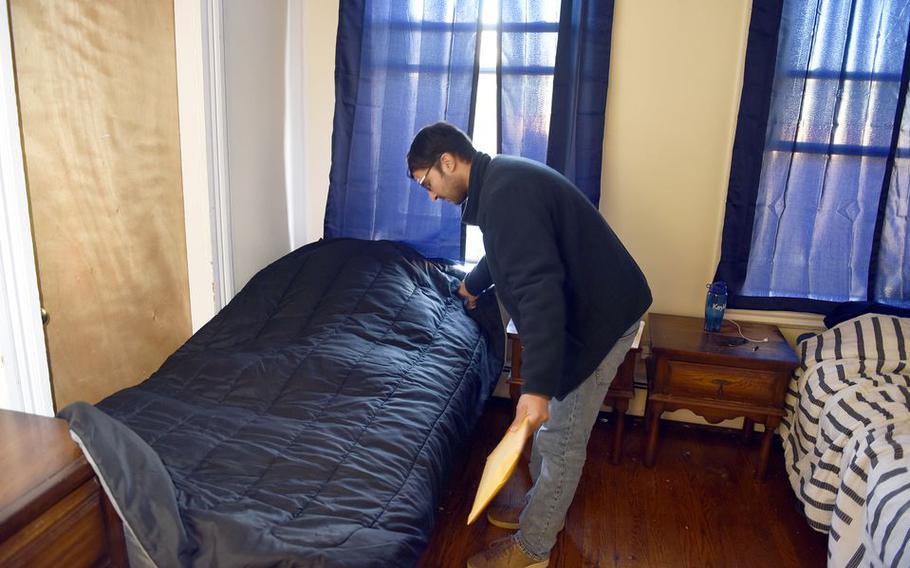 He said his hair started falling out. He playfully pulled his forelock back to reveal a receding hairline.
"I wasn't like this in Afghanistan," he said.
After a total of 75 days he was told he would go to America. He was part of a group that landed in Philadelphia and took a bus to Fort Pickett. There, he was in a barracks-like "military apartment." He and his fellow evacuees filled their time getting medical checks and filling out forms.
In their spare time they walked thousands of steps around the base to keep in shape. There's a movie theater there, he said. Men went on one night and women the other.
He'd befriended another Afghan evacuee in Qatar. The friend left 15 days before him. When that man made it to Northampton through Catholic Charities, the friend sent word for Salimi that Massachusetts was nice, the people welcoming and the weather strikingly similar to that in Kabul.
He said he likes it here, exploring Northampton and living with two other recent arrivals including his friend.
According to Buckley-Brawner, housing is the biggest challenge for the new arrivals — and they never have folks live alone.
"They need the company," she said. "They need that support."
Salimi praised the work of volunteers.
"Everything is a circle," Salimi said. "And that circle is made up of volunteers. To volunteer for this, to do a job where you aren't going to be paid. You need a big heart."
In a separate interview, the Most Rev. William D. Byrne, bishop of Springfield, said that for the new Afghan arrivals, the pain goes beyond just separation from family.
"I think that it's a little more fearsome in a sense," Byrne said. "Their families are in danger back in Afghanistan. It's a dangerous political environment."
He is asked, sometimes in blunt terms, why the diocese is doing so much for the evacuees, most whom are not Catholic.
He responds that many of the Afghans arriving here worked with and aided America's efforts in that country during the 20-year War on Terror. This nation owes them, Byrne said. Secondly, it's what they are called to do as Christians.
"Jesus asked, 'Who is your neighbor?'" Byrne said.
And that has to be more than just words, he said.
"If we don't walk the walk, then we are, as Paul says, we are a clanging gong," he said.
That's just noise, no action.
It's a story of service and hope that Byrne said resonates a little louder at Christmas.
One Afghan family here will soon have a baby, the first among the diocese's new Afghan arrivals. That's not lost on Byrne, ever the pastor relating events to the biblical text. Think of a Middle Eastern family, required to travel far from home, finding a place for their child to be born.
"Isn't it beautiful?" the bishop said.
©2021 Advance Local Media LLC.
Visit masslive.com.
Distributed by Tribune Content Agency, LLC.
---
---
---
---