House Jan. 6 committee votes to hold Mark Meadows in contempt for defying subpoena
by
Jacqueline Alemany, Mariana Alfaro
The Washington Post
December 13, 2021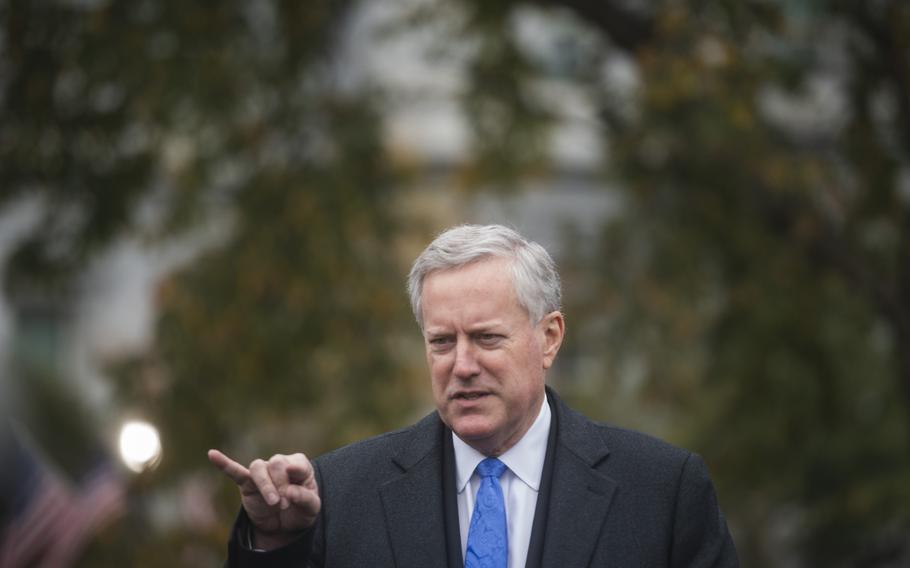 WASHINGTON — The House committee investigating the Jan. 6 attack on the Capitol voted Monday night to hold former White House chief of staff Mark Meadows in criminal contempt for defying a subpoena, while also releasing a series of texts from Fox News hosts and Donald Trump Jr. urging Meadows to implore President Donald Trump to call off the violent mob.
The seven Democrats and two Republicans tasked with investigating the insurrection all supported the resolution that could be taken up by the full House as soon as Tuesday.
Last week, Meadows backed away from cooperating with the committee just days after saying he would, arguing that the panel was pressuring him to discuss issues that the former president said are protected by executive privilege. However, he had already produced thousands of documents for the panel, including text messages and emails related to the events of the day.
At a public meeting ahead of the vote Monday, members of the committee used information already provided by Meadows to make the case that he is a key figure in understanding Trump's efforts to overturn the election results, what role the White House played in planning the rally that preceded the attack, and why Trump did not immediately come out and forcefully call on his supporters to stop their assault on the Capitol once it was underway.
"History will not look upon you as a victim. History will not dwell on your long list of privilege claims or your legal sleight of hand," the committee chairman, Rep. Bennie Thompson, D-Miss., said of Meadows and others who are refusing to cooperate. "History will record that in a critical moment in our democracy, most people were on the side of finding the truth, of providing accountability, of strengthening our system for future generations. And history will also record, in this critical moment, that some people were not."
Some of the most dramatic evidence presented Monday night involved texts from allies of the president urging Meadows to get Trump to stop the rioters.
Rep. Liz Cheney, R-Wyo., the panel's vice chair, read through texts to Meadows from Fox News hosts as well as Trump Jr., imploring Meadows to get his father to "condemn this s--- Asap. The Capitol Police tweet is not enough."
"I'm pushing it hard," Meadows responded. "I agree."
"We need an Oval address," Trump Jr. wrote back. "He has to lead now. It has gone too far and gotten out of hand."
Several Fox News hosts also urged Meadows to get the president on TV or make some kind of statement while he remained silent in the White House as members of the mob assaulted police officers, chanted things like "Hang Mike Pence" and menaced members of Congress.
"Hey Mark, the president needs to tell people in the Capitol to go home . . . this is hurting all of us . . . he is destroying his legacy," wrote Laura Ingraham.
Brian Kilmeade also chimed in. "Please get him on tv," he texted Meadows. "Destroying everything you have accomplished."
And Trump friend and popular Fox News host Sean Hannity simply asked Meadows: "Can he make a statement? . . . Ask people to leave the Capitol."
The pro-Trump mob's storming of the Capitol on Jan. 6 resulted in five deaths and injuries to some 140 members of law enforcement. Those who rioted sought to stop the affirmation of Joe Biden's presidential win.
Trump eventually released a video after 4 p.m. — about two hours after the Capitol was breached — calling for his supporters to abandon their attack while saying he understood what motivated them.
"This was a fraudulent election, but we can't play into the hands of these people," Trump said in the video. "We have to have peace. So go home. We love you. You're very special. You've seen what happens. You see the way others are treated that are so bad and so evil. I know how you feel. But go home, and go home in peace."
Rep. Adam Schiff, D-Calif., said he was "particularly struck" by the text messages from fellow lawmakers asking Meadows to intervene.
"How did Meadows react to these cries for help? Whom did he tell? What did he do?" Schiff asked with regard to the former North Carolina congressman. "And, critically, what did the president of the U.S. do and what did he fail to do?"
Another text message displayed by Schiff during the hearing included a lawmaker acknowledging the effort to overturn the result of the 2020 election, telling Meadows they tried "everything we could in our objection to the 6 states."
"I'm sorry nothing worked," the lawmaker added.
This was a reference to the effort by some lawmakers to object to the certification of the election results, which some of the president's allies have said they hoped would buy time for Republican state lawmakers in key swing states to send a new set of electors who would endorse Trump.
Members of the panel were dismissive of Meadows's executive privilege claims, arguing he had already turned over information from his private phone and email account and has recently published a book where he discusses the events of Jan. 6. They said his testimony is needed to understand the events surrounding the worst attack on the Capitol since the War of 1812 as well as Trump's unprecedented attempts to overturn the 2020 election results.
"Did Donald Trump, through action or inaction, corruptly seek to obstruct or impede Congress's official proceeding to count electoral votes? Mark Meadows's testimony will inform our legislative judgments," Cheney said.
The committee in recent days has released slivers of information that suggests Meadows was involved in many aspects of Trump's attempts remain president despite losing the election as well as the protests his supporters planned in support of his efforts.
On Sunday night, in a 51-page report, the bipartisan committee revealed that it has documents showing that Meadows said the National Guard "would be present to 'protect pro Trump people' " on the day of the attack.
The report laid out the case for a contempt vote and highlighted details from documents that Meadows and his lawyer turned over to the investigation before Meadows decided to no longer cooperate with the panel. Among them is the email in which Meadows made the comments about the National Guard, adding that "many more would be available on standby" to protect pro-Trump demonstrators.
A committee vote to hold Meadows in criminal contempt comes after months of negotiations between the panel, the former chief of staff and his lawyer, George Terwilliger. The select committee has struggled to get those closest to Trump to cooperate with its investigation, including longtime adviser Steve Bannon, whom the Justice Department charged with two counts of contempt in November after the House voted to recommend charges against him in October.
Contempt of Congress is a misdemeanor criminal offense that can result in up to one year in prison and a fine of up to $100,000.
In its report, the committee said it wanted to question Meadows about text messages he exchanged with an unnamed senator about Pence's power to reject electors. In the messages, Meadows recounted a "direct communication with President Trump who, according to Mr. Meadows in his text messages, quote, 'thinks the legislators have the power, but the VP has power too' " to reject electors.
The committee also describes Meadows as "one of a relatively small group of people who witnessed the events of January 6 in the White House and with then-President Trump."
The committee did not provide more context on Meadows's communications regarding the National Guard, and it is unclear whether he had been directed by Trump to call on the Guard to protect his supporters. On Jan. 5, the day before the attack, Trump told a room of allies that he did not want violence. Several in the room took that to mean he didn't want counterprotesters fighting his supporters. Moments later, Trump tweeted a condemnation of antifa, demanding that the loosely knit group of far-left activists "stay out of Washington."
In a Monday morning letter to Thompson, Cheney and the rest of the panel, Terwilliger said a referral to hold Meadows in contempt would be "contrary to law."
"The Select Committee and the House should make no such referral," Terwilliger said. "I respectfully ask your indulgence to explain why such a referral would be contrary to law, manifestly unjust, unwise, and unfair. It would ill-serve the country to rush to judgment on the matter."
Terwilliger argued that the contemplated referral would violate the law "because a good-faith invocation of executive privilege and testimonial immunity by a former senior executive official is not a violation of 2 U.S.C. § 192," the federal statute that authorizes Congress to certify a contempt citation to the Justice Department for criminal prosecution.
The committee, in its report, said that if Meadows had appeared for his scheduled deposition on Dec. 8, the panel would have asked him "a series of questions about subjects that we believe are well outside of any claim of executive privilege." More specifically, the panel said it would have asked him about his use of personal email and cellphones.
The committee also said in its report that Meadows spoke "nonstop" that day with Kashyap Patel, then-chief of staff to acting defense secretary Christopher Miller. "Among other things, Mr. Meadows apparently knows if and when Mr. Trump was engaged in discussions regarding the National Guard's response to the Capitol riot," the committee wrote.
In its report, the committee said it seeks more information from Meadows on text messages he exchanged with the organizer of the Jan. 6 rally on the Ellipse that preceded the attack on the Capitol. The organizer texted Meadows that things "have gotten crazy and I desperately need some direction. Please." The committee also wants to know more about messages Meadows received regarding "apparent efforts" to encourage Republican lawmakers in certain states to send alternate slates of electors to Congress in an attempt to undo Biden's win. In texts, a member of Congress told Meadows that the plan was "highly controversial," and Meadows texted back, "I love it."
The documents also show that Meadows forwarded claims of election fraud to Department of Justice leaders for further investigation — "some of which he may have received using a private email account."
Meadows, the committee's report claims, also reportedly introduced Trump to then-DOJ official Jeffrey Clark, who recommended to Trump that he be installed as acting attorney general and that state officials be told to appoint alternate slates of electors.
The then-chief of staff also reportedly "participated in meetings and calls during which the participants reportedly discussed the need to "fight back against 'mounting evidence' of purported voter fraud," according to the panel's report.
---
---
---
---