Jan. 6 committee says it will move to hold former Trump chief of staff Mark Meadows in contempt
by
Jacqueline Alemany and Joshua Dawsey
The Washington Post
December 8, 2021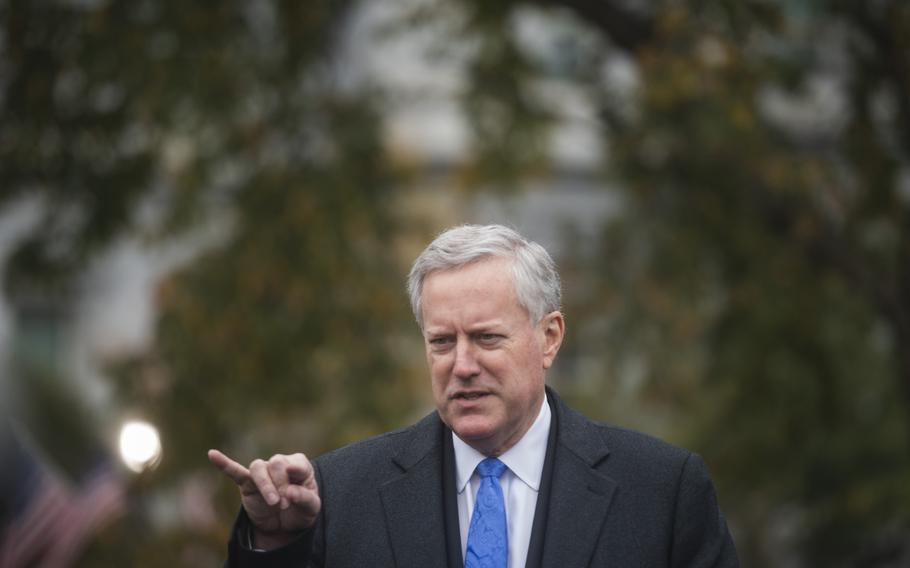 WASHINGTON — The House select committee investigating the Jan. 6 attack on the Capitol said it is preparing to hold Mark Meadows, former president Donald Trump's chief of staff, in criminal contempt for not complying with the panel's subpoena as it is ramping up efforts to force former Trump administration officials to cooperate with its inquiry.
Committee Chairman Bennie Thompson, D-Miss., said in a letter sent to Meadows Tuesday evening that the panel's patience had run out and dismissed his argument that much of the information the committee sought was covered by executive privilege because it involved his duties as an aide to Trump at the White House.
Meadows had previously provided the committee with some information, but he informed the bipartisan panel on Tuesday that he would no longer appear before it on Wednesday. Meadows would be the third former Trump official the committee has voted to hold in criminal contempt of Congress.
In the letter, Thompson outlines some of the documents Trump's former chief of staff has already provided to the committee, including a Nov. 7, 2020, email "discussing the appointment of alternate slates of electors as part of a 'direct and collateral attack' after the election." Also mentioned in the letter is a Jan. 5 email "regarding a 38-page PowerPoint briefing titled 'Election Fraud, Foreign Interference & Options for 6 JAN' that was to be provided 'on the hill'" and a Jan. 5 "email about having the National Guard on standby."
Meadows also provided the committee last week with "certain relevant messages" from "saved and backed up phone data" from Meadows's personal cellphone, according to Thompson's letter. The text messages produced by Meadows include a Nov. 6, 2020, correspondence "with a Member of Congress apparently about appointing alternate electors in certain states as part of a plan that the Member acknowledged would be 'highly controversial' and to which Mr. Meadows apparently said, 'I love it.'"
Also included in the texts produced by Meadows are messages about "the need for the former president to issue a public statement that could have stopped the January 6 attack on the Capitol," an early Jan. 2021 text message exchange "between Meadows and an organizer of the January 6th rally on the Ellipse."
Thompson wrote that "All of those documents raise issues about which the Select Committee would like to question Mr. Meadows and about which you appear to agree are not subject to a claim of privilege."
Meadows' refusal to provide an interview previously agreed upon with the panel is a reversal that comes as Trump has grown angry with Meadows about his new memoir, "The Chief's Chief," and some of the revelations he made — particularly about Trump's health and his first positive coronavirus test before a negative coronavirus test.
Former officials said Meadows was often duplicitous around the election — and gave in to some of Trump's worst instincts by passing along conspiracy theories to the president and to the Justice Department, encouraging Trump to pressure officials, orchestrating calls with state officials and giving the president a false hope he could win, according to people familiar with the situation who spoke on the condition of anonymity to describe private conversations.
Meadows was around the president throughout Jan. 6, and his testimony could offer a firsthand account of why Trump did not issue a statement for several hours.
Since Trump left office, Meadows has frequently kept in touch with the former president and even held events at his club for his political group.
In his book, Meadows said Trump was "mortified" at what happened that day, though officials around Trump, who spoke on the condition of anonymity, have disputed that — and say he was still looking to block the results as rioters ransacked the Capitol.
---
---
---
---