Soon-to-be-released Cuomo impeachment report details misdeeds, backs up harassment claims
by
Denis Slattery
New York Daily News
November 20, 2021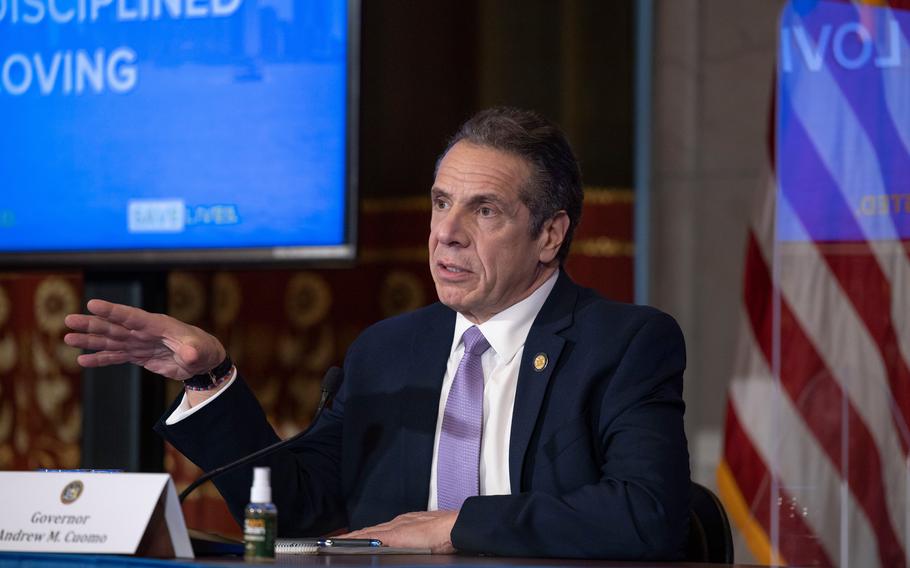 ALBANY, N.Y. (Tribune News Service) — A forthcoming 45-page report detailing the Assembly's impeachment investigation into former Gov. Andrew Cuomo backs up sexual harassment and other misconduct claims leveled against the disgraced Democrat.
Lawmakers who reviewed the report said Friday that the document clearly shows Cuomo's behavior would have been grounds for impeachment had he not resigned in August.
The report, which will be made public in the coming days, corroborates sexual harassment claims made by staffers and state workers and shows Cuomo violated the state's Public Officers' Law by enlisted underlings to work on his pandemic memoir, lawmakers said.
Assemblyman Phil Steck, D-Colonie, said the report serves as "total confirmation" of the findings from independent investigators working under Attorney General Letitia James.
"I think the report confirms everything that the attorney general's investigators said in regards to the harassment," Steck said. "There's additional details, additional evidentiary support, but at the end of the day the case is only stronger."
The report was compiled by Davis Polk, an outside law firm hired to oversee the Assembly Judiciary Committee's impeachment inquiry.
The Assembly investigation began back in March and was abandoned after Cuomo announced his resignation in August following the release of a bombshell report from James' office detailing harassment claims from 11 women.
The Assembly investigation dove into several other scandals that had engulfed the Cuomo administration including allegations that family and associates of the governor received preferential treatment for COVID-19 testing and that officials intentionally withheld data related to coronavirus deaths at nursing homes.
Cuomo has maintained his innocence and his legal team continues to cast the investigations into him as politically motivated, particularly noting James' gubernatorial ambitions.
The 63-year-old is scheduled to appear in court in early January to face misdemeanor groping charges filed after a former aide accused him of fondling her at the Executive Mansion late last year.
Steck said the report also shows that Cuomo staffers assisted in writing and promoting the 63-year-old's COVID-themed leadership tome, a violation of the state's Public Officers' Law.
Earlier this week, the state's ethics panel voted to rescind approval of the $5.1 million book deal after reaching the same conclusion.
Cuomo and his attorneys have argued that any work by aides was done on a voluntary basis and accused the Assembly of ignoring the fact that legislative staffers often do campaign work for lawmakers.
"If they want to set a new standard that is also their prerogative — but the current standard is that a state employee can volunteer in a personal or political effort as long as they take time off so that there is no cost to the state," Cuomo spokesman Rich Azzopardi said.
Lawmakers who reviewed the report also note that it shows the Cuomo administration intentionally withheld data related to nursing home deaths during the pandemic. James' office issued a separate report earlier this year accusing state officials of undercounting the death toll by as much as 50%, prompting the Health Department to adjust its counting.
"It's very clear that he made material misrepresentations to the public and the Legislature in order to promote himself politically," Steck said.
Azzopardi, meanwhile, lamented the fact that lawmakers declined a request from Cuomo's attorney, Rita Glavin, to access the report before it's made public.
"The Assembly Judiciary Committee has chosen not to review their findings with us which is their prerogative, but it may once again result in a one-sided report," Cuomo spokesman Azzopardi said.
———
©2021 New York Daily News.
Visit at nydailynews.com.
Distributed by Tribune Content Agency, LLC.