New DOD report on China's military details nuclear advances, growing international influence
By
Stars and Stripes
November 3, 2021
---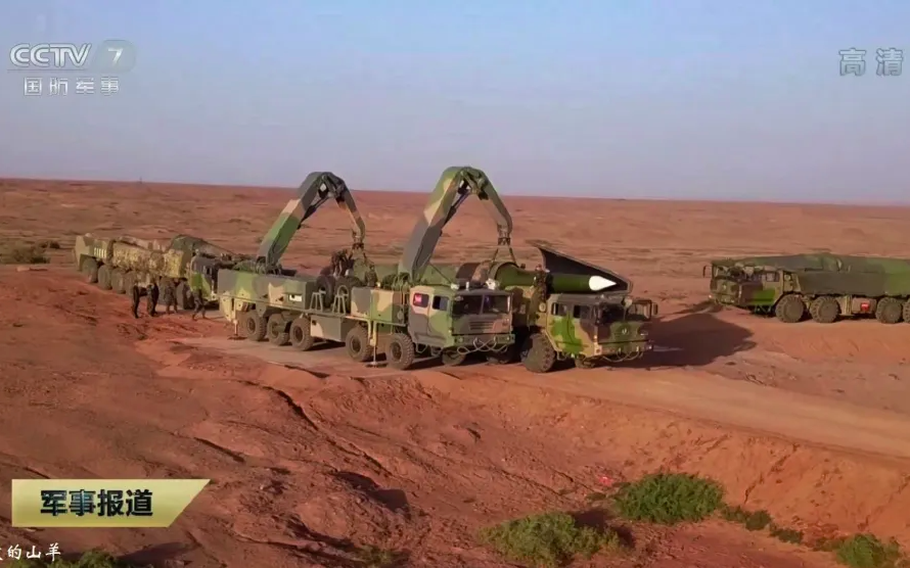 WASHINGTON — The Defense Department's new report on China's military power details the nation's continued rapid advancement, highlighted by growth in its nuclear program, hypersonic missiles, increased international influence and expansion into other countries.
"[China's] strategy aims to achieve 'the great rejuvenation of the Chinese nation' by 2049 to match or surpass U.S. global influence and power, displace U.S. alliances and security partnerships in the Indo-Pacific region and revise the international order to be more advantageous to Beijing's authoritarian system and national interests," according to the annual report.
The China Military Power report is designed to update Congress on that country's latest military developments and focuses on 2020 activities. Defense Secretary Lloyd Austin has called China the "pacing threat" for the U.S. military with its increasingly aggressive actions in the Indo-Pacific region, rapid military development and expanding international ambitions.
China continued its more than 20-year streak of defense spending increases in 2021, upping its military budget by about 6.8%. Its defense budget is second only to the United States, but its "published military budget omits several major categories of expenditures and its actual military-related spending is higher than what it states in its official budget," according to the report, which was released Wednesday.
The Chinese army has approximately 975,000 active-duty troops in combat units, the largest naval fleet in the world with about 355 Navy ships, and the third-largest aviation force with more than 2,800 aircraft, according to the report.
The report characterizes China's intentions "as a determined pursuit of far-ranging-efforts to expand [its] national power" at the expense of the United States, which Beijing views as "increasingly determined to contain" China.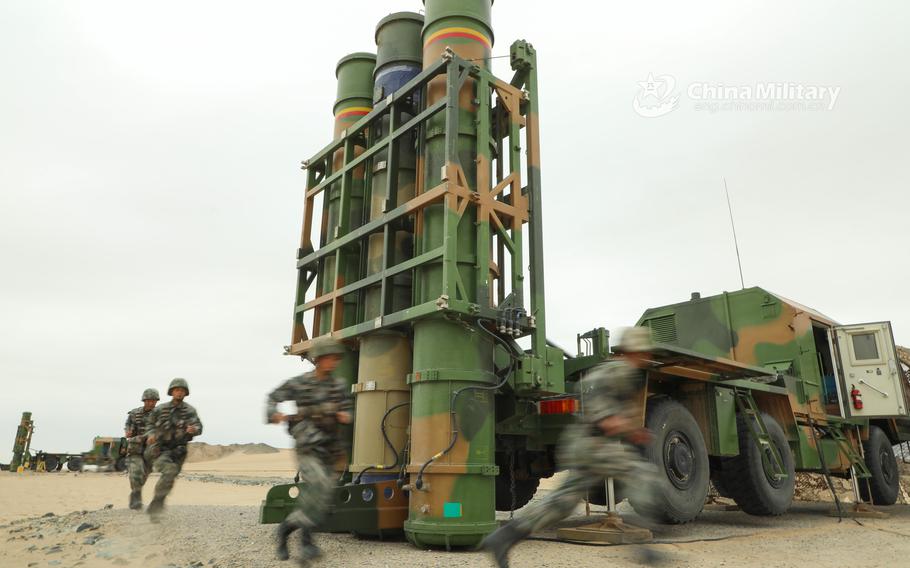 Nuclear ambitions
China is on track to have at least 1,000 nuclear warheads by 2030, indicating its nuclear programs are accelerating much faster than the U.S. predicted in its 2020 report, a defense official told reporters Tuesday at the Pentagon.
"The 2020 report said that the [People's Republic of China's] nuclear arsenal was in the 200s and projected doubling by the end of the decade, so they're exceeding that pace," said the official, who spoke on the condition of anonymity.
The U.S. had approximately 3,750 nuclear weapons as of September 2020, according to the State Department. At its height, the U.S. had a total of 31,255 in 1967 and its stockpile is down about 83% from 22,217 in 1989.
China is developing new intercontinental ballistic missiles that will "significantly improve its nuclear-capable missile forces," advances that will require the country to develop more nuclear warheads, according to the report. It has also started building "at least three" ICBM silo fields that will together contain hundreds of new ICBM silos.
China has drawn international attention with its DF-26 intermediate-range ballistic missiles, capable of conventional and nuclear precision strikes on ground and maritime targets. The missile, which analysts have dubbed the "Guam-killer" for its alleged ability to reach the U.S. territory from China, was first tested in January 2019, a state-run Chinese newspaper called the Global Times reported at the time.
Last year, China also began fielding its first operational hypersonic weapons system, the DF-17 hypersonic glide vehicle, which is capable of carrying medium-range ballistic missiles, according to the report. Hypersonic missiles fly at least five times the speed of sound.
Comparatively, the U.S. does not have any hypersonic systems deployed but is developing such strike systems that can travel about 500 miles in 10 minutes, the Pentagon's director of hypersonics Michael White said in June during an event hosted by the Washington think tank Center for Strategic and International Studies. The U.S. stockpile of subsonic long-range missiles takes about an hour to reach the same distance.
International influence
China capitalized on the coronavirus — first discovered in that country in December 2019 — to "normalize its presence overseas and build closer ties to foreign militaries, primarily through [coronavirus]-related aid," according to the report. "The [coronavirus] pandemic was a driving force behind the [China's] foreign policy efforts, as Beijing sought to deflect any culpability for the virus and its initial spread, and to capitalize on its narrative of domestic success and foreign assistance."
China accomplished this by delivering coronavirus-related aid abroad, according to the report. For example, China offered testing kits, protective gear, vaccines and other pandemic-combatting materials to nations in Southeast Asia, Europe and South America.
These efforts, combined with others to secure overseas military facilities, indicated China's desire to create "a greater global role for itself," according to the report.
The United States has watched China's overseas military development since Beijing in 2017 opened its first military base on foreign soil in Djibouti in Africa. Now, China is seeking out additional military facilities abroad to project power across the world, according to the report.
"[China] is seeking to establish a more robust overseas logistics and basing infrastructure to allow the [People's Liberation Army] to project and sustain military power at greater distances," the report said. "A global [Chinese] military logistics network and [Chinese] military facilities could both interfere with U.S. military operations and support offensive operations against the United States as the PRC's global military objectives evolve."
China is likely considering Cambodia, Myanmar, Thailand, Singapore, Indonesia, Pakistan, Sri Lanka, United Arab Emirates, Kenya, Seychelles, Tanzania, Angola, and Tajikistan as possible locations for Chinese military bases, according to the report.
The military-base ambitions follow the 2020 China Military Power report's findings that China had determined its armed forces should take a more active part in advancing the nation's foreign policy goals.
"[China] is seeking to establish a more robust overseas logistics and basic infrastructure to allow the [Chinese military] to project and sustain military power at greater distances," the official said. "Not just within its immediate environments in the Indo-Pacific, but throughout the Indo-Pacific region and indeed, around the world."
Communication and de-escalation
The report also detailed the de-escalating effects that controversial calls to the communist nation by Army Gen. Mark Milley, chairman of the Joint Chiefs of Staff, had in avoiding a potential conflict.
The calls between Milley and his Chinese counterpart Gen. Li Zuocheng, first revealed in Bob Woodward and Robert Costa's book, "Peril," took place in the final months of the administration of former President Donald Trump. Critics claimed Milley had usurped the chain of command with the calls when he told Li that the U.S. had no intention of attacking China. However, the report concludes the calls in October 2020 were successful.
It happened after Beijing had "perceived a significant threat [that] the United States would seek to provoke a military crisis or conflict in the near term," according to the report. In response, China began spreading "intensified warning messaging in PRC state media, large-scale military drills, heightened readiness, and additional deployments."
The assumption was incorrect — the U.S. had no intention of launching an attack. That's why then-Defense Secretary Mark Esper directed Milley to convey "DOD's continued interest in building a constructive, stable and results-oriented relationship" to Li.
The tactic worked, according to the report, as a Chinese Ministry of National Defense spokesman said during a news conference that Esper had "specifically clarified … through military and diplomatic channels" that the relevant reports "did not match facts" and the United States had no intention of instigating a military crisis against China.
"These events highlighted the potential for misunderstanding and miscalculation, and underscored the importance of effective and timely communication between DOD and [China,]" the report said.
---
---
---
---