Austin says debt default could hurt national security, stop military paychecks
By
Stars and Stripes
October 6, 2021
---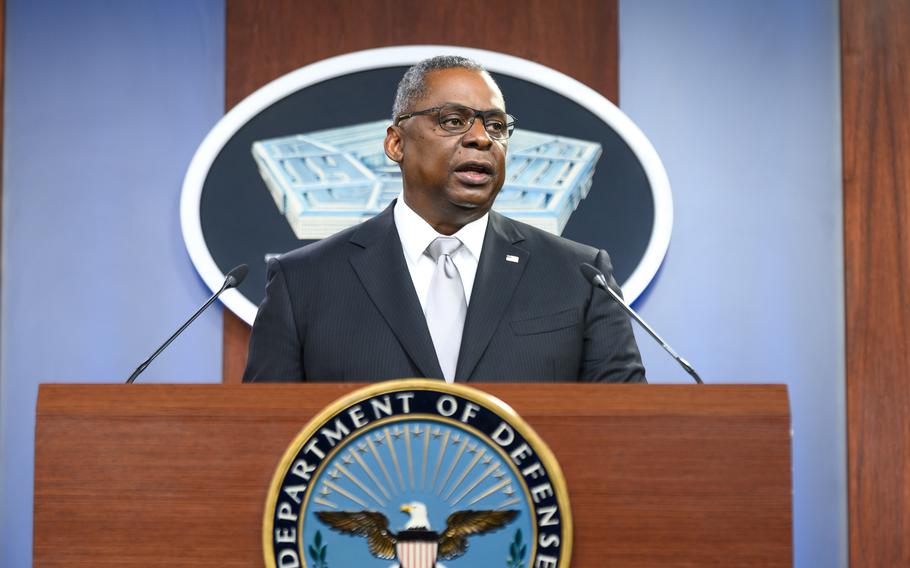 WASHINGTON — National security could be at risk and Defense Department personnel might not receive their regular paychecks should Congress not vote to suspend the U.S. debt limit by the impending deadline, Defense Secretary Lloyd Austin said Wednesday.
Congress must vote to suspend the limit on federal borrowing by Oct. 18, which is when the Treasury Department can no longer continue delaying a government default on its credit, according to The Associated Press. The House passed a bill to suspend the debt limit last month, but Republicans and Democrats in the Senate have yet to come to an agreement.
"They need to stop playing Russian roulette with the U.S. economy," President Joe Biden said Tuesday in a public address at the White House. "If you don't want to help save the country, get out of the way so you don't destroy it."
Failing to raise the debt limit would stop the U.S. from being able to pay its bills, something Austin said "would undermine the economic strength on which our national security rests."
"A default risks undermining the international reputation of the United States as a reliable and trustworthy economic and national security partner," he said in a statement. "A default also risks undermining the stature of the U.S. dollar as the global reserve currency of choice."
A default could also hinder the Pentagon's ability to pay troops, civilian personnel and defense contractors their regular paychecks, which Austin said would "seriously harm our service members and their families."
"As secretary, I would have no authority or ability to ensure that our service members, civilians or contractors would be paid in full or on time," he said.
That could also have widespread effects that could spill into the private sector where federal contractors that depend on government contracts "could have their payments delayed, jeopardizing their operations and many American jobs," the secretary said.
In addition, a default would also prevent the Defense Department from paying out retirement and other benefits "earned by and owed to 2.4 million military retirees and 400,000 survivors," he said in the statement.
Congress has voted to raise or suspend the self-imposed borrowing cap nearly 80 times since 1960, according to the AP. The process was routine for years before it was weaponized as a political tool to force concessions from opponents.
Senate Majority Leader Chuck Schumer, D-N.Y., has held two unsuccessful votes so far to suspend the borrowing cap. A third is scheduled for Wednesday, which Senate Republicans plan to block in protest of Biden's economic spending plans, according to the AP.
"They basically want us to be aiders and abettors to their reckless spending and tax policies, and we just aren't going to do it," said Sen. John Cornyn, R-Texas, according to the AP.
Democrats need at least 10 Republican votes to pass the bill to suspend the debt ceiling. Austin said it is imperative that politics be put aside to ensure funding for the nation.
"Our service members and Department of Defense civilians live up to their commitments," he said. "My hope is that, as a nation, we will come together to ensure we meet our obligations to them, without delay or disruption."
---
---
---
---