Deep cuts loom for National Guard if Capitol security mission is not reimbursed, report says
by
Karin Zeitvogel
Stars and Stripes
June 16, 2021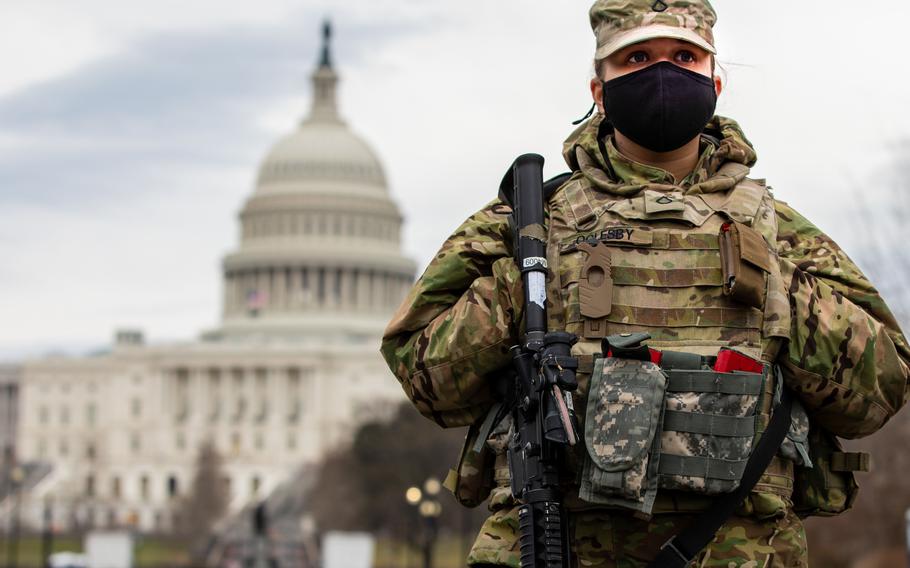 The National Guard could be forced to ground aircraft and make deep cutbacks to training and maintenance if it is not reimbursed by August for its mission in Washington, D.C., after the breach of the Capitol in January, an advocacy group said Wednesday.
"The National Guard spent $522 million on the Capitol security mission," said John Goheen, a spokesman for the National Guard Association of the United States. "That money was taken out of accounts that need to be replenished. Otherwise, the National Guard will have to cancel a lot of training, attendance at schools, drills later on this summer."
Guard leaders paid for the Capitol mission with funds from personnel, operations and maintenance pools, the group said. Leadership will begin notifying soldiers and airmen of drill cancelations if reimbursement has not been pledged by July 1, it said in a statement on its website.
The statement cited a white paper sent to states by the National Guard Bureau — the service's administration wing — warning that deep cuts would be in the cards if the funds are not paid back by Aug. 1. Stars and Stripes requested a copy of the white paper from the Guard, but it was not immediately available.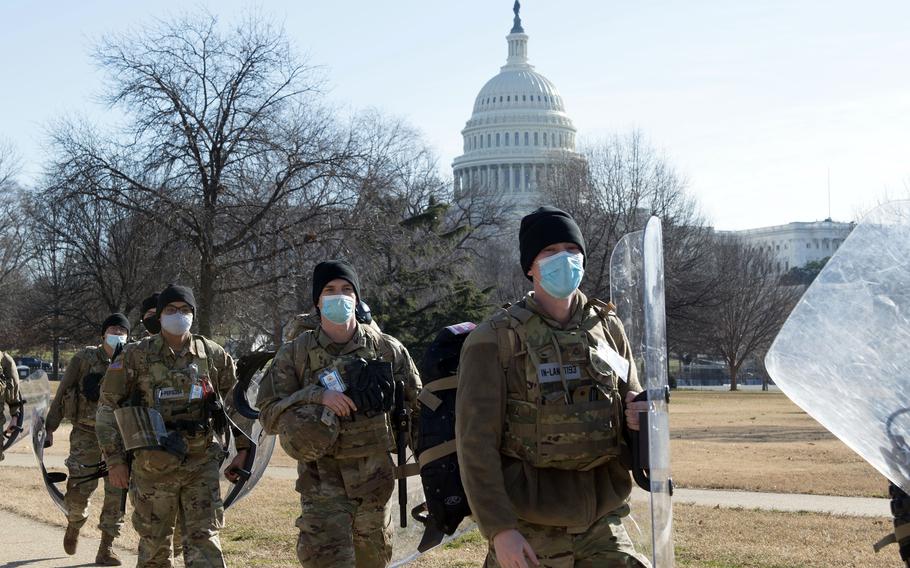 The cuts would seriously "degrade operational readiness," Goheen said. Annual training and drills for Army Guard units, ground vehicle maintenance and training vehicle movements could be canceled, and rotary-wing aircraft maintenance could be curtailed and flying restricted, the association said.
Aviation formations would need 10-14 months to recover from any such cuts, the statement said.
A spokesman for the National Guard Bureau confirmed that states that sent troops to Washington after the Jan. 6 breach have not been reimbursed for their support.
"The National Guard Bureau continues to work with DOD to inform Congress to ensure that the necessary funding to reimburse states appropriately is secured in a manner so as not to adversely impact states' mission requirements," spokesman Wayne Hall said in a statement.
Five people died in the violence at the Capitol, including Capitol police officer Brian Sicknick, an Air National Guard veteran who had served two overseas tours.
The House narrowly approved legislation that includes funds to reimburse the Guard for the Washington security mission. The Senate is expected to take up the legislation this week.
Twitter: @StripesZeit