2 F-35Cs make 1st carrier landings on USS Dwight D. Eisenhower
---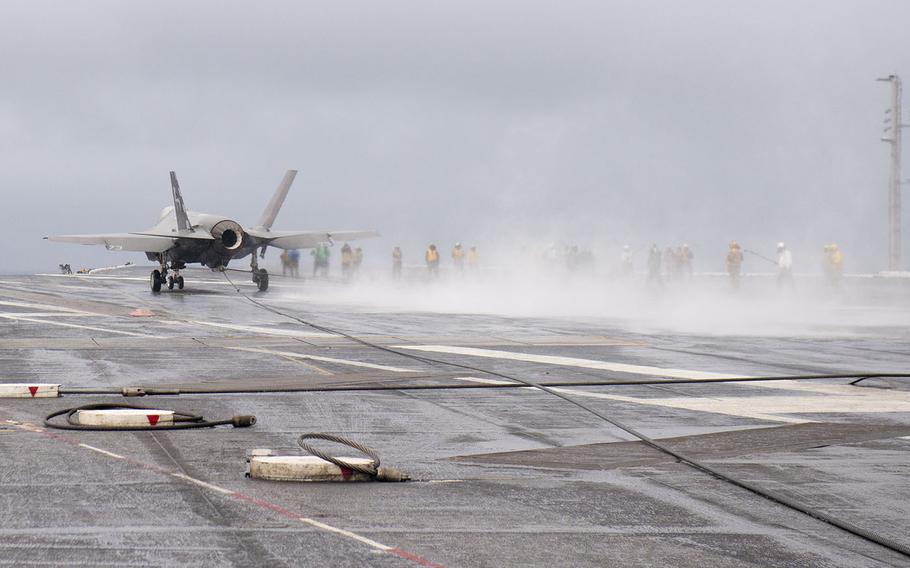 Two F-35C Lightning II aircraft made their first carrier landings aboard USS Dwight D. Eisenhower off the coast of the eastern United States on Friday, according to a Navy news release.
The arrested landings were part of a two week at-sea Developmental Testing phase, which is the second of three at-sea test phases planned for the F-35C.
Naval aircraft typically undergo the three test phases to ensure an aircraft under development meets specifications and to identify any issues that may be observed early in the long process to deliver fully capable aircraft as scheduled.
The F-35C were to perform a variety of operational maneuvers during the second testing phase — including catapult takeoffs and arrested landings — while simulating maintenance operations and conducting general maintenance and fit tests for the aircraft and support equipment.
"These sea trials will further expand the F-35C's flight envelope," Lt. Gen. Chris Bogdan, F-36 Program Executive Officer, was quoted as saying in the Navy release. "Over the next few weeks we'll learn more about what it takes to integrate next generation fighters aboard aircraft carriers. The testing we're doing today will prepare us for next year's final at-sea developmental test and keep us on track to support the Navy's 2018 initial operational capability date."
---
---
---
---