2 F-35 fighter squadrons to be based at Eielson AFB in Alaska
---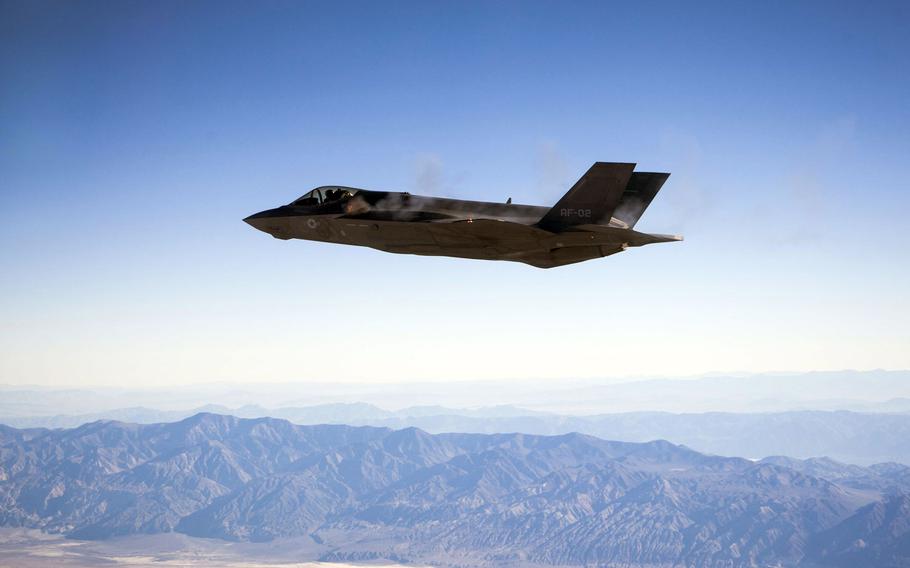 The Air Force's first operational overseas F-35A Lightning II fighters will call Alaska home starting in 2020.
Eielson Air Force Base, just south of Fairbanks, was chosen after a lengthy analysis of the area's operational considerations, installation attributes, environmental factors and cost, the Air Force said in a Monday statement.
Eielson is expected to receive two F-35A squadrons, which will join the wing's F-16 Fighting Falcon aggressor squadron. The decision comes after three years of review, including an environmental impact study examining the jets' effect on air quality, noise and land use.
The squadrons will increase Eielson's population by 55 percent with the addition of roughly 3,100 active-duty airmen, dependents and civilian workers, the environmental study said. Construction to accommodate the jets is slated to begin Oct. 1.
The F-35 has been plagued with design and construction problems, as well as cost overruns. An F-35A purchased in 2018 and delivered in 2020 would cost about $85 million, said its producer, Lockheed Martin. "Alaska combines a strategically important location with a world-class training environment," Deborah Lee James, secretary of the Air Force, said in the statement.
Basing the F-35s there will allow airmen to use the Joint Pacific Alaska Range Complex – containing about 65,000 square miles of airspace – for large-force exercises, providing them the largest airspace in the Air Force, she said.
Last month, Assistant Secretary of the Navy Sean Stackley told the House Armed Service Committee the Navy would station F-35s at Marine Corps Air State Iwakuni, Japan, in early 2017. Japan plans to acquire 42 F-35s, which it is jointly developing with the U.S.
The two F-35 squadrons at Eielson will double the Air Force's fifth-generation fighter aircraft presence in the Pacific theater, Air Force Chief of Staff Gen. Mark A. Welsh III said in the statement.
"Integrating that fifth-generation force with Navy, Marine and allied F-35 forces will provide joint and coalition warfighters unprecedented survivability, lethality and battle-space awareness in contested environments," he said.
The Air Force, however, faces a shortage of experienced active-duty fighter jet maintenance personnel for the F-35A, said Lt. Gen. John B. Cooper, the deputy chief of staff the Air Force for logistics, installations and mission support.
As a result, the Air Force has delayed the Alaska deployment but accelerated the arrival of F-35s at Burlington Air Guard Station, Vt., to the fall 2019, Cooper said.
The Air Force is taking measures to increase the number of active-duty maintenance personnel, said Cooper, who did not detail which steps have been taken.Olson.wyatt@stripes.com Twitter: @WyattWOlson
---
---
---
---