16 Marines arrested at Camp Pendleton suspected of human smuggling, drug crimes
by
Rose L. Thayer
July 26, 2019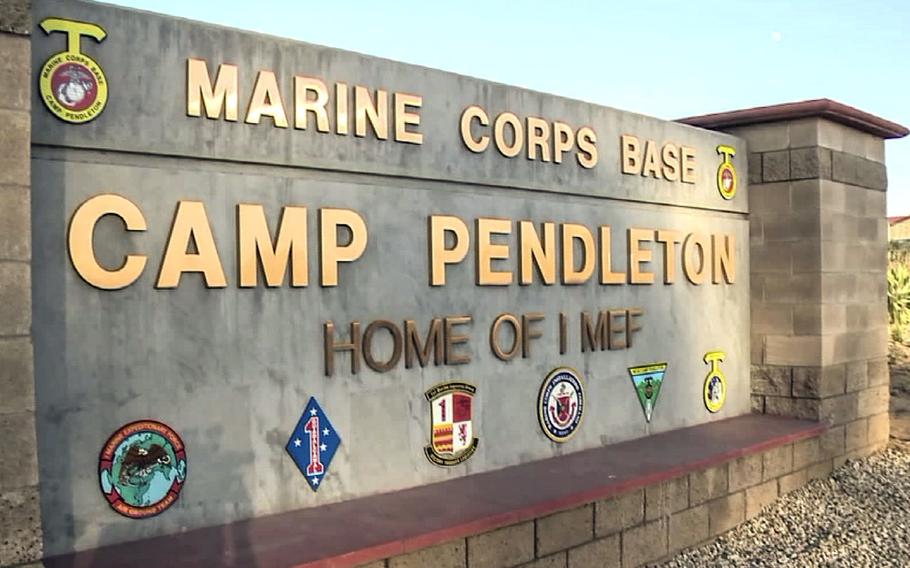 WASHINGTON — Sixteen Marines suspected of crimes including human smuggling and drug-related activity were arrested Thursday during morning formation at Camp Pendleton, Calif., according to a statement from 1st Marine Division.
The Marines were arrested based on information gained from a previous human smuggling investigation, according to the statement. The 1st Marine Division worked with the Naval Criminal Investigative Service to detain the Marines.
The Marines and NCIS have not yet revealed the names of the Marines arrested. The Marines have not been charged, according to the 1st Marine Division on Friday.
The arrests Thursday come three weeks after two other Marines from Camp Pendleton were arrested July 3 for smuggling three people from Mexico across the border into the United States. Lance Cpls. Byron Darnell Law II and David Javier Salazar-Quintero, who are also members of the 1st Marine Division, face federal charges in the U.S. District Court for the Southern District of California.
Law told U.S. Customs and Border Patrol agents that Salazar-Quintero organized the pickup of three people near Jacumba Hot Springs, Calif., and he expected to be paid $1,000, according to a criminal complaint. Both men admitted to having previously conducted similar pickups.
During the investigation of Law and Salazar-Quintero, the names of the Marines arrested Thursday were mentioned, according to Maj. Kendra Motz, a spokeswoman for the 1st Marine Division.
The Marines arrested are members of the 1st Battalion, 5th Marines, according to Motz. The ranks of the Marines arrested ranged from private first class to corporal.
On Friday, a social media post about the arrest at formation suggested the battalion's sergeant major had made it seem as if the Marines were being called out for awards. Once the Marines called came forward, the sergeant major told the NCIS agents standing by to arrest them.
"The online post you're referring to is not true," Motz wrote Friday in an email.
Motz said the sergeant major called out the names of the Marines who were to be arrested from a clipboard and they ran to the front of the formation to line up.
"No ceremony was involved in the arrests," she wrote.
Eight additional Marines were taken aside Thursday at Camp Pendleton to be questioned for their involvement in alleged drug offenses unrelated to the arrests.
In total, 18 Marines and one sailor were apprehended by NCIS on Thursday in the investigation of human smuggling and drug-related activity, Jeff Houston, a spokesman for NCIS, said Friday.
None of the Marines arrested or detained for questioning served in support of the mission along the U.S.-Mexico border, according to the statement.
Stars and Stripes reporter Caitlin M. Kenney contributed to this report.
thayer.rose@stripes.com Twitter: @Rose_Lori
---
---
---