12 Marines aboard helicopters were conducting routine training
---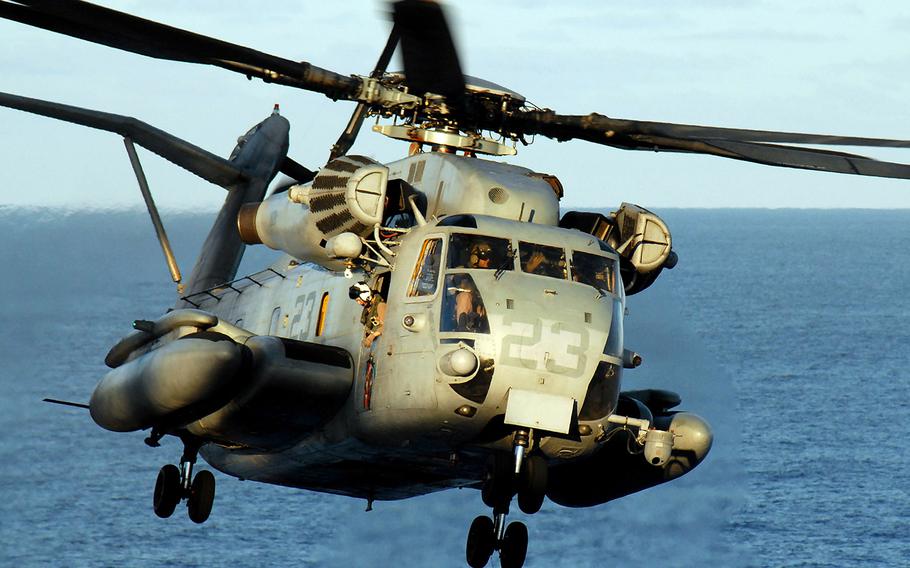 WASHINGTON — Two heavy-lift helicopters that crashed off the coast of Hawaii were conducting a routine training flight with 12 Marines aboard when they apparently collided Thursday just before midnight.
The U.S. Coast Guard was searching a debris field early Friday afternoon about 2.5 miles off of the north-facing coast of Oahu, near the town of Haleiwa for the missing Marines and the remnants of their CH-53E Super Stallion helicopters, said Lt. Scott Carr, a Coast Guard spokesman.
"There are no signs of survivors right now," he said.
It was not immediately clear Friday what caused the crash. Capt. Timothy Irish, a Marine spokesman, said the crews were conducting a "pre-planned, routine training flight" that left from their home station at Marine Corps Base Hawaii on Oahu and planned to return to the same location. The debris field that the Coast Guard found was about 15 nautical miles from the base.
"Our heartfelt condolences go out to the families of all those involved in the mishap, and (we) express our deepest gratitude for the heroic, selfless actions of the civilian and military first-responders," Irish said.
It also was unclear how long the helicopters, assigned to Marine Heavy Helicopter Squadron 463, Marine Aircraft Group 24, 1st Marine Airlift Wing, were in the air, Irish said. Marine Corps aviation mishap investigators had arrived at the site to begin an investigation, he said late Friday morning.
The Coast Guard received word of the downed aircraft at about 11:40 p.m., Hawaii time, Carr said.
A Coast Guard MH-65 Dolphin search-and-rescue helicopter crew located the debris field just after midnight.
High surf in the crash area was expected to complicate the search and rescue effort.
Carr said a high surf advisory was in place early Friday morning for the north-facing shore of Oahu, and waves in the area were reaching 10 to 15 feet high. They were expected to grow to 25 to 30 feet tall later Friday.
In addition to MH-65 helicopters, the Coast Guard dispatched an HC-130 Hercules airplane and two Coast Guard cutters — the Ahi and Kiska — to the area, Carr said. The Ahi is an 87-foot patrol boat based in Maui, and the Kiska is 110-foot patrol boat from Hilo, Hawaii.
A Navy helicopter and a Honolulu Fire Department helicopter and rescue boat also were searching the scene.
The CH-53E, often deployed aboard amphibious assault ships, is the military's largest, heaviest and most-powerful helicopter, according to its manufacturer, Sikorsky. The aircraft can carry massive loads, according to the Marine Corps, including a 26,000-pound light armored vehicle, 16 tons of cargo, or a large enough force of combat-loaded Marines to lead an assault.
The helicopters that crashed Thursday were not conducting heavy-lift operations, and had no passengers aboard other than the normal six-person crew, Irish said.
The crash is the latest in a string of recent deadly U.S. military helicopter mishaps. Eight Army aviators died in three helicopter crashes between Nov. 23 and Dec. 2. Army Forces Command briefly grounded all stateside aviation units to review flight operation and maintenance plans and procedures in early December.
Two Army pilots died Nov. 23 in an AH-64 Apache helicopter crash in South Korea. Four soldiers were killed later that same day in a UH-60 Black Hawk helicopter crash at Fort Hood, Texas. A second Apache crash killed two Army pilots Dec. 2 during a training exercise at Fort Campbell, Ky.
The crash also comes less than a year after a Marine Corps tilt-rotor aircraft crashed during a training exercise in Hawaii, killing two Marines. The MV-22 Osprey went down last May with 21 Marines and a Navy corpsman on board. In 2011, one serviceman was killed and three others injured when a CH-53D Sea Stallion chopper crashed in Kaneohe Bay, Hawaii.
dickstein.corey@stripes.com Twitter: @CDicksteinDC
---
---
---
---