1,000 soldiers from the 82nd Airborne headed to Iraq
by
Jon Harper
December 19, 2014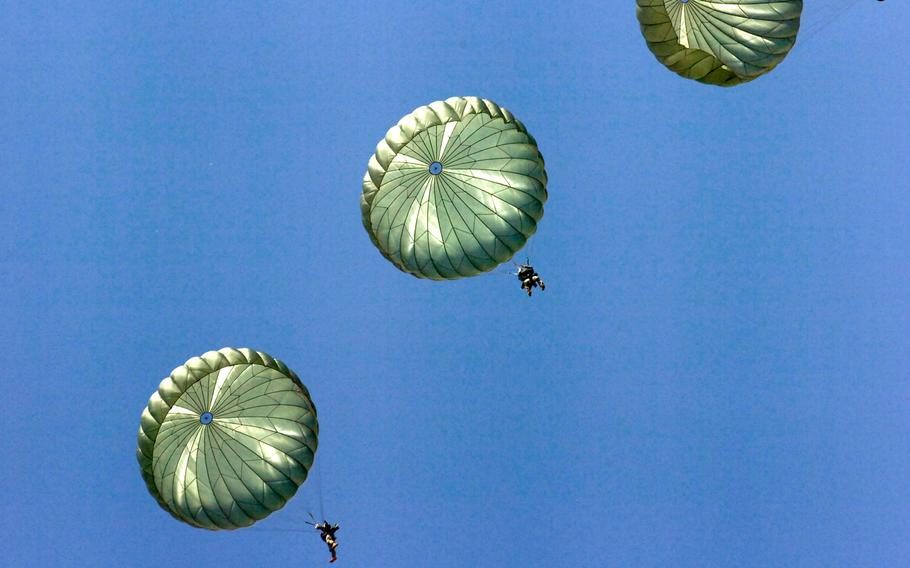 WASHINGTON — Approximately 1,000 paratroopers from the Army's famed 82nd Airborne Division will deploy to Iraq early next year to help the Iraqi security forces take on the Islamic State, the Pentagon announced Friday.
The soldiers from the 82nd's 3rd Brigade Combat Team, based at Fort Bragg, N.C., will begin to deploy in late January to train, advise and assist the ISF, Pentagon press secretary Rear Adm. John Kirby told reporters.
Their mission is part of the coalition effort to build up the Iraqi army and Kurdish peshmerga so that they can recapture territory from Islamic State militants.
The paratroopers are preparing for a nine-month deployment, according to a spokeswoman for the 82nd Airborne.
Approximately 300 troops from other Army, Air Force and Marine Corps units will also deploy to provide "enabler" support in areas such as counterintelligence, logistics, and signals, Kirby said.
Last month, President Barack Obama authorized an additional 1,500 troops to deploy to Iraq to participate in the train, advise and assist mission. The deployment of elements of the 82nd Airborne is part of that initiative.
On Thursday, Lt. Gen. James Terry, the commander of Combined Joint Task Force-Operation Inherent Resolve, told reporters that other countries in the coalition are expected to contribute to another 1,500-strong force for the capacity-building effort.
"The key to success out there will be increasing the capabilities of Iraqi security forces," Terry said.
Iraqi officials are reportedly eager to go on the offensive and retake places such as Mosul, but the U.S. military thinks the ISF aren't ready.
Terry said the training effort "takes some patience," and it will take "a minimum of three years" to fully build the capabilities of Iraqi forces.
U.S. troops already in Iraq are laying the groundwork for the training program. But on Tuesday, Kirby said it will be "several months" before the formal training effort gets under way.
The plan is to train nine Iraqi army brigades and three peshmerga brigades at four training sites throughout Iraq. On Friday, Kirby declined to identify the location of the sites, saying that force protection measures are still being put in place. The additional advisers will be in Anbar province and areas north of Baghdad, according to Kirby.
He said the training and advising will take place at bases and higher headquarters, not near the front lines of the fighting.
During Operation Iraqi Freedom, the American military spent years and billions of dollars training and equipping the ISF to take on insurgents. Many of those units collapsed in the face of Islamic State attacks. Gen. Martin Dempsey, the chairman of Joint Chiefs of Staff, has said that about half of the Iraqi security forces that were in place before the Islamic State launched its offensives earlier this year, are ineffective.
harper.jon@stripes.com Twitter: @JHarperStripes