US soldiers fighting to keep virus from base at ground zero of South Korean crisis
by
Kim Gamel
February 23, 2020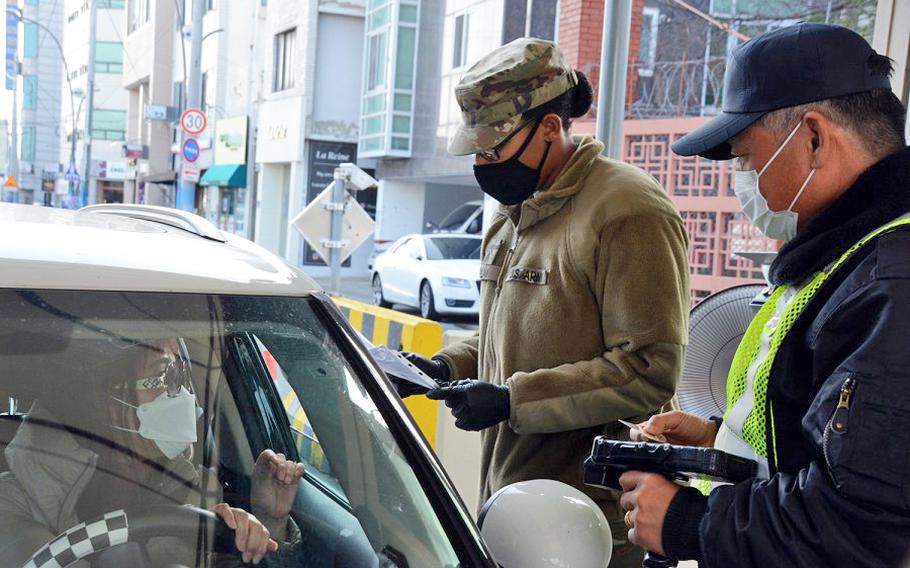 CAMP WALKER, South Korea — U.S. soldiers wearing face masks and gloves wielded thermometers instead of guns as the military fought to keep a deadly virus from spreading to this base in the middle of South Korea's hardest-hit area.
South Korea reported another large jump in new virus cases Monday, according to The Associated Press. The 231 new cases brought South Korea's total to 833, and two more deaths raised its toll to seven.
The outbreak has spread rapidly since hitting the southeastern city of Daegu and surrounding areas last week, prompting growing concern for the local Army garrison with more than 9,000 American soldiers, family members and other personnel.
Soldiers have been banned from nonessential off-post travel to and from the base, and were told Sunday not to shake hands with anyone.
Civilians have been encouraged to follow the same guidance. Base entry restrictions have been tightened to forbid most visitors, although authorized South Koreans were allowed to come to work.
Col. Edward Ballanco, the garrison's commander, said precautions were necessary but there was no reason to panic.
"We don't know of a single American or Korean who has tested positive who has stepped foot on a U.S. installation," he told Stars and Stripes during an interview at his office on Saturday. "And that remains true here in Daegu, even with the outbreak."
The garrison, which oversees Camp Walker and several other installations in the region, also has implemented health checks at the gates. Soldiers screen all entrants with a questionnaire about possible exposure to the respiratory virus and temperature checks.
However, the military lacks the ability to do its own testing for coronavirus on post so suspected cases have to be sent to local hospitals.
Officials were struggling to facilitate the needs of a community finding itself essentially on lockdown.
Face masks with the ability to filter pathogens were disappearing from the shelves of base stores within an hour of delivery.
Schools that were shuttered last week were to remain closed at least through Friday as a precautionary measure, the Department of Defense Education Activity said late Sunday. Ballanco said earlier that online classes were being considered as an alternative.
Chaplains held virtual church services Sunday on the garrison's Facebook page.
The commissary extended the number of days it's open next week. Businesses asked customers to use hand sanitizer before entering.
And several soldiers and medics were diverted from their usual duties to act as health screeners at the gates, in addition to the usual guards who check IDs. They used thermal thermometers to avoid touching people.
Anybody with symptoms, which are similar to the flu, was encouraged first to call a hotline at the military hospital on Camp Humphreys. Tests were being routed through local hospitals.
"We are not testing the soldiers on post; we're sending them off post to test," Ballanco said in response to a question on Sunday.
The spike in infections followed weeks of relatively low numbers in South Korea after the coronavirus appeared in China in December, killing more than 2,000 people on the mainland before spreading to other countries.
South Korea's Center for Disease Control said Sunday that more than half of the country's infections were linked to a secretive religious movement called the Shincheonji Church of Jesus the Temple of the Tabernacle of the Testimony, which has a chapter about a mile from one of Camp Walker's gates in Daegu.
The usually crowded sidewalks in the city of 2.5 million people were mostly empty this weekend, and nearly everybody who ventured out wore face masks.
U.S. Forces Korea raised the risk level for the military community to moderate earlier this week but insisted on Sunday that "there remains zero confirmed cases of USFK personnel with COVID-19."
It also put several facilities off-limits near the main U.S. base Camp Humphreys after a case was confirmed in the surrounding area of Pyeongtaek.
"When I first heard about the virus, I really wasn't giving it so much thought," Pvt. Hector Mercado said Saturday in between checking drivers lined up to enter Camp Walker. "However, once it hit Korea, once it hit Seoul and once it hit Daegu, then I was like, 'OK this is real.' "
"I'm not scared, but I am worried because this is causing a lot of harm, and it's something you can't see. It's something you can't touch," said Mercado, 23, from Puerto Rico. "It's not like somebody is attacking you."
Mercado said he normally would spend the weekend with his South Korean girlfriend, but he had to settle for video phone chats.
"We can only go from one base to another. For me, it's very limiting because I like to be outside, be in the coffee shops and get to know the culture," he said. "So, it's a little frustrating, it's a little irritating, but it is what it is."
The garrison commander noted the military already has a well-developed evacuation plan to remove civilians from the divided peninsula if needed due to the threat from North Korea.
"We're not there yet. I mean it's something we're capable of doing," Ballanco said Saturday after apologizing for not shaking hands to avoid any chance of contamination.
He stressed that the military has advantages in preventing the virus.
"One, our population is a healthy one. We're outside a lot. We're mostly fit," he said. "We also have the ability to seclude ourselves from the population quite a bit."
Pvt. Daija Gillam, 22, of Atlanta, said she and her buddies were cooking and watching movies in the barracks instead of going out in the city as they usually would on a weekend.
"Daegu is very ghost town-like," she said on Saturday.
Sgt. Joseph Evola, 22, of Long Island, N.Y., said the bases had plenty of entertainment to keep people busy, including restaurants, a bowling alley, bar and grill and theaters.
"At least people can still go out and do something even though they can't leave post, so it's not horrible honestly," he said. "I have a feeling it will probably get worse with the strict rules and the lockdown, but at this moment it's not horrible."
Jennifer Long, an Army wife who teaches at the temporarily closed child development center, said she's enjoying time with her infant daughter.
"I'm not in panic mode," she said after grocery shopping at the commissary on Saturday. "But I would not go off post right now just because I have such a small one, and because we don't know who has this or where it's been, so I feel safer on post right now."
Jacky Porter, 51, is trying to stay in her apartment outside the gates as much as possible, although she waited for nearly three hours for a new shipment of masks to arrive at the post exchange on Saturday.
"I just come to the PX and the commissary, buy what I need and then drive home," she said, wearing a T-shirt emblazoned with the word "OK."
Melinda Shonk, who lives with her soldier husband and five children in family housing, recalled the start of the Daegu outbreak on Wednesday. She and her daughter were walking back to base after buying ice cream in the city.
"Everybody had masks on and was looking at us like we were crazy. Moms were pulling their kids out of the way as we were walking down the street," she said. "We didn't have masks on because we were licking our ice cream cones, and they were walking around us like we had the plague."
gamel.kim@stripes.com Twitter: @kimgamel