US Navy helicopter crashes south of Yokosuka
by
Erik Slavin slavin.erik@stripes.com
December 16, 2013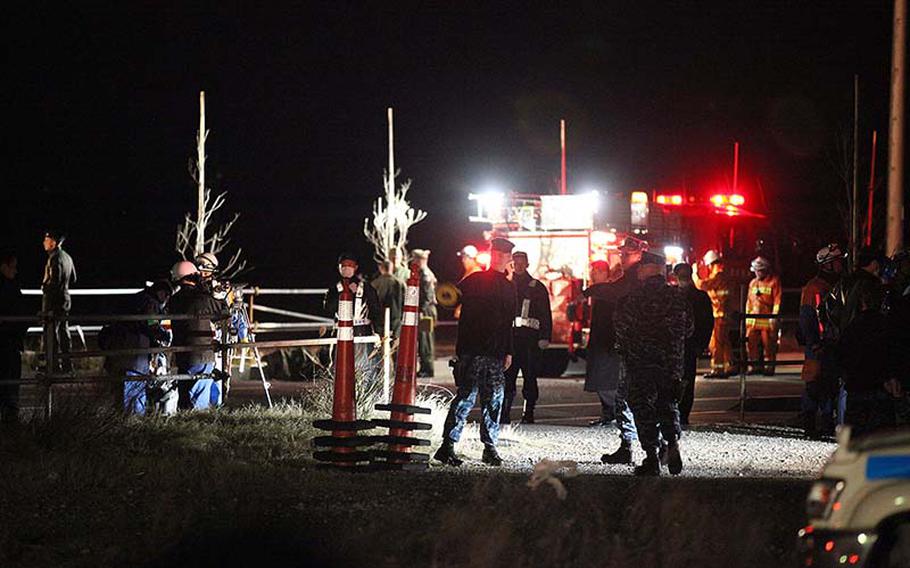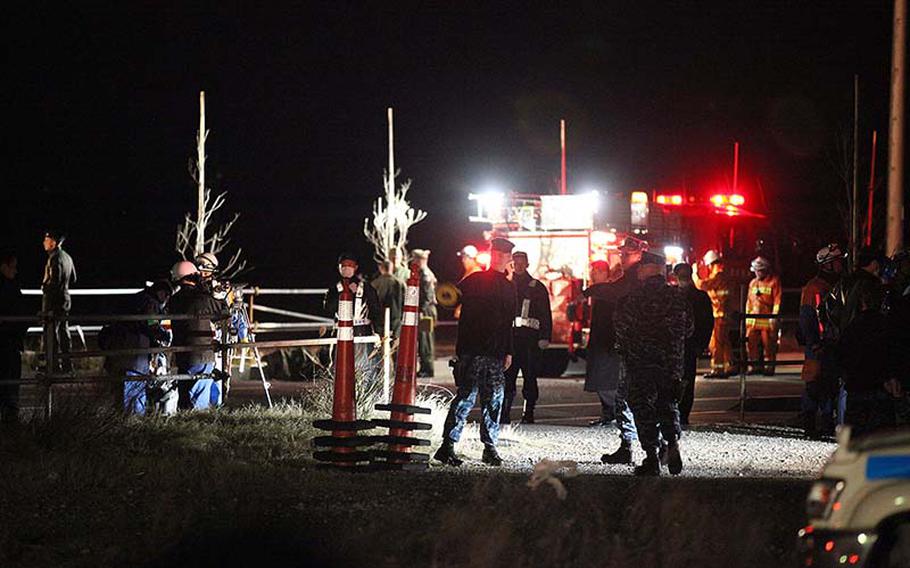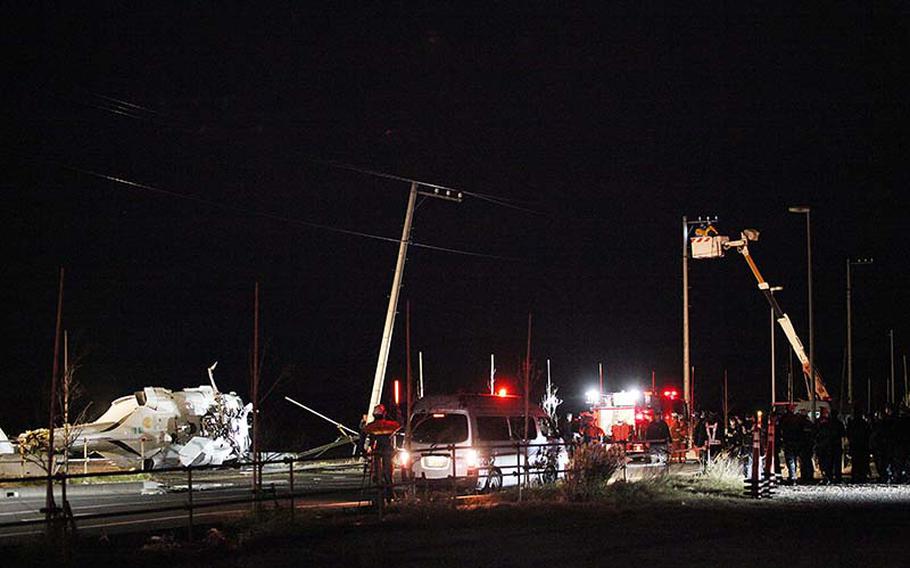 This story has been updated and corrected.
YOKOSUKA NAVAL BASE, Japan – A U.S. Navy Knighthawk helicopter crash landed in an empty area of reclaimed land about 10 miles southwest of Yokosuka Naval Base, officials said Monday afternoon.
The MH-60S, belonging to Helicopter Sea Combat Squadron 12 out of Naval Air Facility Atsugi, crashed after sending a distress call at 3:31 p.m. Monday, according to a Commander Naval Forces Japan spokesman.
The helicopter attempted an emergency landing and crashed on its left side in the empty area, across from Jogashima island on the southern part of the Miura Peninsula, in Miura city.
Of the four crewmembers aboard, two appeared to have suffered non-life-threatening injuries, a Miura fire department spokesman said. One appeared to have a suffered a leg injury, the spokesman said.
The injured crewmembers were transported to a hospital in Yokosuka and are in stable condition, Navy officials said Monday night.
The cause of the crash is under investigation. Navy police were at the scene Monday night, preparing to examine the downed aircraft.
There was no reported property damage, the fire department spokesman said. Although the lot that the crew landed in was vacant, it is a few blocks away from a town fish market, docks, a beach and several restaurants.
Helicopters from the squadron, which belong to the USS George Washington's carrier air wing, typically perform search and rescue operations, anti-surface warfare exercises and other functions.
Prior to Monday, the Navy's most recent MH-60S Knighthawk crash came in September, when a helicopter landed in the Red Sea while attempting to land aboard the guided-missile destroyer USS William P. Lawrence. Two sailors were lost at sea during the accident.
U.S. military helicopter flights are a sensitive political subject in Japan. During the past year, demonstrators in Okinawa have repeatedly protested the deployment of the MV-22 Osprey, a hybrid aircraft with a history of crashes elsewhere. Marine Corps officials have maintained that the aircraft are safe. Last week, the Japanese Self-Defense Forces ordered 17 Ospreys to be delivered over the next five years, according to Japanese media reports.
In 2004, a Marine Corps CH-53D Sea Stallion crashed at Okinawa International University, near the controversial Marine Corps Air Station Futenma. Although three crewmembers were injured, no civilians were harmed at the college, which was on summer break.
Japanese and U.S. officials have struggled since the 1990s to move the Futenma base, which was once in a relatively rural part of Okinawa, but is now surrounded by development. Both governments want to move the base to a more rural part of the island, but are opposed by local officials who want the base moved off Okinawa entirely.
Okinawa, an island with a population of about 1.4 million, houses just more than 50 percent of all U.S. forces in Japan. The island is considered strategically critical because of its relative proximity to Taiwan, Southeast Asia, and, if necessary, by air to the Korean peninsula.
The U.S. Navy has also faced complaints – mainly aboutjet noise and aircraft parts falling out of the sky-- from residents in the neighboring towns near NAF Atsugi, where the downed helicopter from Monday is based.
A previous version of this story misstated the percentage of U.S. forces in Japan that are housed on Okinawa. It has been corrected.
Stars and Stripes reporter Hana Kusumoto contributed to this report.
Slavin.erik@stripes.com Twitter: @eslavin_stripes