US military returns property to South Korean government
---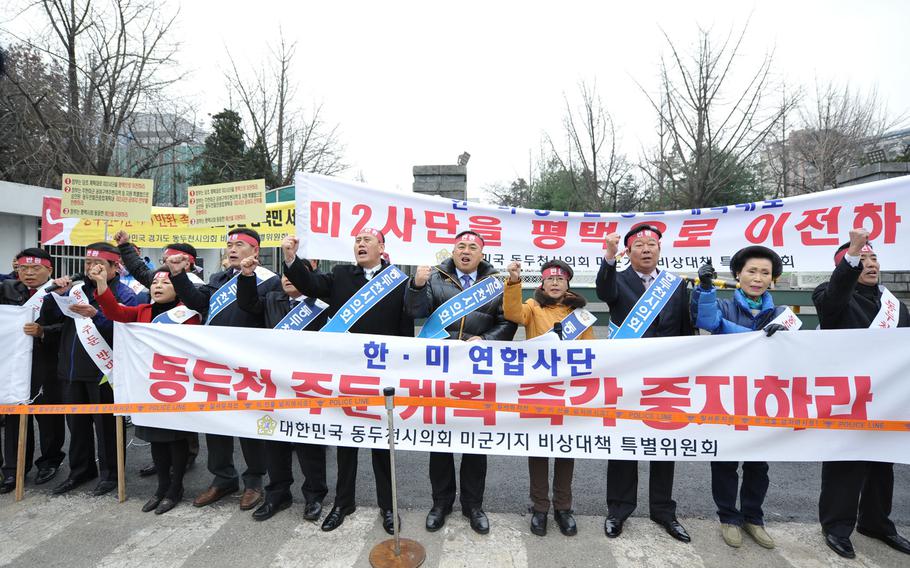 TOKYO — A former U.S. military base north of Seoul has been formally returned to the South Korean government, a move that has apparently eased tensions between the military and a city eager to acquire the property.
Camp Castle, a 38-acre property in Dongducheon held by U.S. forces since the 1953 Korean War armistice was signed, was returned to South Korea on March 13, according to the South Korean defense ministry.
Dongducheon officials plan to turn the land into a university campus for 1,700 students, a move they believe will bolster the economy of the small city about 80 minutes north of central Seoul.
Delays in transfer of the property, which closed its doors in 2010, led the city in January to curtail several goodwill and administrative programs with Camp Casey, the Army's most populous base in the area. With Camp Castle's transfer accepted, a Dongducheon employee tasked with assisting servicemembers register their private vehicles will be returned to Camp Casey next Tuesday, according to a Yonhap news agency report.
Meanwhile, a seven-acre plot in South Korea's southeastern city of Busan was also returned on March 13. The land will be transferred to Korail for use as a garage for its high-speed trains, according to defense ministry documents.
Each site will undergo environmental survey and cleanup through the defense ministry before being turned over for development, a ministry spokesman told Stars and Stripes on Wednesday.
With the transfer of the two properties, 54 of 80 U.S. Forces Korea camps slated for handover to the South Korean government have been returned. An additional 23 camps are scheduled to be returned after construction at an expanded base at Pyongtaek is complete, while the timetable on three more properties remains under negotiation.
slavin.erik@stripes.com Twitter: @eslavin_stripes
---
---
---
---