US, Korean officials to visit Osan to review anthrax procedures
by
Ashley Rowland
July 30, 2015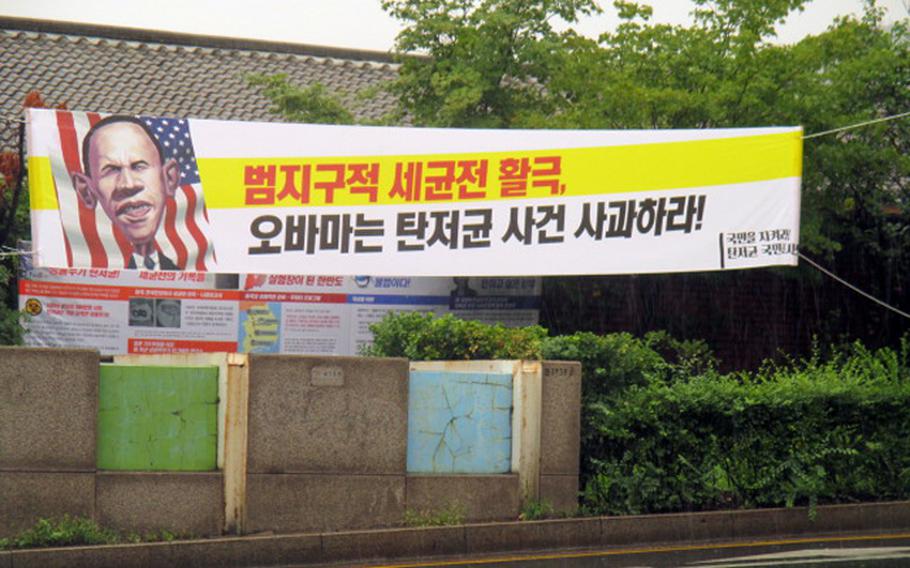 SEOUL, South Korea — The Osan Air Base laboratory where 22 people were possibly exposed to anthrax after a live sample was mistakenly sent there will get a visit from U.S. and South Korean officials next week.
The Aug. 6 visit is expected to "defuse public worries by having firsthand verification" on whether appropriate safety measures were taken at the facility and to care for the exposed personnel after discovery of the live sample, said South Korea's Ministry of National Defense in a statement this week.
U.S. Forces Korea previously said the sample that was sent in the spring had been destroyed and posed no risk to the public. However, the accidental shipment has sparked continued protests outside some U.S. bases and calls in South Korea for Seoul to have stricter oversight of biological agents brought into the country by the U.S. military.
A July 11 demonstration outside Osan drew 800 people, and some gates at both Osan and U.S. Army Garrison Yongsan in Seoul have been closed or threatened with closure because of protests.
Anthrax sent to Osan for a training program was believed to be inert. However, after an investigation, the Department of Defense said last week that a "massive institutional failure" led to live anthrax being shipped to Osan and other military facilities.
The U.S and South Korea formed a joint task force earlier this month to investigate how the live sample entered the country undetected and to determine how to prevent a reoccurrence. That group will inspect the Osan facility, with personnel who handled the live anthrax demonstrating how the sample was handled and disposed of, MND said.
The MND's statement was reported Wednesday by Yonhap News.
USFK did not issue information about the upcoming site visit, aside from saying the group will comprise South Korean and U.S. personnel.
The 22 personnel who may have been exposed to anthrax were given precautionary medical treatment that included exams and antibiotics, and some were given vaccinations. None showed signs of anthrax exposure.
Osan halted operations at its laboratory biological defense program in May after the anthrax shipment, which was mean to be part of training at the base's Joint United States Forces Korea Portal and Integrated Threat Recognition Program. The training was intended to improve the allies' ability to protect troops and the South Korean population "by testing currently fielded equipment and new systems that could better identify toxins and pathogens in the environment," according to the military.
USFK said it is continuing to work with South Korea to review its biological defense programs "to ensure that these programs continue in a safe and effective manner to protect the Korean people and our militaries," according to a statement issued last week.
rowland.ashley@stripes.com Twitter: @Rowland_Stripes
---
---
---